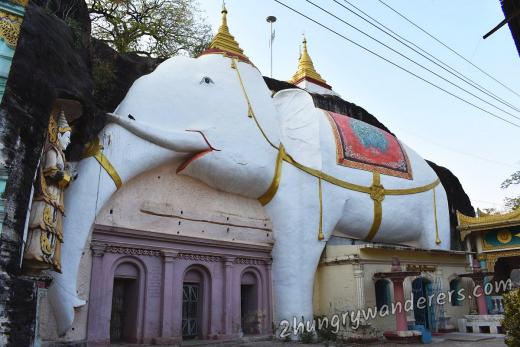 This article is part of our adventure in Monywa:
Monywa day 1: volcano lake, 1000 cave temples, city carved in a hill
Here is a video showing most of the sights we visited:
Before booking our hotel we had made sure that they rent motorbikes so we have the freedom to go around at our own pace. After a good night's sleep we were ready for new adventures, got on a bike - in reasonable condition and price started the day with a visit to:
Spirulina lake - Twin Taung
This was a spot mentioned only in the hotel brochure, we could not find any other information online apart from a couple of photos of the farm itself. The hotel staff were at a loss, guess they had never visited. The brochure map gives only a general direction, but after exploring the satellite view on Google maps we were fairly certain we found what we were looking for - several old volcano craters were visible in the landscape and one in particular had a lake in it, with a distinctive farm on it. So we marked the spot and set off to find it.
There aren't too many sealed roads in the area and it was a bit of challenge to find where exactly we had to go off the main road and how to navigate to our destination. Google maps is useless after some point, but on satellite view the dirt roads are still easily noticeable and we knew the point on the map we wanted to reach, so following one dusty road after another we managed to get to the edge of a volcano.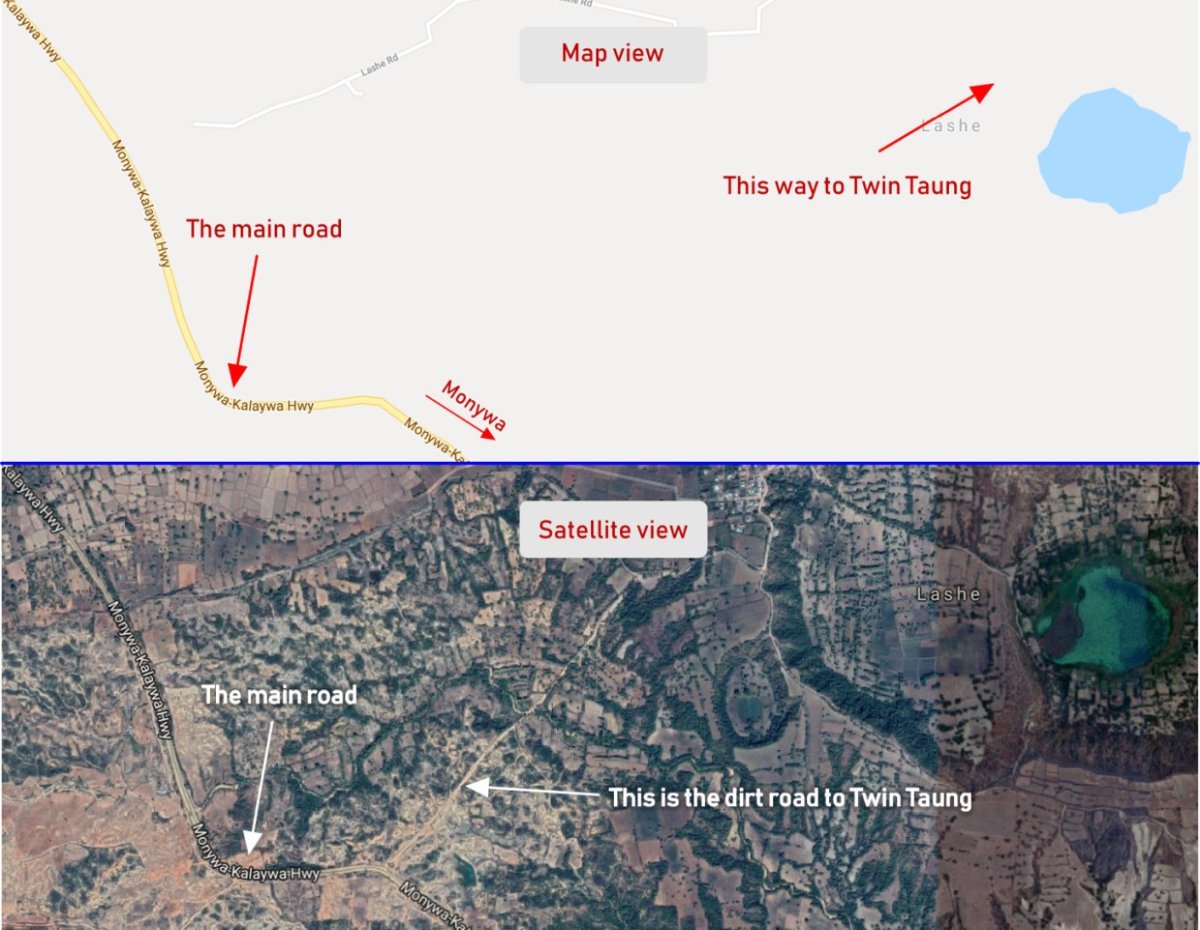 Once there it was easier to navigate - one road goes around the rim of the crater, only one way to go down and another road goes around the lake in the middle. When I say "road" it maybe a bit of exaggeration, but with some caution they are manageable.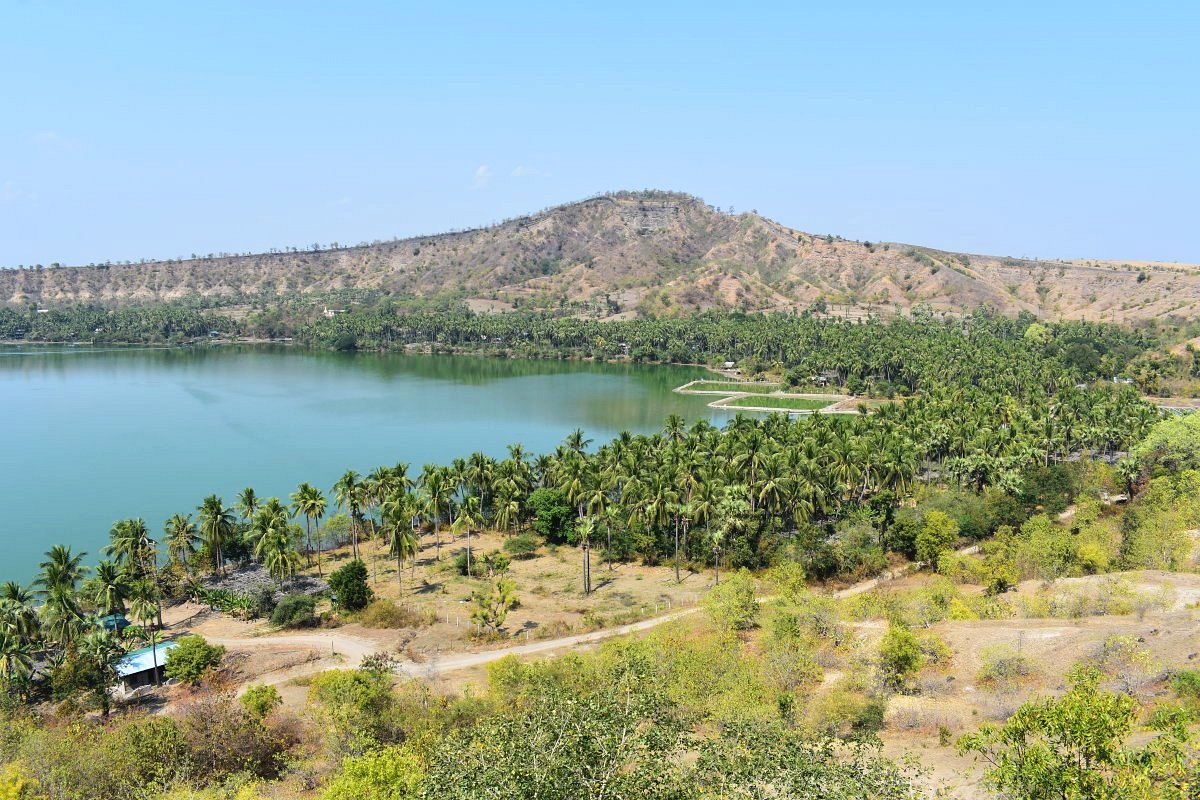 It was a beautiful place - the crater was unmissable with a sharply defined edge of the rim and the lake in the middle was a deep green colour and surrounded by tall palm trees. The view from the top is breathtaking and the lake bellow is a local attraction with many small restaurants hidden in the greenery. We were offered a ride on a boat around the lake, but opted for a relaxing time on a bamboo chair with fresh coconut water while watching the green waters and long legged birds ambling in the muddy shore.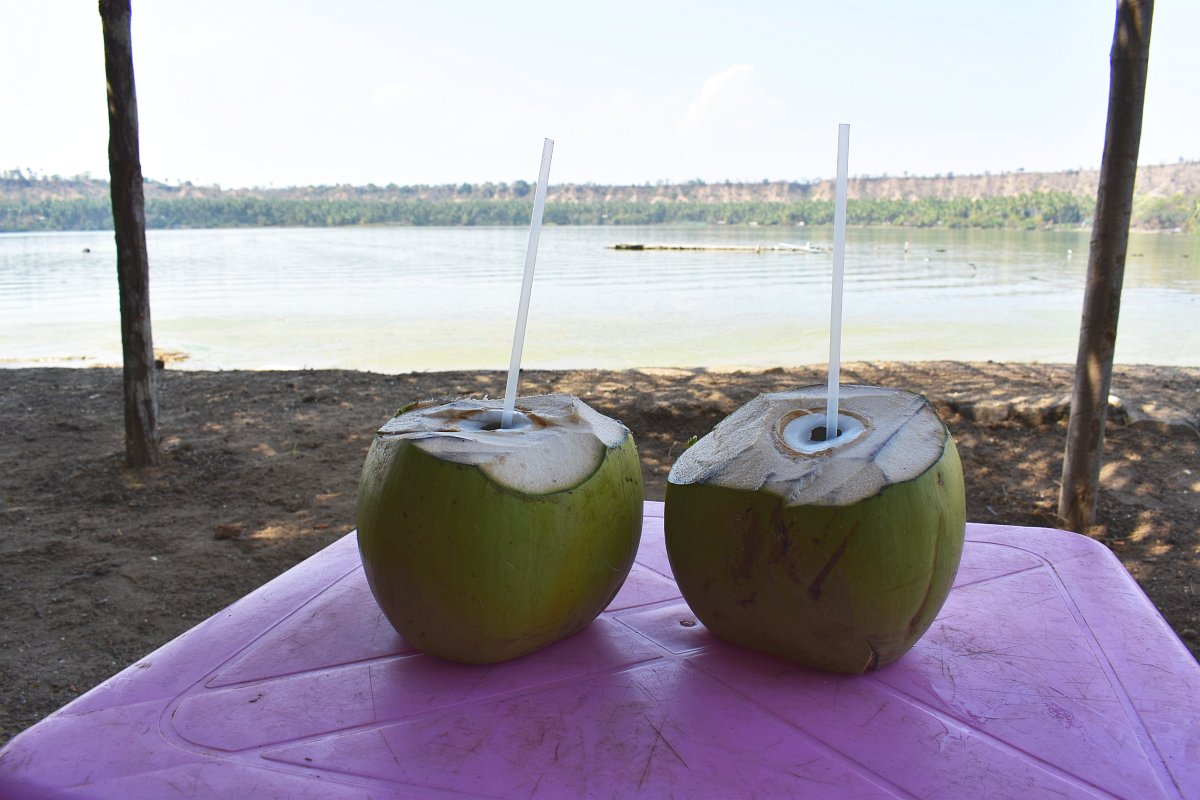 The spirulina farm was not really that impressive, but the lake and the crater were gorgeous, worth the drive there.
This volcano crater is one of two closely located craters - that is why the name is Twin Taung - twin mountain. Again on satellite view Google maps the second one is visible and there seem to be big enough dirt roads going it that direction. Unfortunately, we had other things planned for the day and riding on those roads takes time so we decided to skip the second one.
Several craters are visible in the immediate area, with dirt roads making them accessible one can have a full day of just exploring those.
After the short break on the shore we got on our motorbike and continued to the next destination:
Pho Win Mountain (Pho Win Taung) 
(Google Maps - main entrance parking)
(Google Maps - upper level parking)
It took us around 2 hours to travel the fifty something kilometers from Twin Taung to Pho Win and we really did not know what to expect of the place, no information is available online and no signs in English were to be seen. There was a ticket booth on the road where we paid the 5000 kyats ($4) entry and were waved to go along the main road. It lead to a small square full of people and while we were looking around confused wondering if this is the right place, as usual for Myanmar, some local people saw us and helpfully gestured to a staircase - the main entrance of the cave complex.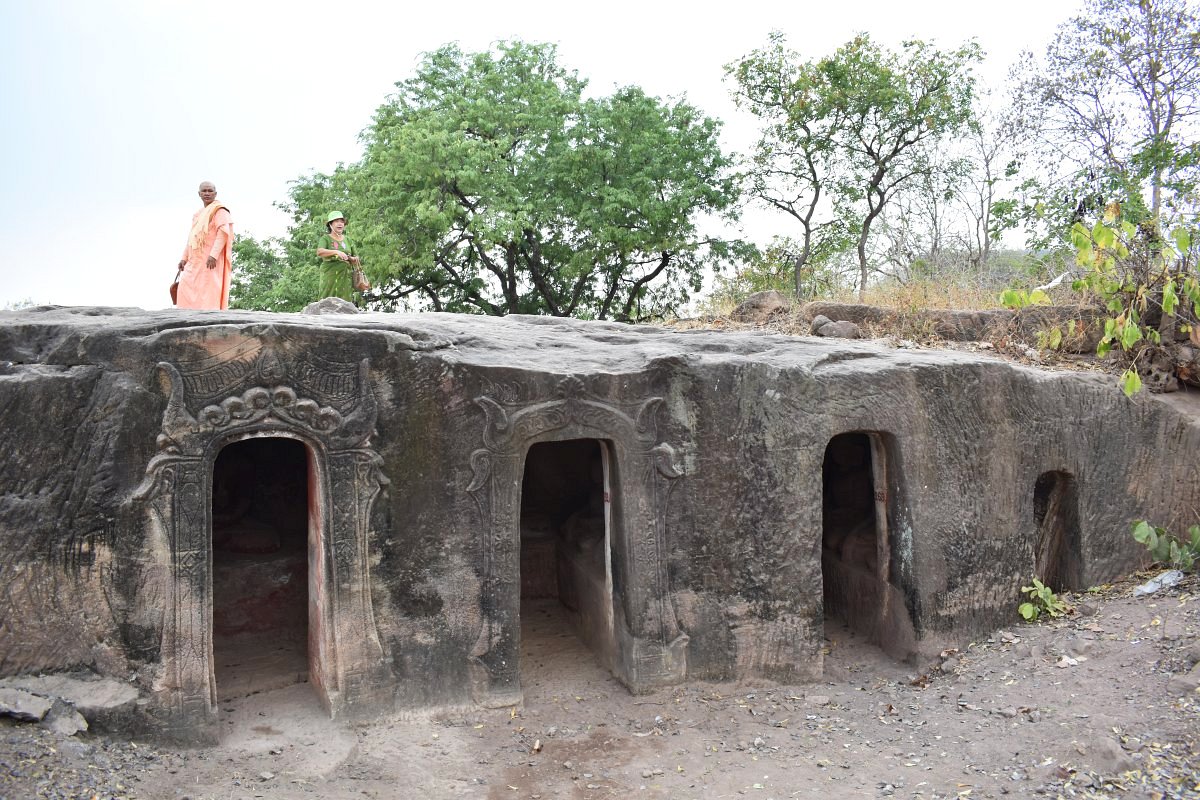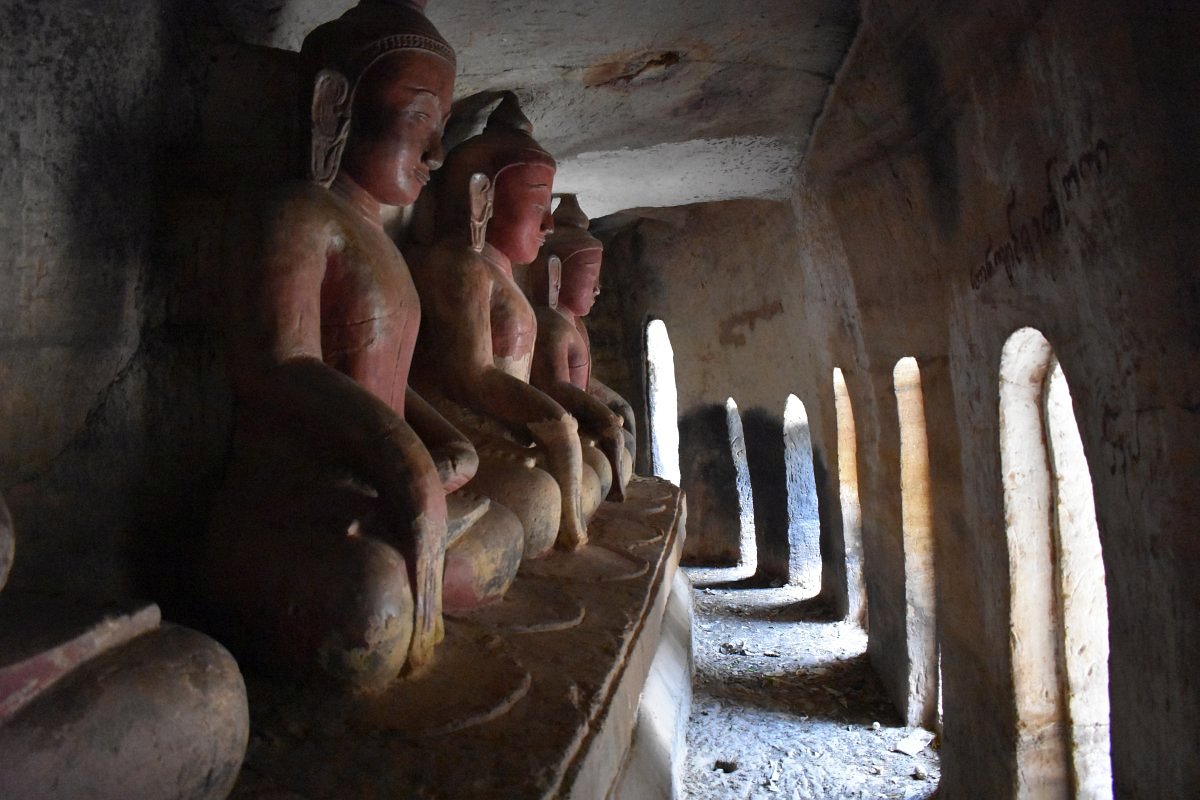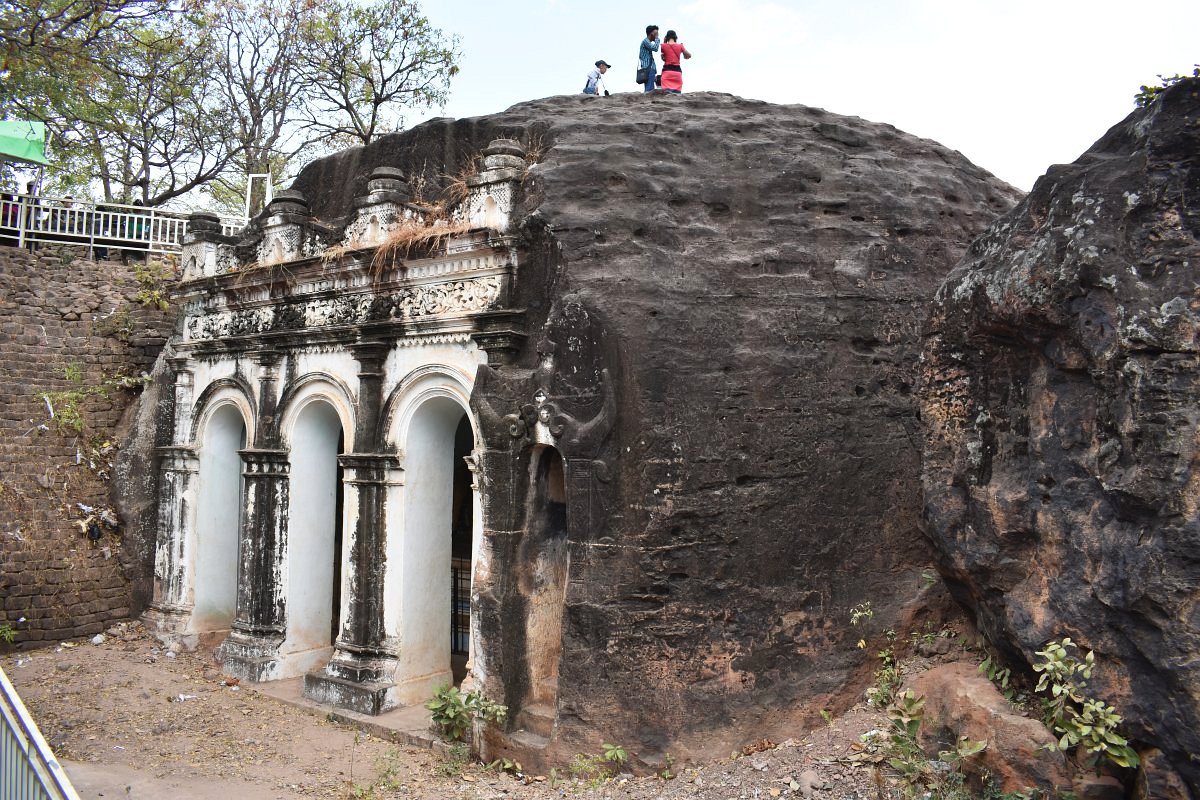 Pho Win Mountain is Buddhist cave complex, dated to be from 14-18 century AD, with 947 man made caves carved into the sandstone hill, it is a huge place, the whole hillside is covered in niches and small temples with silent Buddha statues in every one of them, all hidden by the greenery. We spent 2 hours walking up and down, looking in one cave and another, taking pictures and videos and being absolutely amazed. Some caves are big and house several large Buddha images while others are just holes with a lone statue inside, some entrances are simple openings in the sandstone, while others are covered with ornately carved beautiful designs or guarded by mystic animals. Some of the caves contain intricate paintings.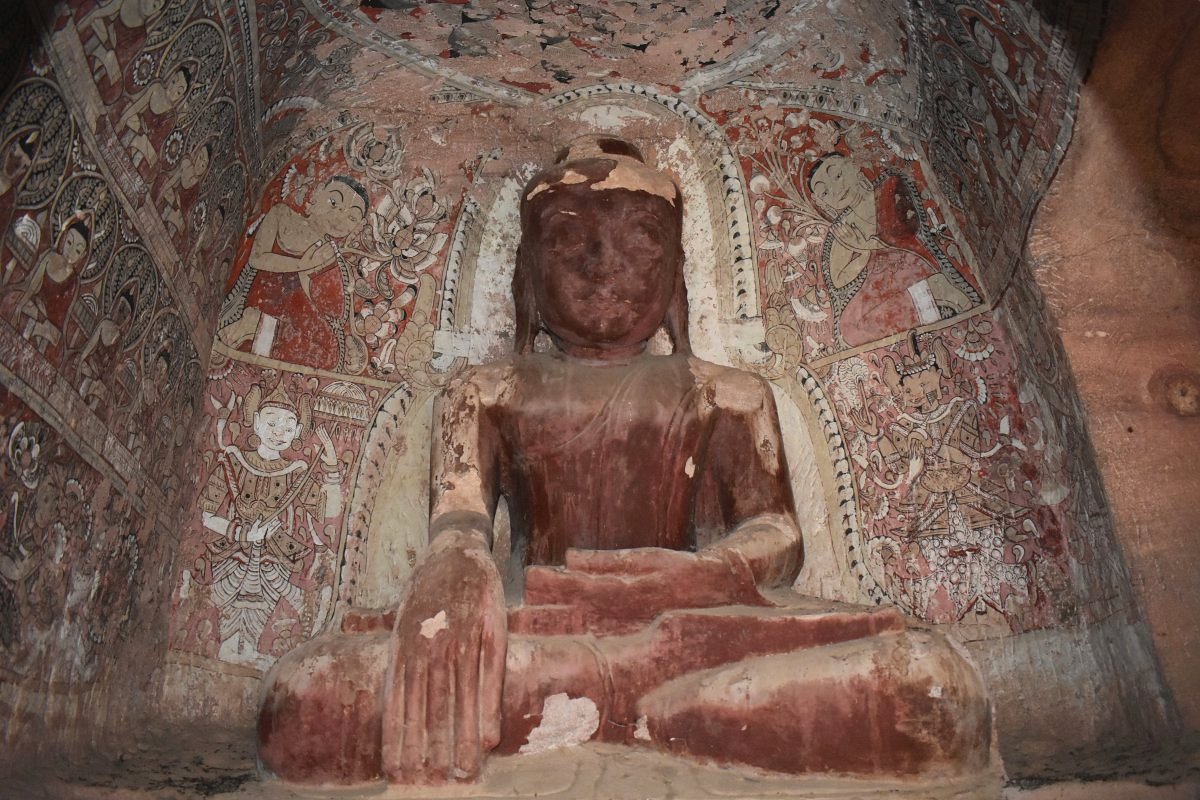 Unfortunately, the complex is not very well maintained. There is garbage around and the monkeys, which the locals feed as an attraction, don't help the situation. The paintings in some caves are affected by water damage and faded.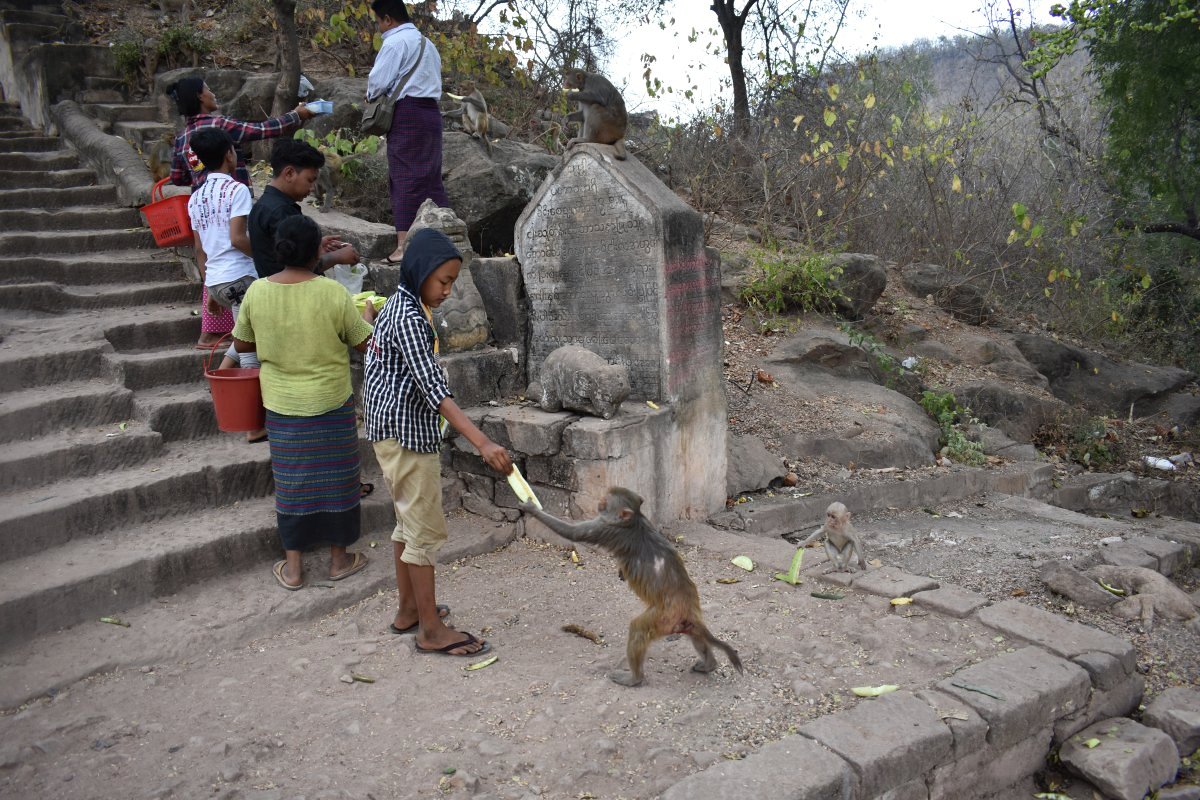 We saw just a handful of international tourists when we visited, but the place has a big significance for the Buddhist population on Myanmar and there were a lot of local pilgrims.
There are several pagodas on the hilltops around Pho Win, accessible via long stairways.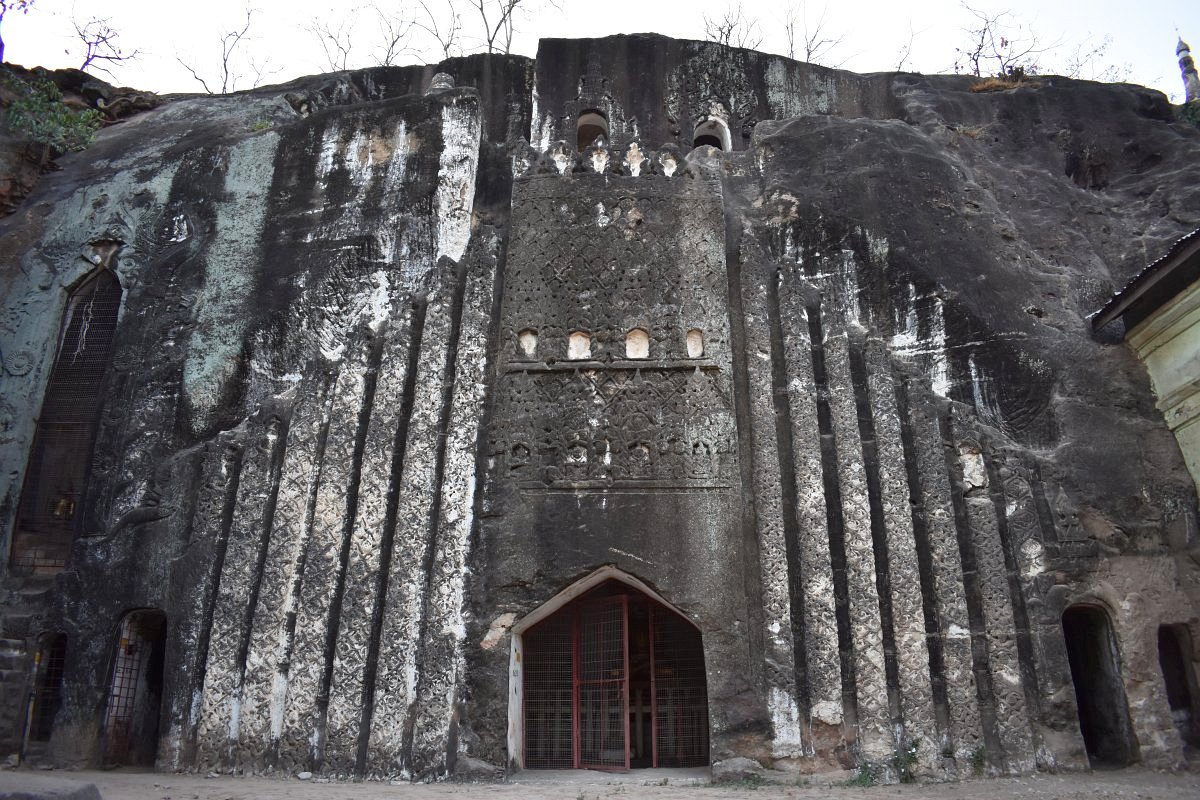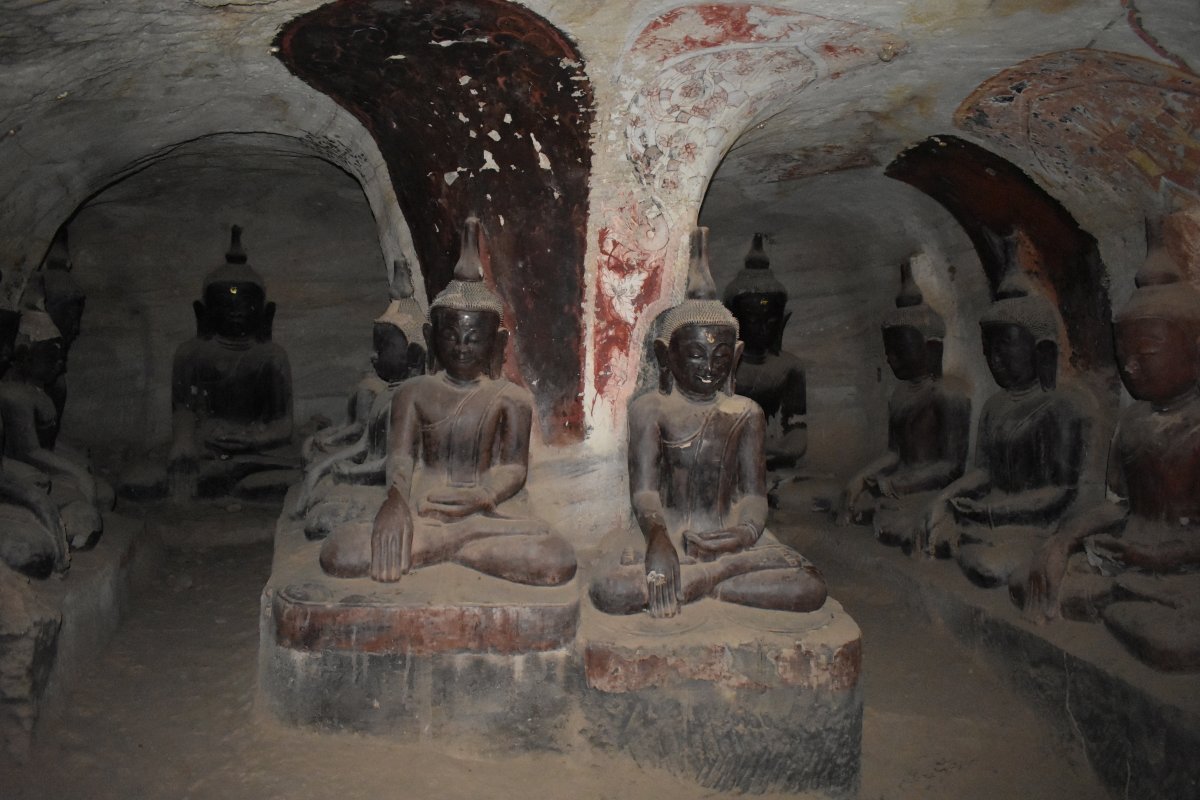 Being completely amazed by Pho Win Taung we thought that this was the major attraction here, but our trusty hotel brochure assured us there is another one nearby. After some deliberation on where this one could be, we decided that the best approach is to just follow the only sealed road, the one we came in on, a bit further.
Shwe Ba hill 
(Google Maps - parking)
The road ended after 2 km at a dusty parking lot and a small market, nothing interesting in sight. We left the motorbike and walked through the market. A stone entryway and a long staircase leads down into the hill - yes, into the hill. Shwe Ba hill is a 13th century temple complex, carved directly into the hill, with streets and temples, reminiscent of Petra in Jordan.
It is utterly impressive, the temples carved in the stone are huge and contain ancient Buddha images, beautiful carved gateways, reliefs and statues.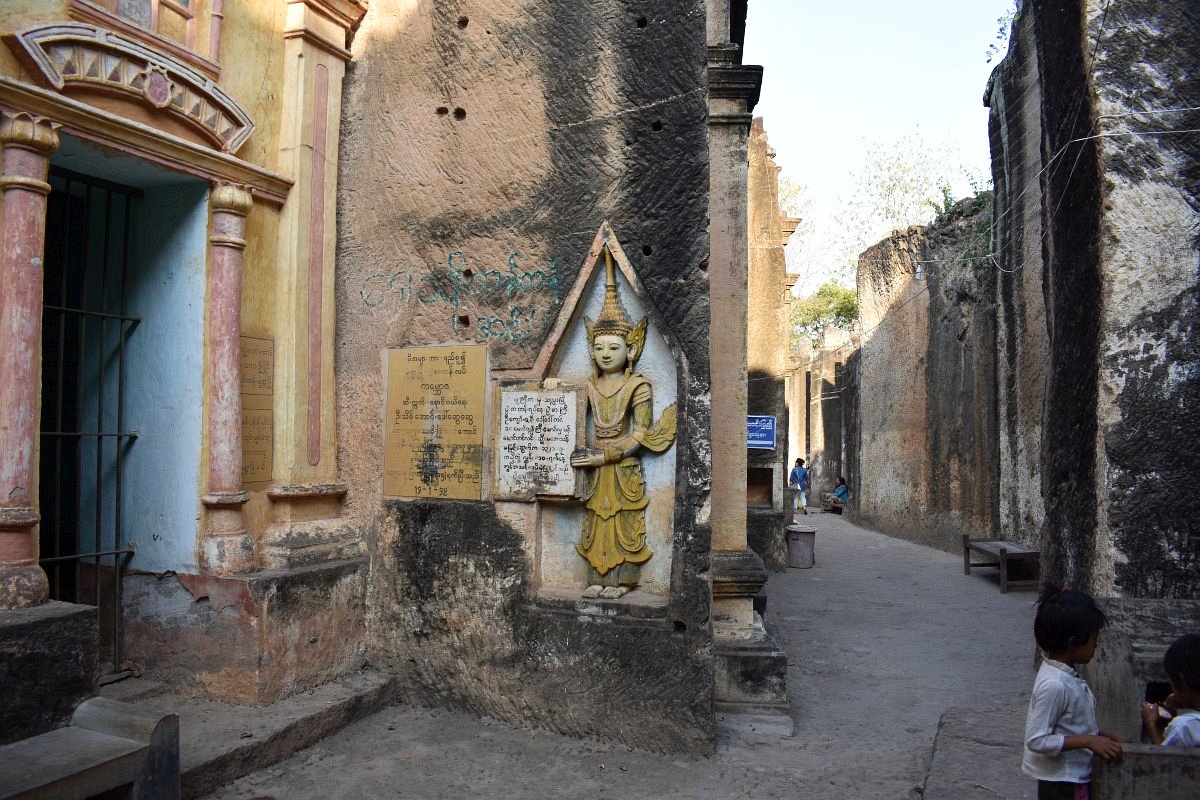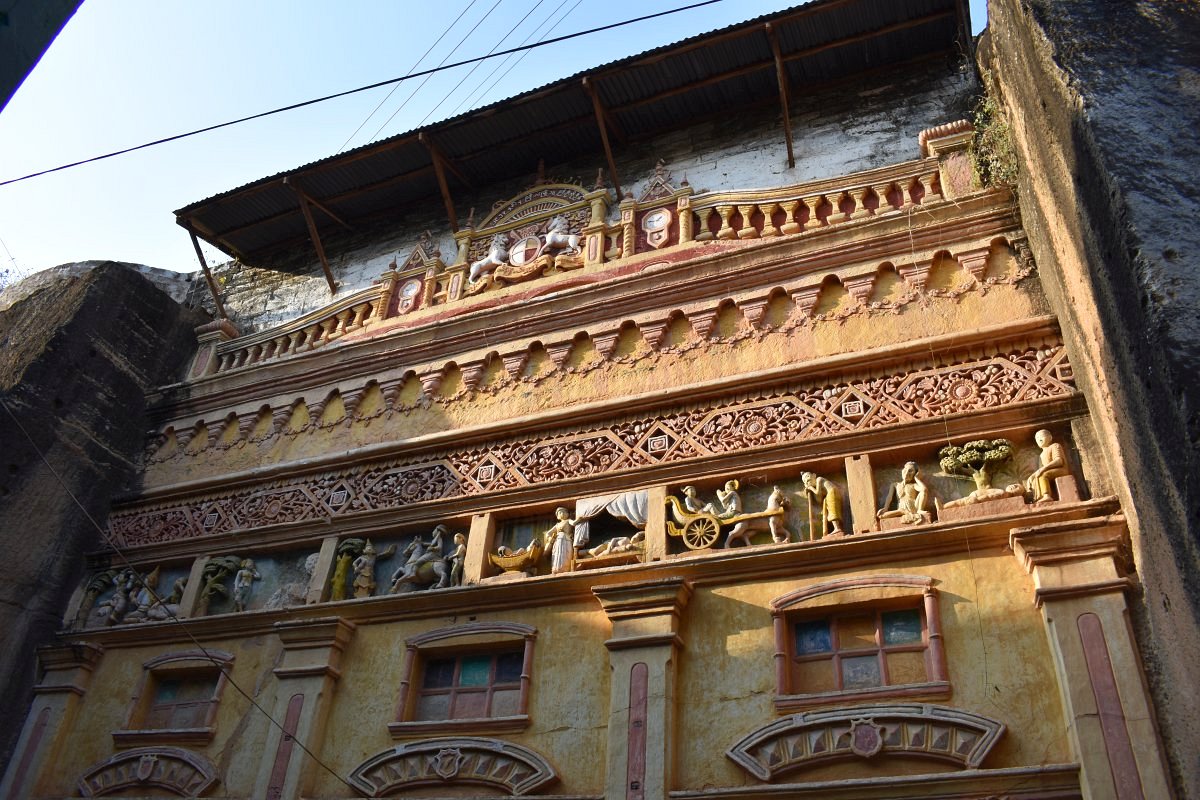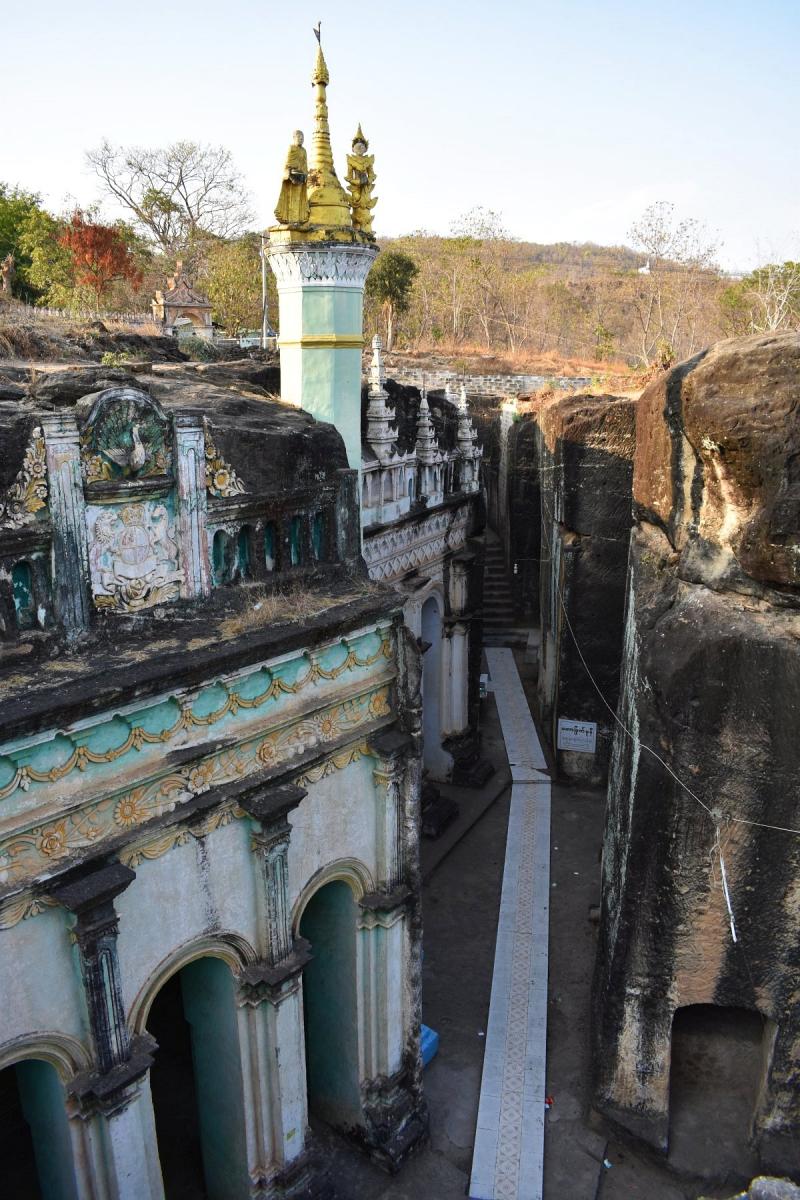 And this was a whole day of sightseeing, we arrived back at the hotel after dark, tired, but filled with emotions after the busy day.