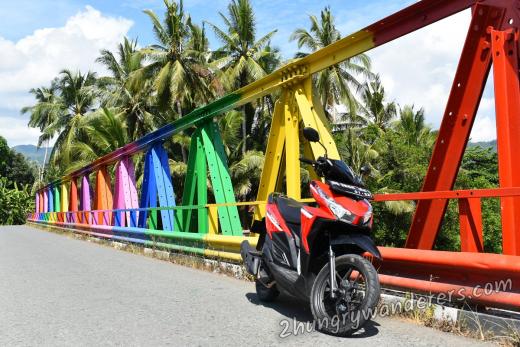 Note: This post is a part of our adventure in Ambon, you can jump to the other days here: Day 1: Museum and beaches and Day 2: Historic sites and snorkelling, or if you haven't already - read this first:
The third day started with the disappearing remains of a fort, then continuing north-east we met an eel, sacred to the local people, and completed the day with some more nice beaches.
Our route for the day on Google Maps.
We had a very early morning start of the day because we wanted to snap some photos of the mosques and the cathedral in the city centre at sunrise. After that we continued south-east through the city, past the Commonwealth War Cemetery, we just took a look at it from the road and moved on, it seemed like a nice park and a good place for a walk.
Fort Middelburg (Benteng Middelburg)
Finding it was a bit of a challenge, mostly because Google Maps presents a narrow stairway as an actual street and we couldn't follow the route. A friendly local saw us looking confused and knew what we were trying to find. He took us to the fort through several backyards, filled with piles of scrap and some farm animals.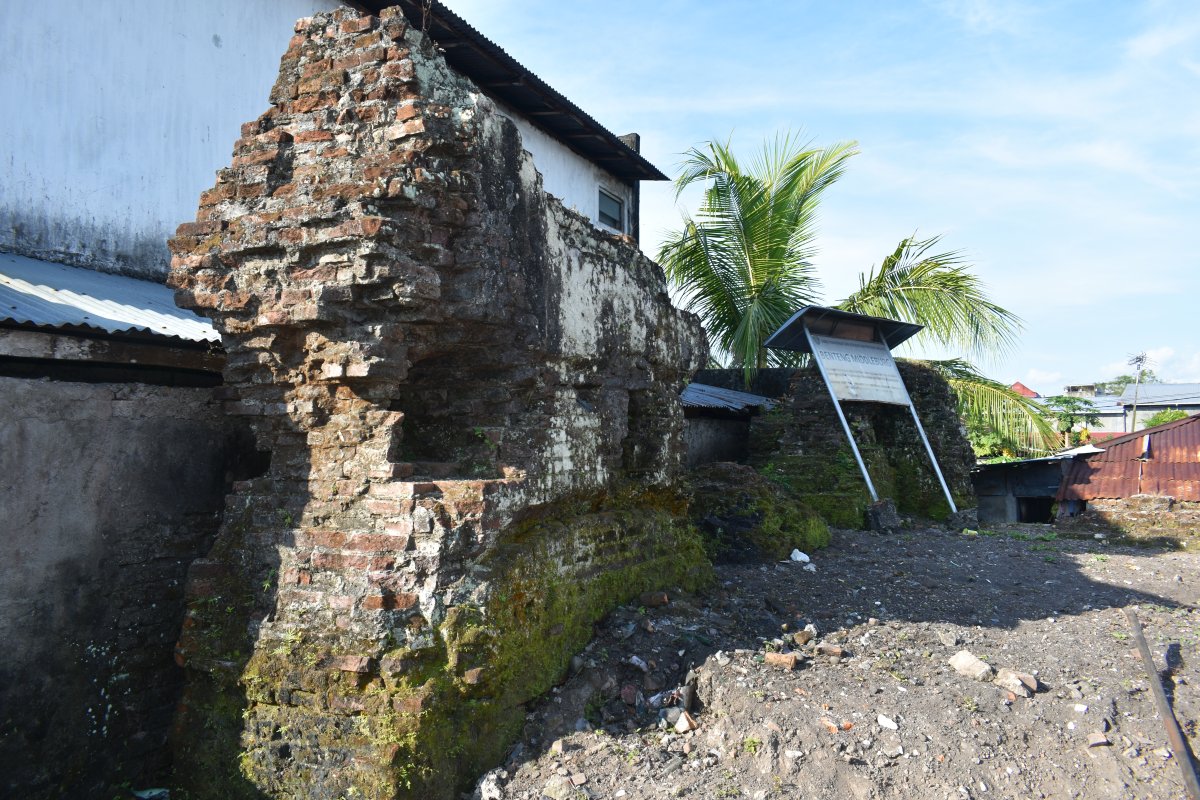 Middelburg was built in 1626 and re-built several times over the years after earthquakes severely damaged it. Initially, the fort was of some importance, overlooking the bay and during its best years was armed with four cannons and housed about 20 soldiers. What is left of the once-solid two-storey building with brick walls finished with stone now is just a sad pile of bricks. A badly damaged sign reassures that this is an actual historic site, not a generic ruin. Some of the houses next to it literally lean against the remaining walls and somebody has installed an orange water tank over a piece of the foundations. The man who led us there tried to give us some information about the fort, from his gestures and individual words we gathered that the building used to be a lot bigger and was actually on the water long time ago, not like now - hundreds of meters away. I can't even call it a tourist attraction, it is more of a mildly depressing curiosity that will soon vanish. 
The sacred eels of Waai
On the way to Waai, we stopped at the popular Natsepa Beach, just to take a look and have a short break. Early in the morning, it was low tide, nobody there and everything was closed. Decided to come back later and headed towards Waai, choosing the more direct, inland route via Teluhu. We didn't expect finding the eels to be easy, but it was - Google Maps led us to a sign pointing in the right direction, a short walk along a narrow canal where women were washing clothes.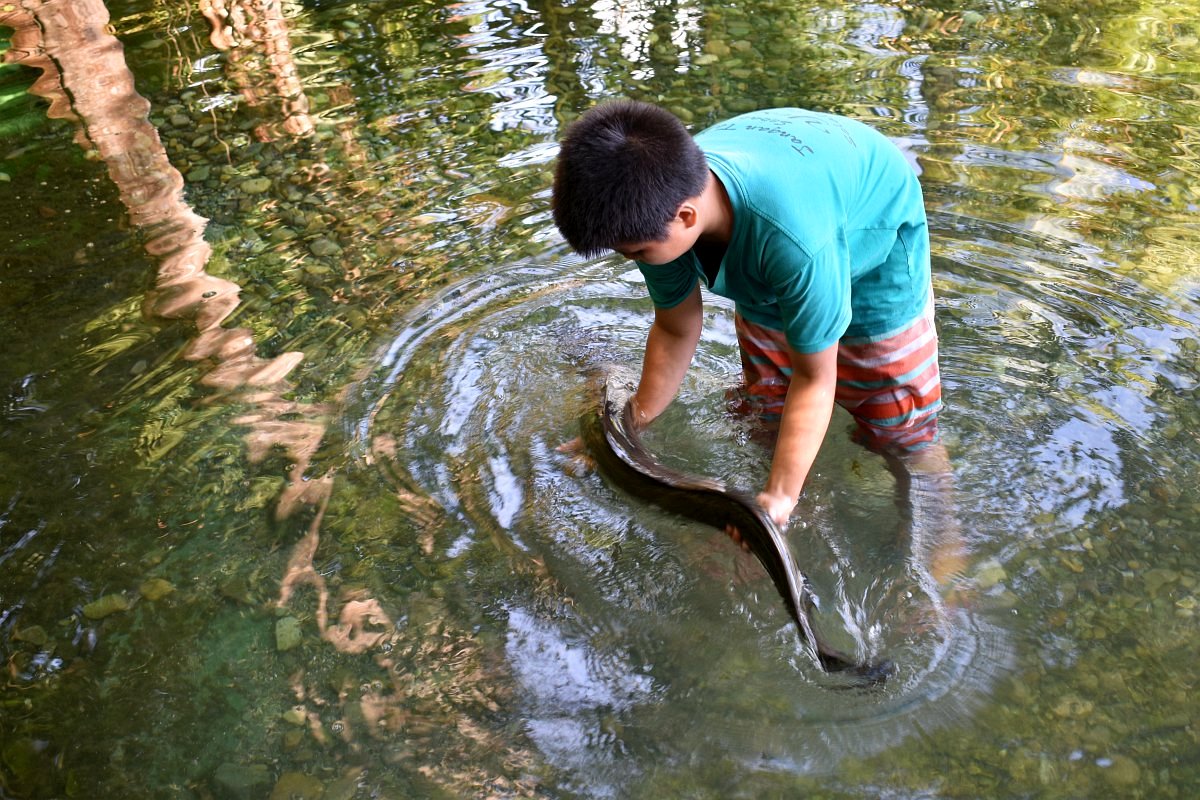 The eels are considered sacred by the local people, who believe that they are reincarnations of their ancestors. The pond itself is unremarkable, and at first, unable to see any eels, we wondered if this is the right spot. Soon a local lady sent her 10 years old son with a couple of eggs. He jumped in the pool and an eel came right away, just like a puppy happy to see his master. The show was cute and funny, the boy led the eel by flicking the water and the eel got to eat the raw eggs after some jumps and water play. Nobody asked for money, but we offered 20 000 and the woman said to give it to the boy - he accepted it and both looked happy.
Liang Beach
Continued north to Liang beach which is close to a local ferry terminal. The last kilometre or so the road runs parallel to the beach and once there has been a wall separating the scenic area from the road. Now the wall is badly damaged and people have used bricks from it to fill the potholes in the road, an amusing example of creativity.
The beach was beautiful, with bright blue water and fine sand. We met just one person there - the groundskeeper, who told us that most of the restaurants on stills and piers have been recently destroyed by a tsunami, whatever was spared by nature just got abandoned. Despite the lack of facilities, the beach is a good place to relax, not so great for swimming - sharp rocks can be seen for quite some distance, probably a lot of sand got wiped out too by the disaster.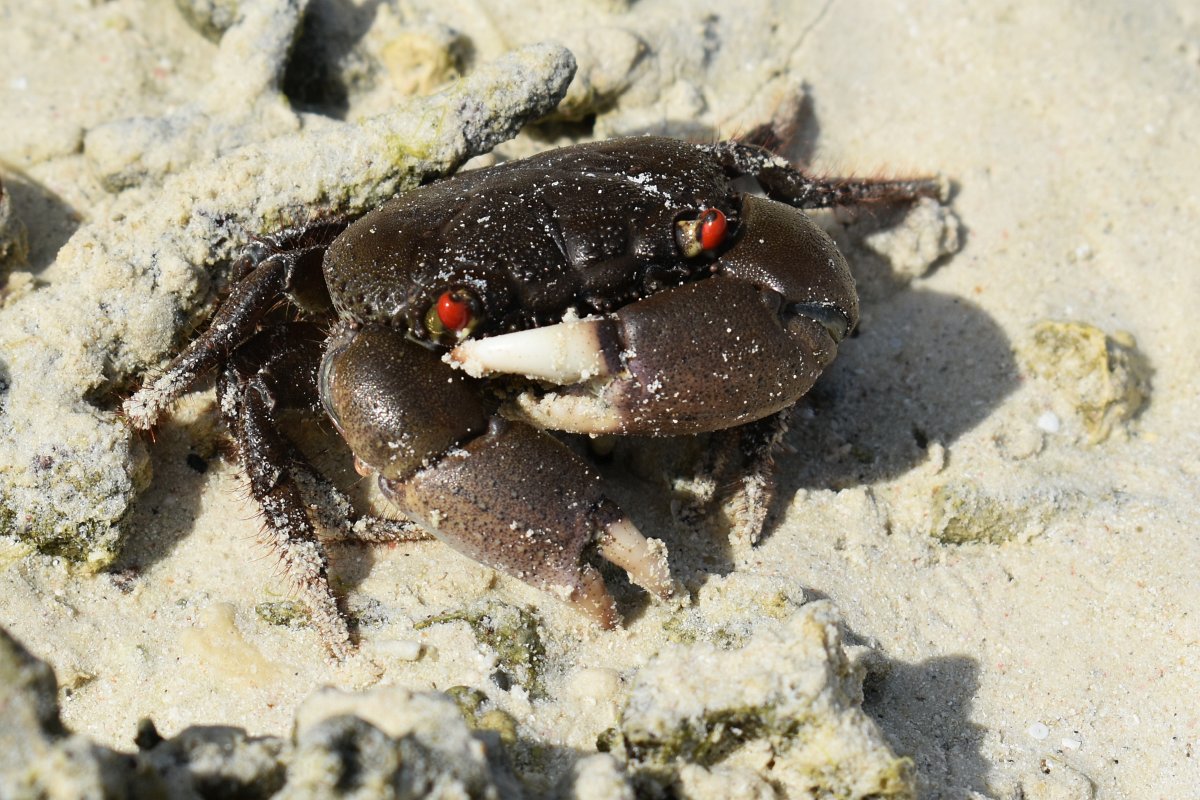 Not good for tourism, but great for the crabs living at the beach - we walked it for a while and saw many ten-legged guys, big and small.
Along the route today
Heading back to Ambon, but this time in Teluhu, we turned left, opting for the sea route. This was a great choice with nice views and colourful small villages. It is one of those roads that despite a lack of top attractions is an experience in itself, very picturesque.
In one spot, the road was eaten by a landslide, leaving only a narrow path, enough for a single motorbike to pass. Any larger vehicles had to do a long detour.
Natsepa Beach
More lively in the afternoon, with people bathing in the water and many stalls and cafes open for business. There is a huge line of tiny restaurants that cater to both beachgoers and people travelling the road in need for a break. Maybe it's a good strategy to target both groups, as many of the tables were occupied. We managed to find an ocean-facing one and had a coconut and a fruit salad.
These salads are something you should definitely try when visiting Ambon, they are very popular and easy to find. Just choose the fruits and opt for the full package - palm sugar with peanuts and fresh chillies get beaten into a sauce to garnish the fruit pieces. Admittedly, unusual at first, is quite delicious, especially combined with fresh fruit.