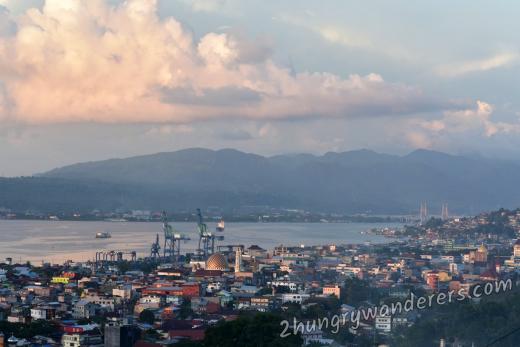 Ambon (city) is the capital of the Maluku Province in Indonesia, and a very likely stop for all travellers heading in the direction of the islands in this part of the country, regardless if they choose to travel by air or water. We were in that position on our trip to Banda Islands, and on our way back to Jakarta, we decided to spend some time and explore Ambon Island.
To clarify, both the island and the main city carry the same name, but there are other towns and villages on the island.
The island has some nice beaches and historic sites, we managed to visit most of them in three days and that is the minimum time you will need to fully enjoy the place.
Where to stay
Most hotels are in the city centre, which means within 500 meters of the only park in the city - Merdeka Field. That is about 20 km (30 minutes) by car from the airport, but practically walking distance from the seaport. Staying in this area will give you easy access to some of the attractions and plenty of restaurants and shops. The range of accommodation options will be enough for the majority of tourists.
How to explore
A more important decision you have to make for your trip to Ambon is transportation. The city itself offers little in terms of sights (and atmosphere), practically an afternoon walk will be enough for most people, below we have a list of the main spots you should check out. A note about walking, Ambon is not very pedestrian-friendly, sidewalks are either completely missing or have too many similarities with an obstacle course.
The nice places to visit are kilometres away from the city and your first option is to get somebody to drive you - a taxi or trike is always easy to organize. This is a good option if you want to be comfortable and have some flexibility, but can be expensive and difficult to get to some of the less popular places. Buses and any resemblance of public transport are even worse, if that's your choice, allow plenty of time and be prepared to pay for a taxi anyways, at least for part of the trip. 
What we did and recommend is renting a motorbike. We had a very positive experience with Ambonise Rental (site | FB), they gave us a good price, delivered the bike to our hotel and picked it up at the end. The bike was in good condition and the helmets provided were newish. 
The city traffic is very chaotic and unpleasant, but once you leave it, everything changes. The roads get really quiet, we had many enjoyable hours riding past small villages, beaches, hills, markets and so on. Having complete freedom over your movement is awesome, also using GoogleMaps for navigation was mostly successful. Keep reading for our complete list of attractions you can reach on a motorbike.
Things to see in Ambon (city)
The already mentioned Merdeka Field marks the cultural, historic and commercial centre of the city. The park itself is small and crowded. Here are the attractions nearby, and if you plan your route properly, can be visited in about 2 hours.
Statue of Pattimura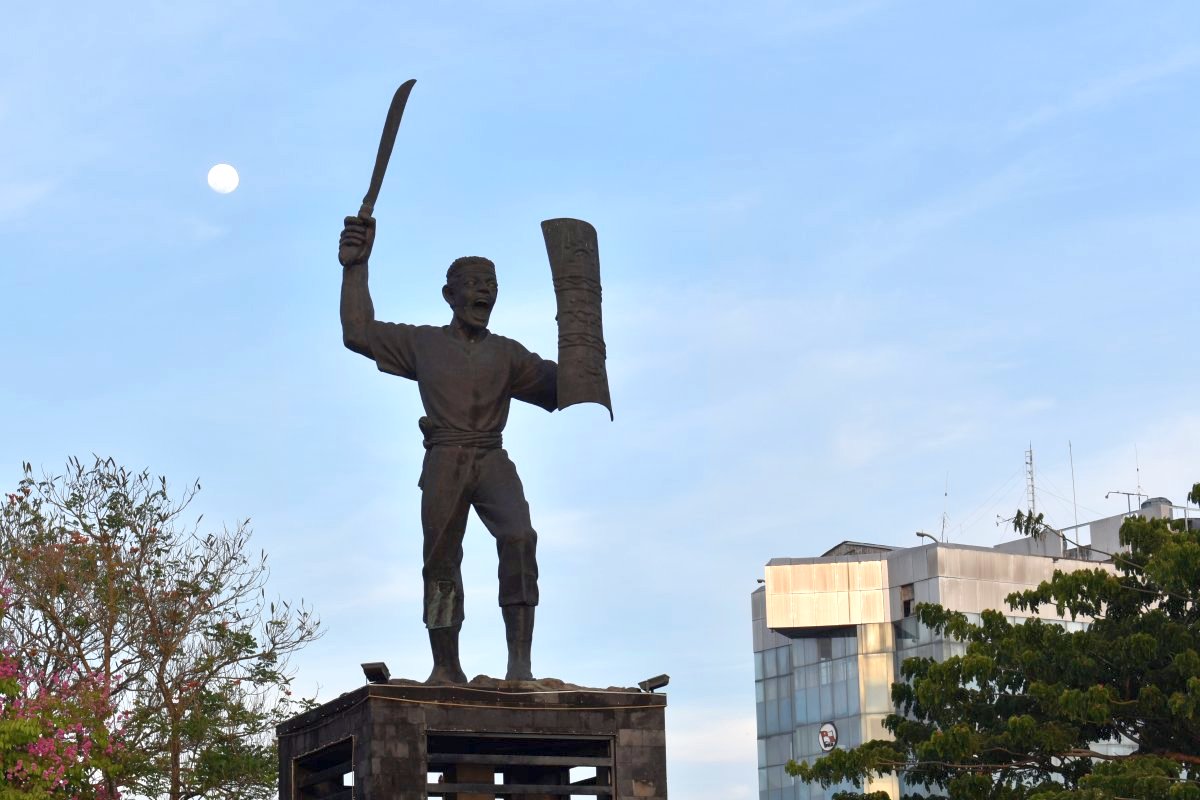 Born as Thomas Matulessy, later known as Kapitan Pattimura is a deeply respected, Maluku-born national hero. In colonial times he led a successful attack against the Dutch, but was betrayed by his king and hanged. Now his statue marks the spot where this sad event occurred. He is portrayed as a true fighter - waving a sword and a shield.
Fort Victoria
Right next to the park is one of the oldest fortresses in Indonesia, built by the Portuguese before the Dutch arrived. It has a rich history, but unfortunately, now it is part of a military base and tourists are not allowed to visit it. The only thing you can do is snap a photo of the arch marking the entrance and move on.
World Peace Gong
The monument is often closed, but if you are lucky to visit while open, you have to pay 5000 IDR ($ 0.35) entrance fee which some people consider not to be worth it. As it was closed when we passed by, we didn't' have to make this decision, but I recommend at least reading the story of the gong.
Places of worship
The city holds a multitude of temples for many religions, but only three of those are considered to be noteworthy tourist attractions. Al-Fatah Grand Mosque is the central and largest mosque on the island, you just can't miss it - two minarets towering next to a huge black and gold dome. Personally I was more impressed by - Masjid Jami', also known as "The Green Mosque", smaller but more ornate and everything is a shade of green! We were not allowed to enter either of the two, due to not being Muslims, but I bet they are quite interesting on the inside too.
St. Francis Xavier Cathedral or simply Ambon Cathedral is the largest Christian temple in the city. Named after a Spanish priest who helped to spread Catholicism in the Moluku region. Built in the beginning of the 20th century, the white building is decorated with beautiful golden statues.
While I was taking photos of one of the mosques, an elderly man approached me and proudly pointed to the old building. He was obviously happy we were interested in his place of worship. Surprisingly, same thing happened when I was taking pictures of the cathedral - another elderly man happily mumbled something, waving his fingers at the spires. We felt that they both took our interest in the beautiful buildings as a point for their religion, a reminder that despite the mostly peaceful situation on the island religious tension is still present in a way.
Things to see around Ambon Island
The best places on Ambon Island are spread out and here I have included links to our separate posts for each of the three days we spent exploring them. There you will find details about the attractions, routes and some navigation issues we've had. Also, every day we made random stops along the way with curious and funny sights, that just add to the whole experience of riding a motorbike in Indonesia.
Each post contains a map of our route for the day to make planning your adventure easier - you can follow our steps or choose a different route. First and last points on every map are Merdeka Field, you can just replace it with your hotel. Travel time for each day was about 3 hours, during which the distance covered is 60-90 km per day.
Day 1: south-west
Museum Siwalima (Siwa Lima)
Pantai Tanjung Nusaniwe
Santai Beach
Pintu Kota Beach
Namalatu Beach
Day 2: central north
Fort Amsterdam
Gereja Tua Immanuel
Wapauwe Old Mosque
Lubang Buaya Morella Beach
Day 3: north-east
Fort Middelburg
The sacred eels of Waai
Liang Beach
Natsepa Beach