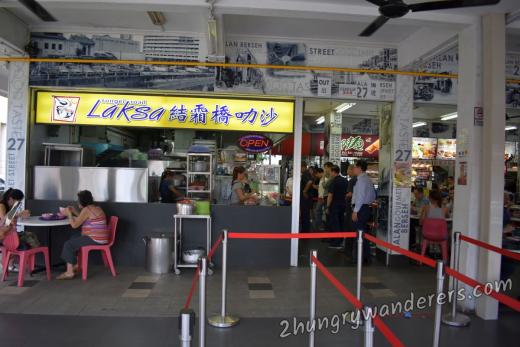 On our last day in Singapore we decided to try the world famous "Sungei Road Laksa". The stall is located in a small food court, a five minute walk from Jalan Besar MRT station. When inside the food court don't make our mistake - looking at the signs, just look for the only stall with a crowd of people in front. There is a queue line and at lunch time there were about ten people waiting, but the queue moves fast.
Sungei Road Laksa has a simple business model - only one item on the menu, cooked in a way that attracts locals and tourists every day. It was a pleasure to see how each bowl is prepared with care - from pouring the soup to adding a generous serving of fresh cockles. One thing you can't miss is the charcoal fire underneath the cauldron. For me this traditional method adds not only to the flavor but to the atmosphere and the experience too.
Ordering is the exact opposite of the typical Subway conversation. It is so simple, you have to answer only two questions: "How many?" and "Spicy?". Be brave with both answers. The bowls are far from huge, two will not be a challenge for a hungry person - many people around us had more than one. The spicy bit is a teaspoon of sambal, which is not too hot, more mild and a little bit sweet, which is a perfect match for the laksa. Price is $3 (SGD) per bowl.
The soup itself is really good, balanced in every way. The spices are there, but not overpowering the coconut undertones, seafood flavors are fresh and strong. The noodles are cut in smaller pieces, so the bowl comes only with a spoon - no need for chopsticks! If you are expecting a strong flavor kick you will be disappointed, this is not a laksa that will make you sweat, it is delicious and will make you come back for more.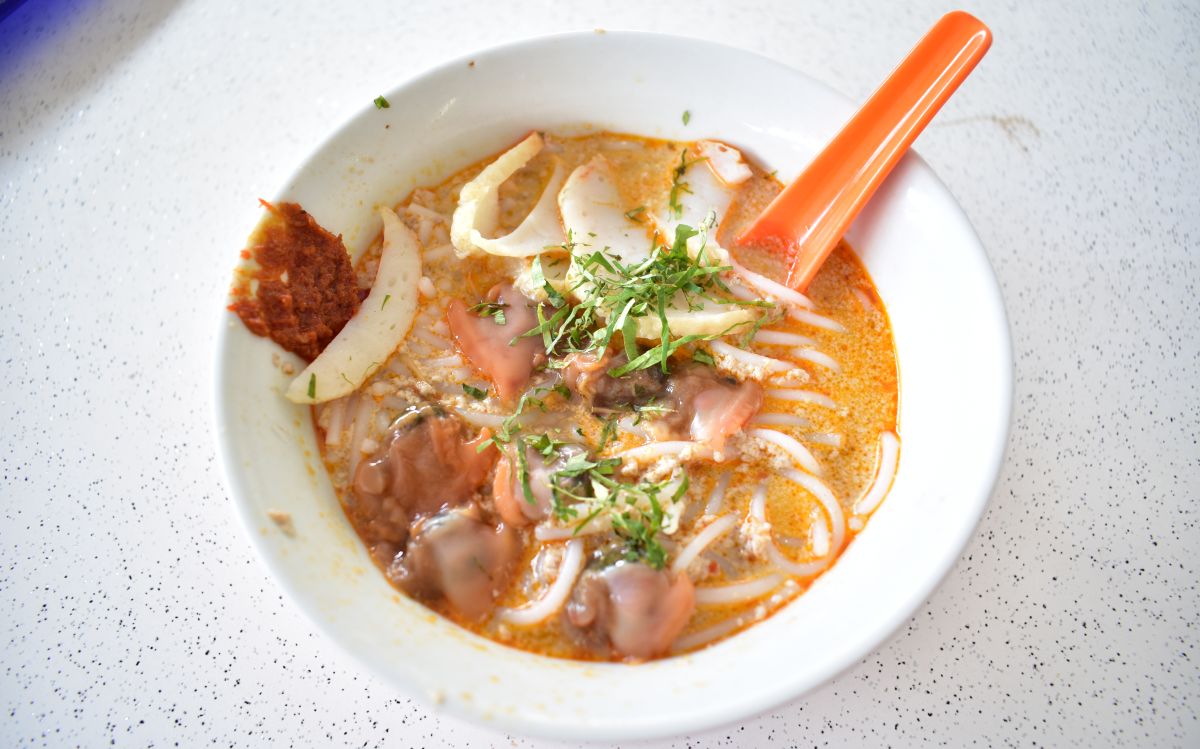 Not a bad place for people watching too - mostly Singaporeans but some hungry tourists too. I really wanted to snap a photo of a big guy with three bowls in front of him, he obviously loved the soup. On our table was a middle aged local couple, the husband explained that they go there very often and was pleased to see we enjoyed the laksa. Also, very proudly he announced that this is "The best laksa in the world!". I have to do some more research eating before fully agreeing with him, but in any case Sungei Road Laksa is worth trying.