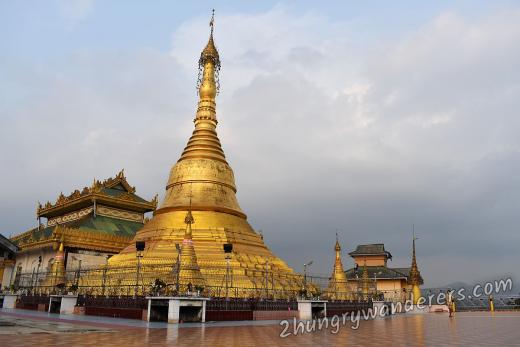 We arrived in Ye (pronounced "Yay") in the afternoon, after a four hour long bus ride from Mawlamyine. It was hot, the bus was full, even the "middle class" fully taken. What is "middle class" you wonder? All buses have two rows of seats with an aisle between, but on all bus regular (not VIP) routes we traveled in Myanmar, fold-outs or tiny plastic chairs fill the aisle making more room for extra passengers. We don't know if tickets for these seats are cheaper, but sure hope so as it looks quite uncomfortable.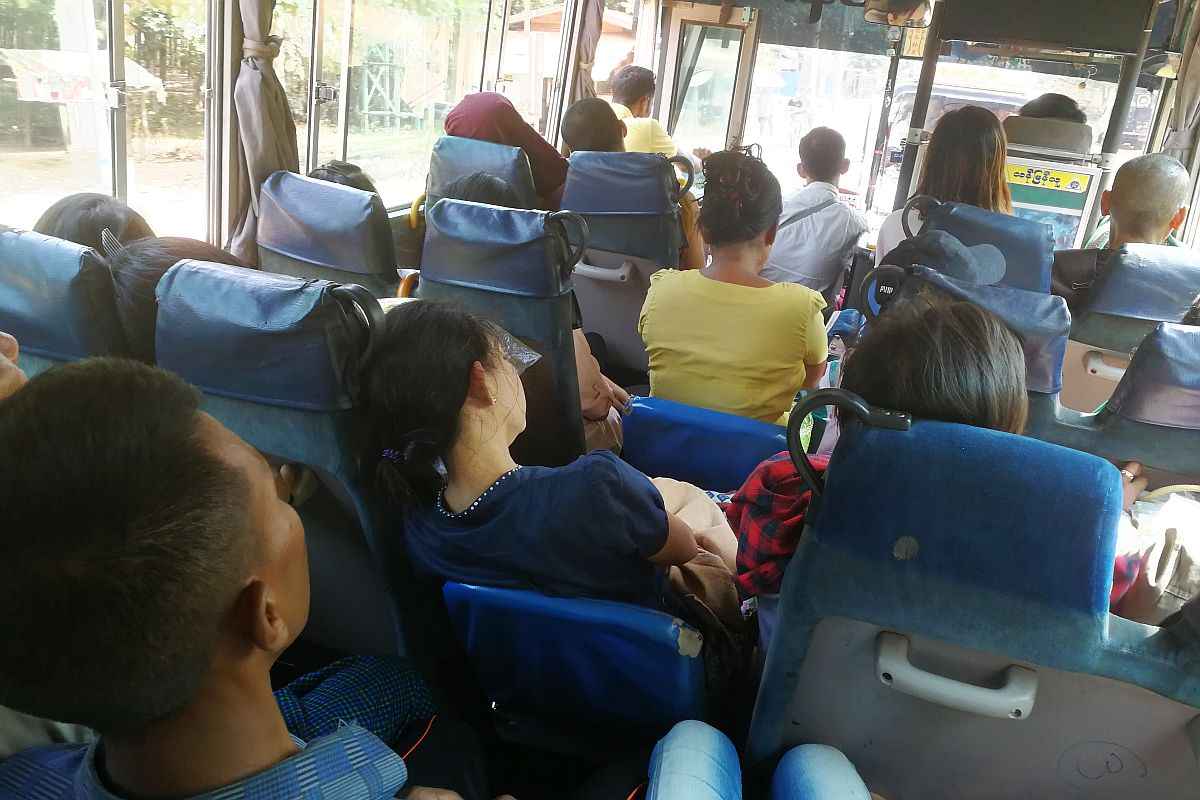 Thanks to the Google maps navigation we had on our phone, we were able to see that the bus passes close to our hotel on its way to the bus station in Ye. We noticed that other people ask the driver to stop along the way - most likely in places near their homes, so instead of going all the way to the end of the route we asked to be let off a short walk from the hotel. The two foreigners rolling their big suitcase were apparently an unusual sight as people were smiling at us as we passed, but we were happy to shorten our ride and not wait and pay for a taxi.
There isn't much choice of places to stay in Ye - only a handful of hotels are housing the few tourists visiting the town. We decided to choose one of the older ones - Starlight guesthouse. It is held by an American guy and his Burmese wife for some years now. They provide very useful information about what to do and see in the area, can help organize tours around and transport out of the town and have motorcycles for rent - in good condition and reasonably priced.
The rooms were basic but clean, with ensuite bathrooms. Our aircon dripped on the bed and there were a few times when mud was coming out of the shower and tap as it was the end of a very dry dry season, but those things are not unusual when staying in remote places like Ye. Breakfast was served on the second floor balcony with beautiful views of the lake and the temple.
Visiting Ye is more about the experience than impressive sights. We spent our 3 days there doing an organized tour on the river, taking in the atmosphere of the local market and temples and riding on a motorcycle exploring the area and going to the seaside.
Tour on the river
Going upriver from the Jaung Ywar village on the Ye river is one of the main attractions here - for both locals and tourists. Foreigners are still not allowed to go on their own as it is a government requirement to have a guide to visit the village or take a boat.
There are several options for the guided tour - you can get a car and a guide or the less expensive and more flexible - a guide with a motorcycle. For a solo traveler it is possible to ride with the guide, we rented our own bike and followed the guide on his. This gave us the freedom to just keep the bike and go around to other places after the half-day tour without having to go back to the hotel.
We started the tour in the morning, first riding up a very steep road to a hilltop temple with amazing views of the lush jungle and the windy river. After that we went to Jaung Ywar, which is small village on the river. Once we parked our bikes in the tarp covered parking space we noticed that this was a popular spot for leisurely days - boats were lined waiting for customers and restaurants offered tasty looking skewers, leaf wrapped rice cakes and fresh fruits.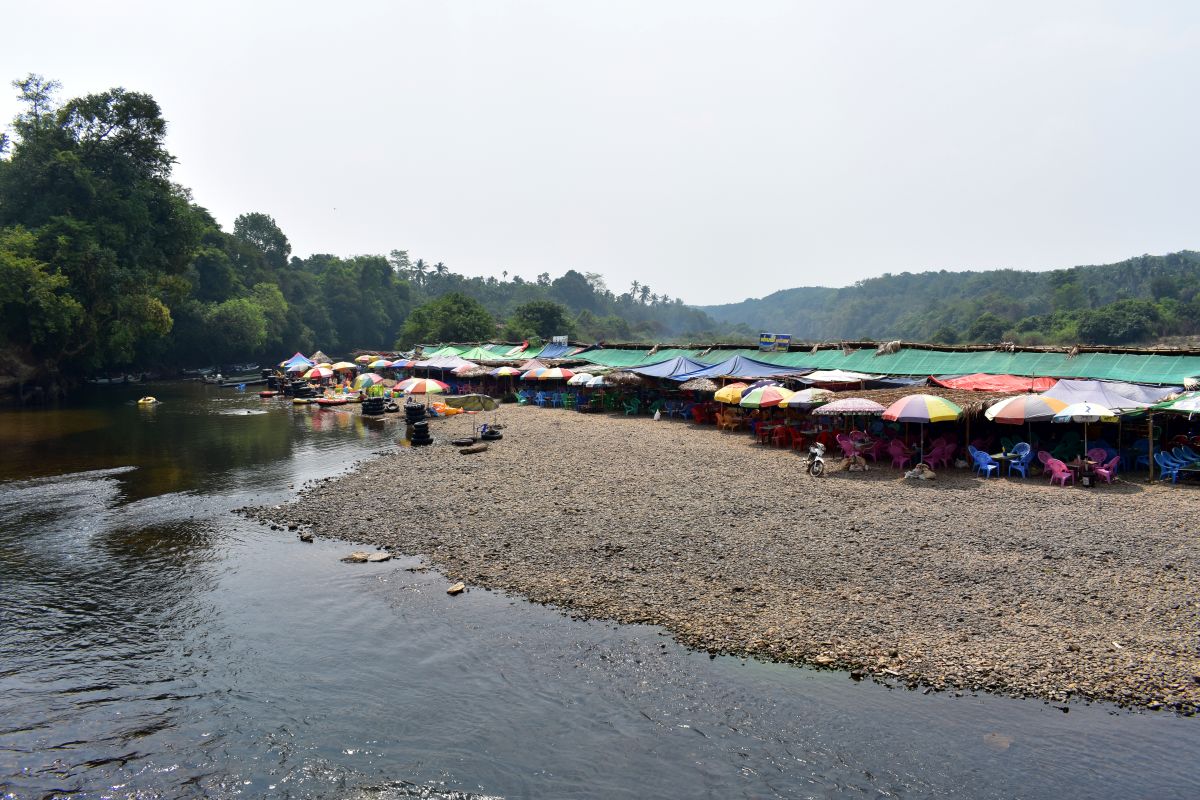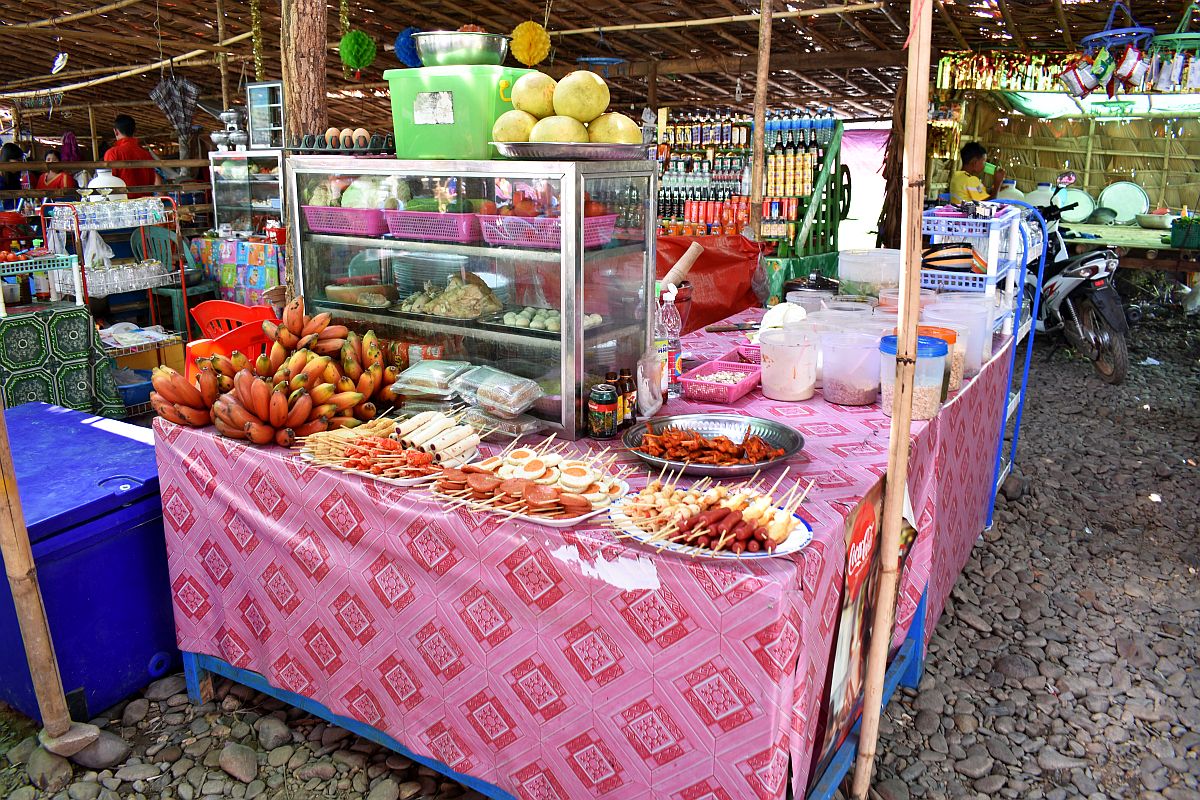 We boarded our boat and started the 20 minutes journey to a small Mon temple where two branches of the river meet. Going upriver through the thick jungle is an amazing experience. We passed by a few other boats going in the other direction and waved at the smiling passengers.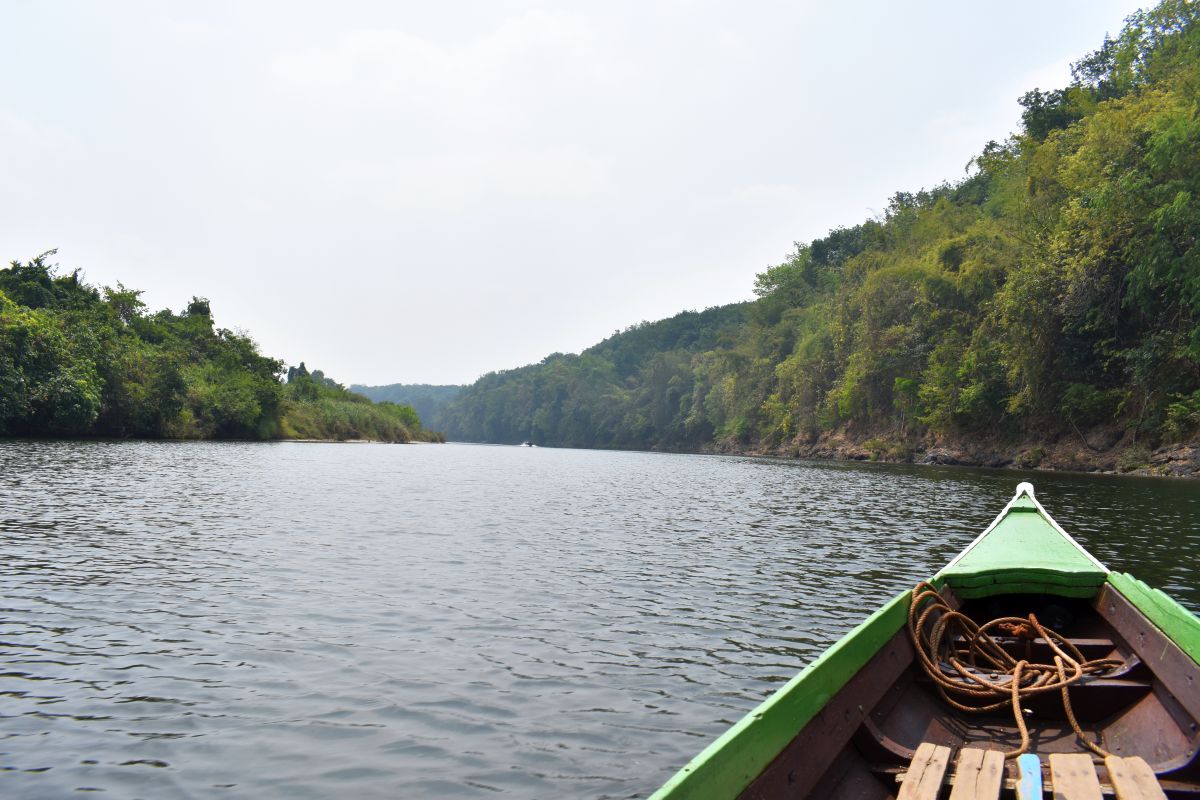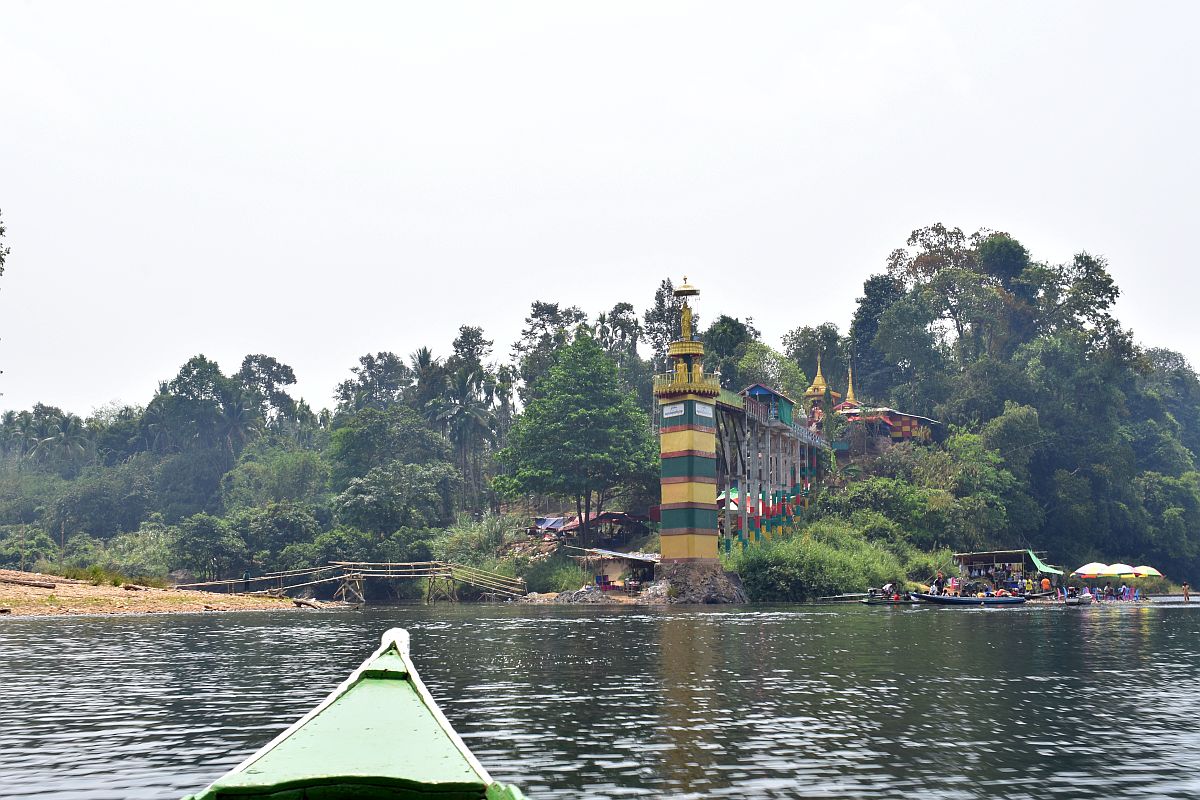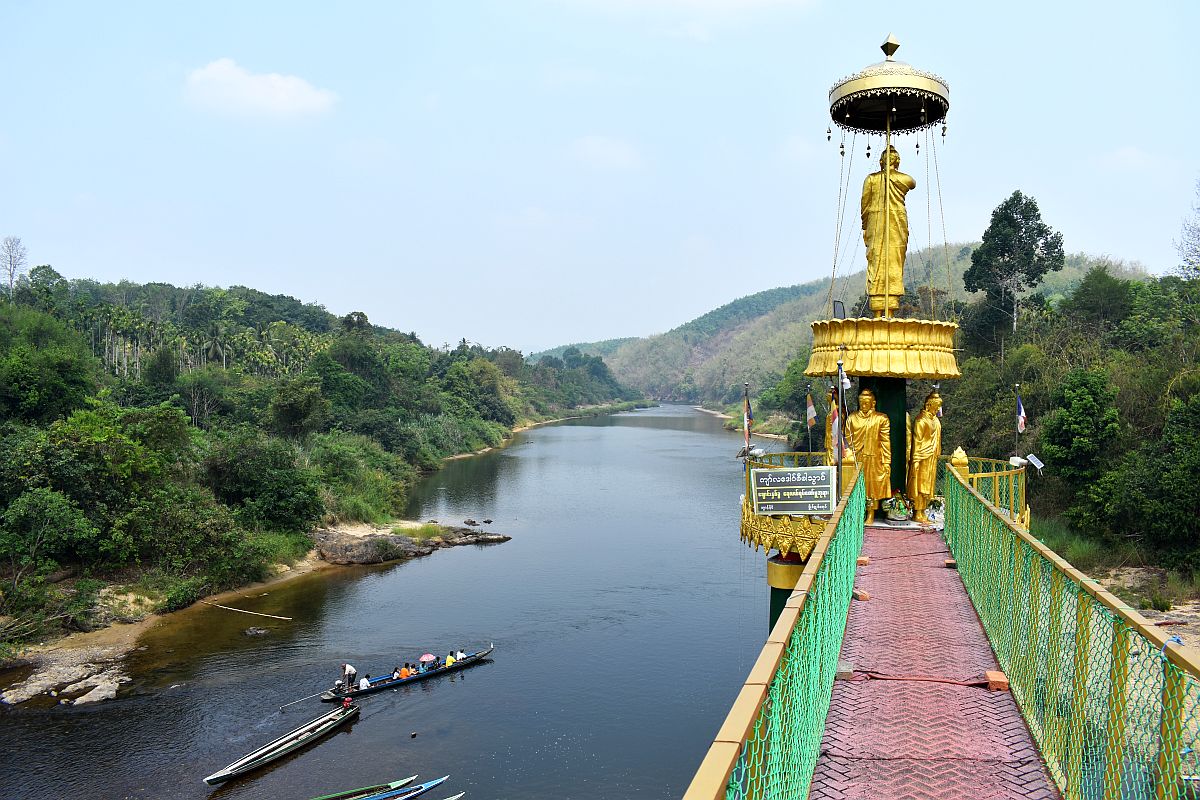 At the temple we had some time to explore and take pictures and also go for a dip in the crystal clear waters of the Ye river, and then it was time to go back and continue the adventure.
Seaside temple and the beach
There is not much to be said about the beaches in that part of Myanmar. Not touched by resorts and tourists they are unfortunately covered in trash brought by the sea waves so don't put your bathing suit on yet. This is not to say that it is not worth a visit - the long sandy beaches are still beautiful, if dirty, and the ride to get there goes through green paddy fields and small villages with shiny temples and makes for a nice day trip from Ye.
There are several beaches close to Ye - Andin village has a long beach, Bin Le Wa is another one and there are some nice restaurants there as well as a hilltop temple, Ka Bia is a bit further south, but also sports seafood restaurants and is suitable for swimming, a resort is planned to be build there.
We chose to go to Bin Le Wa beach as it is closest to Ye - only about 30 minutes ride. The beach itself was as I mentioned before very dirty, but a short climb up to a hilltop temple right on the edge of the sea provided stunning views and refreshing sea breeze.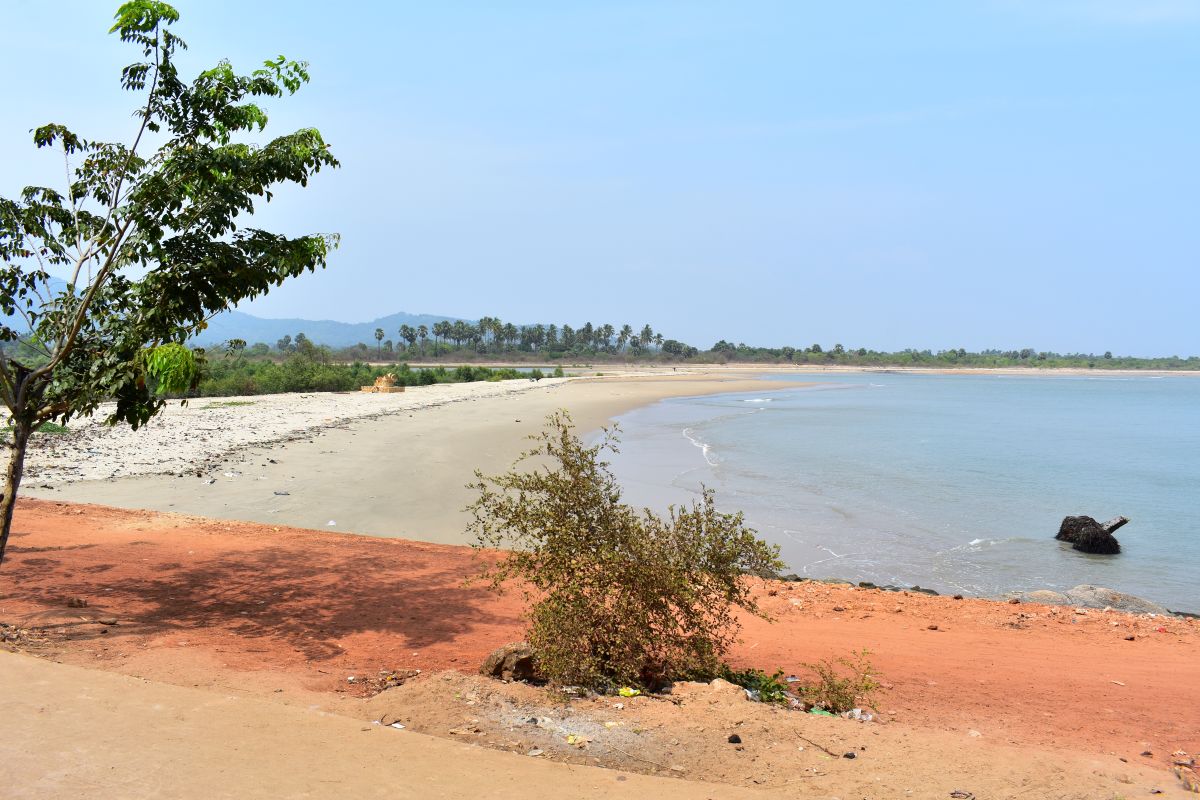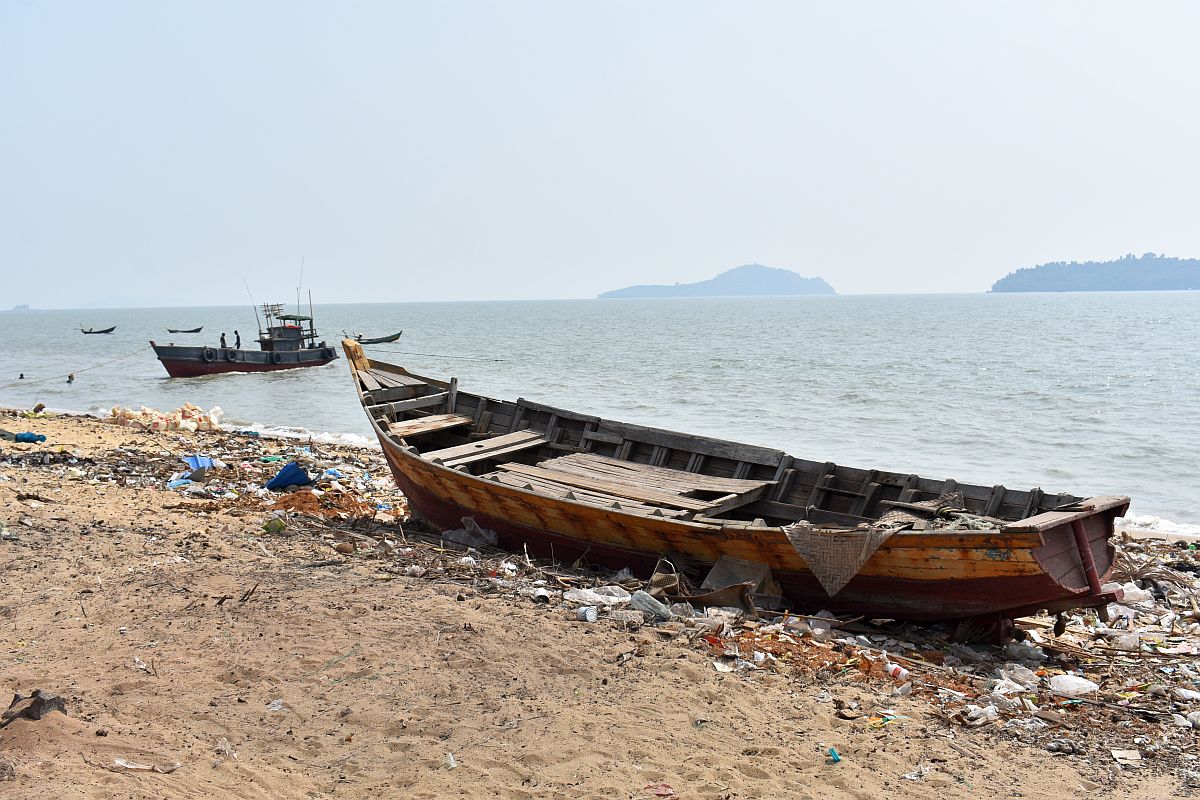 On the way back to Ye we stopped for a late lunch at a local roadside restaurant for some delicious Thai food.
Shwe San Daw pagoda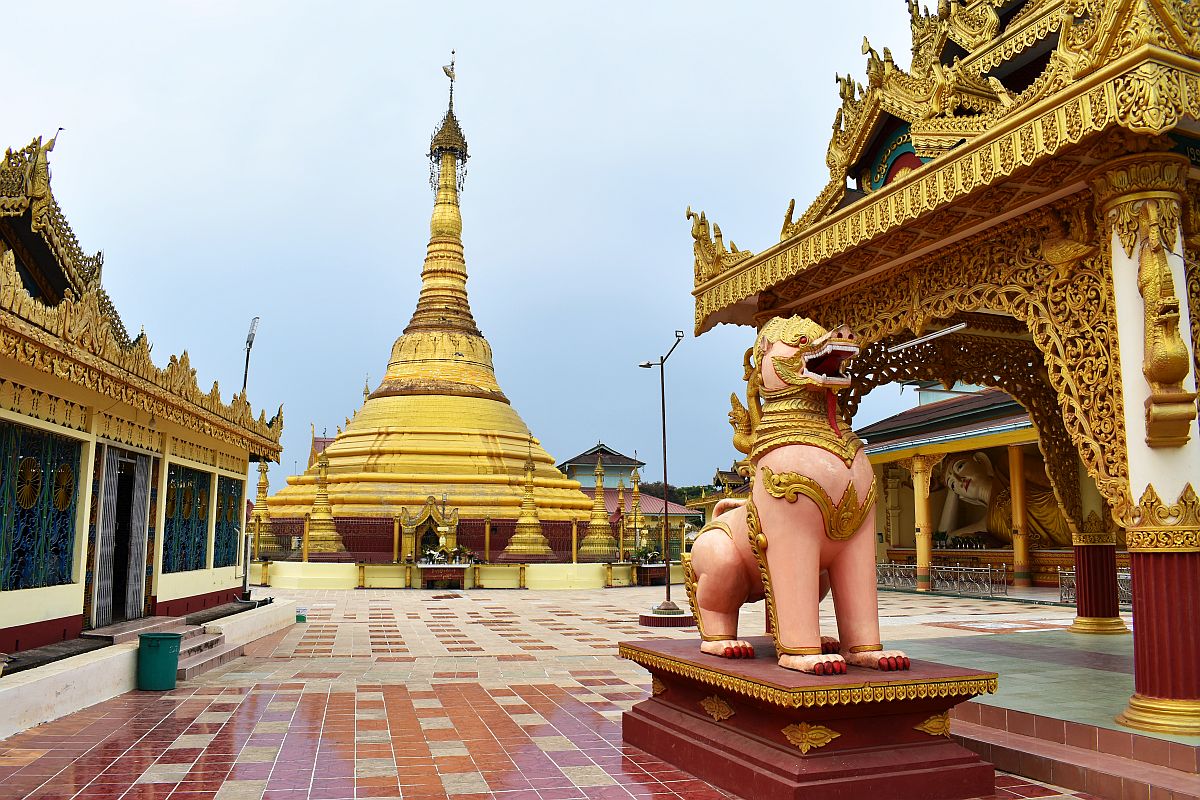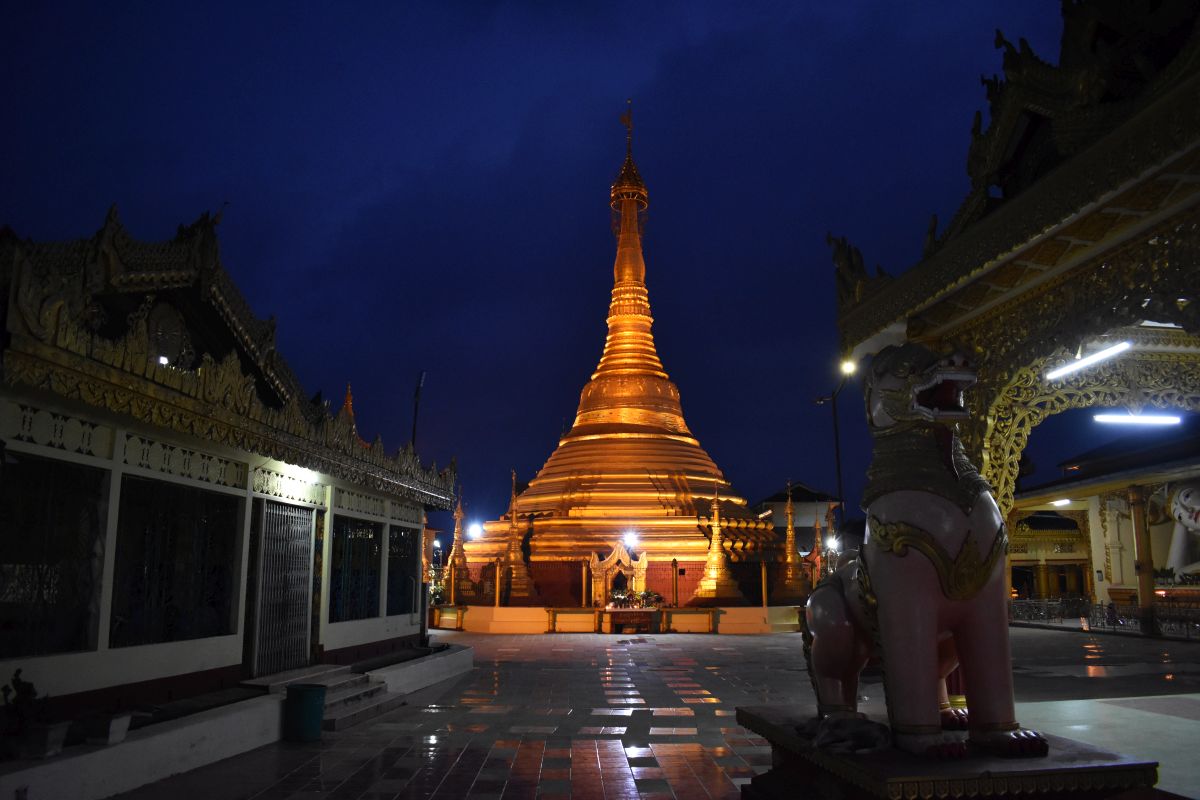 With a big golden stupa and beautiful statues you cant miss this temple - located in the center of the town it presents opportunities for both nice daylight and night photos. An interesting feature of this temple are its guardians - big salmon colored lion statues.
The lake
The evening stroll around this artificial lake was very pleasant, with a small temple in the middle, beautifully illuminated at night it is a favorite evening spot for locals and tourists alike. Several nice restaurants (well, nice for Ye at least) make it a good dinner destination too.
We went all the way around the lake, but there is no footpath at places and we had to walk on the dark narrow street, which was a bit scary. I would recommend sticking to the central part of the lake where the platform with the temple is. And don't forget to spray on some mosquito repellent.
The market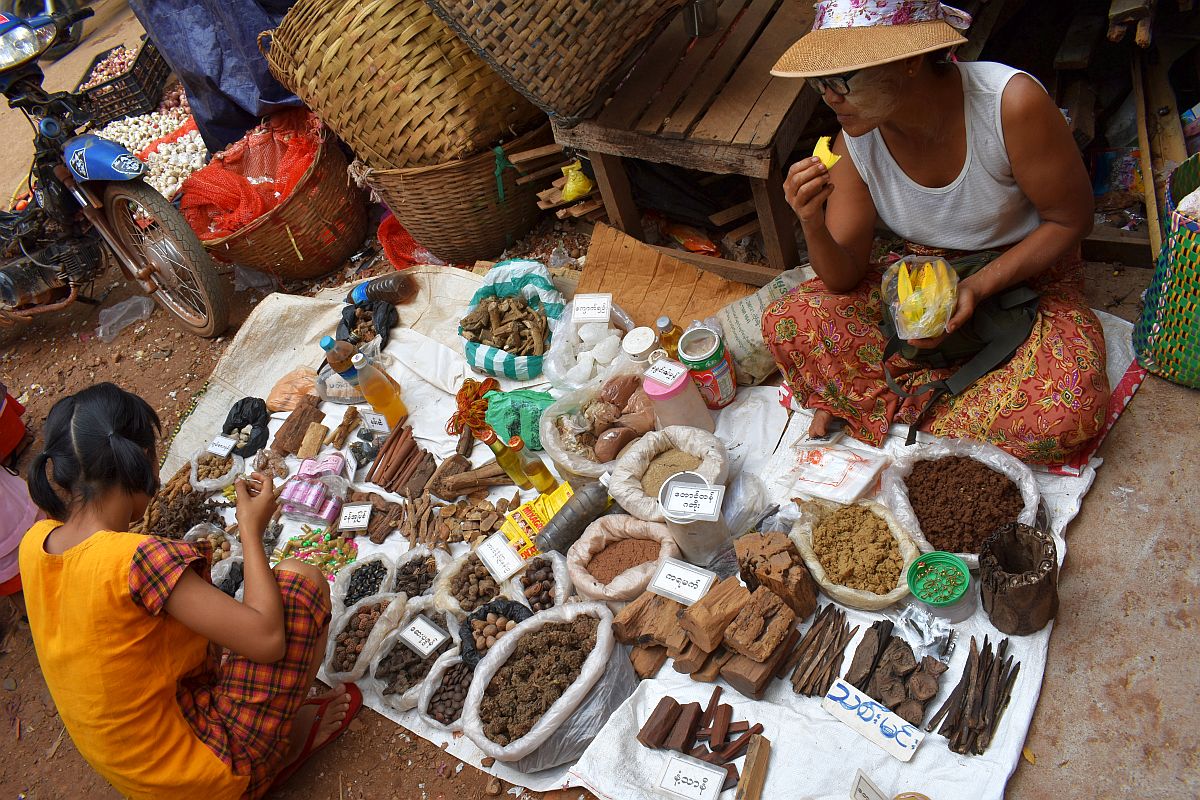 If I am to be honest, this is not the most impressive market. If you've been to other markets in Burma there will be nothing new to see here. Still, it makes for a nice morning stroll browsing the fresh produce.
Shiny temple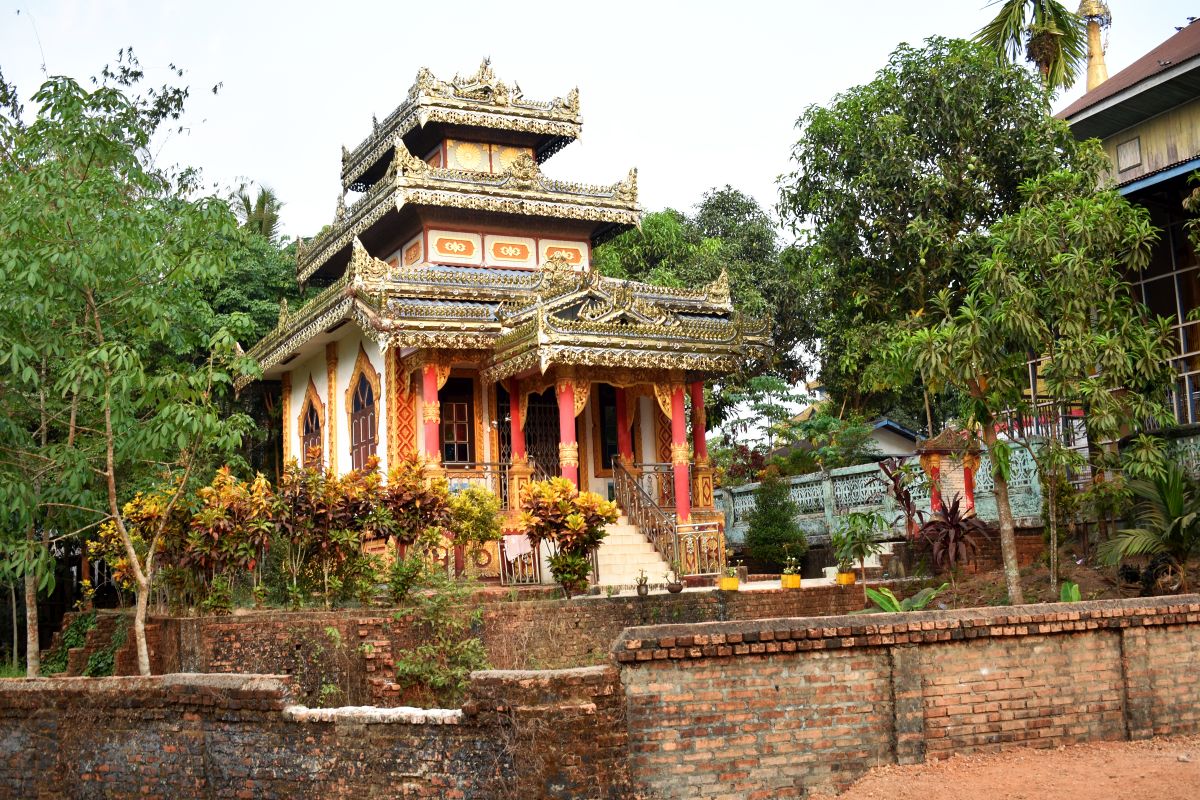 I am not sure about the actual name of this temple, it was marked only as "Shiny temple" on our map and this is what it is. Tucked in a narrow dirt street is best viewed at sunset. Right next to the temple there is a big well where you can see the locals filling buckets of water to bring home or even bathing.
Ko Yin Lay (Banana temple)
30 minutes ride north of Ye, this temple complex is a sight to behold. Several ornate temple buildings, a huge reclining Buddha, 7 storey temple with four sitting Buddha statues on each side and an intricate old temple. But wait, this is what it was when we saw it, there was a huge plot being prepared for some new development, who knows what new statues and buildings are to be erected.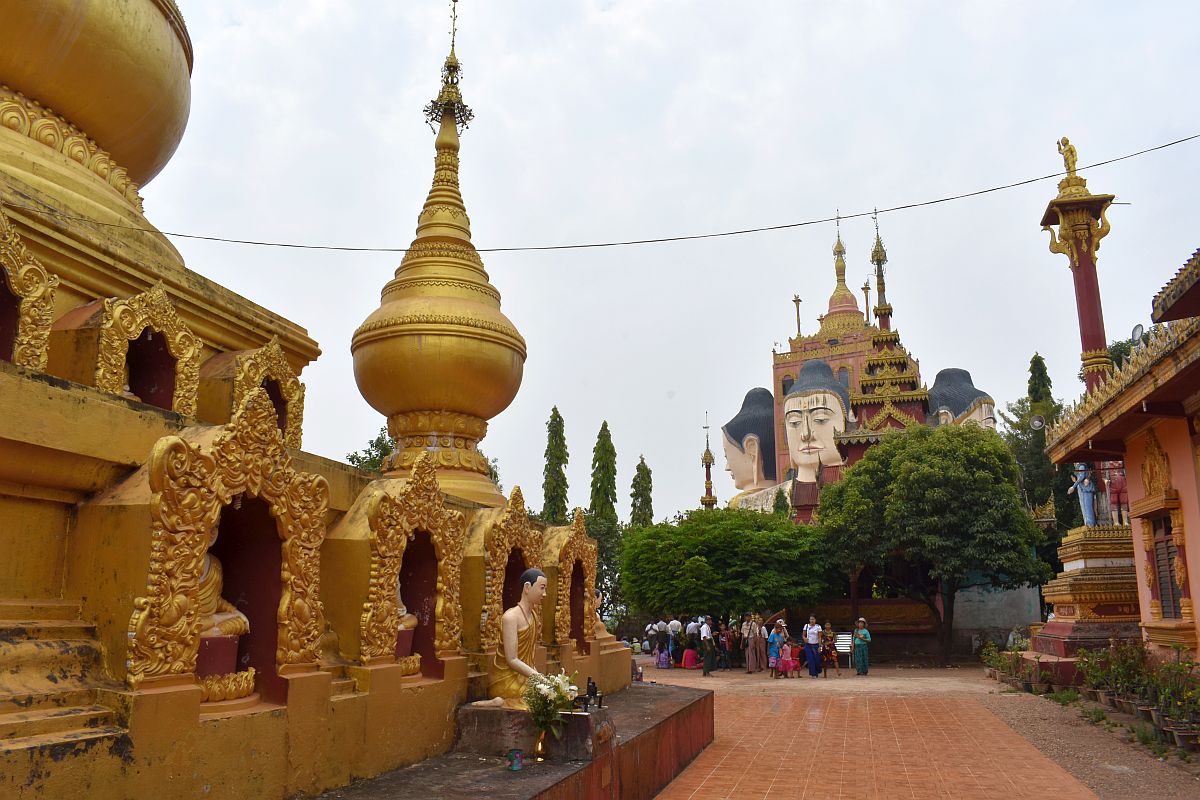 We walked around the reclining Buddha, then climbed the four Buddha tower. Only traditional clothing was allowed so we were both given longyis to put on (free of charge). The ascend is very interesting as every floor is a small temple in itself and the 360 degrees view from the top is stunning.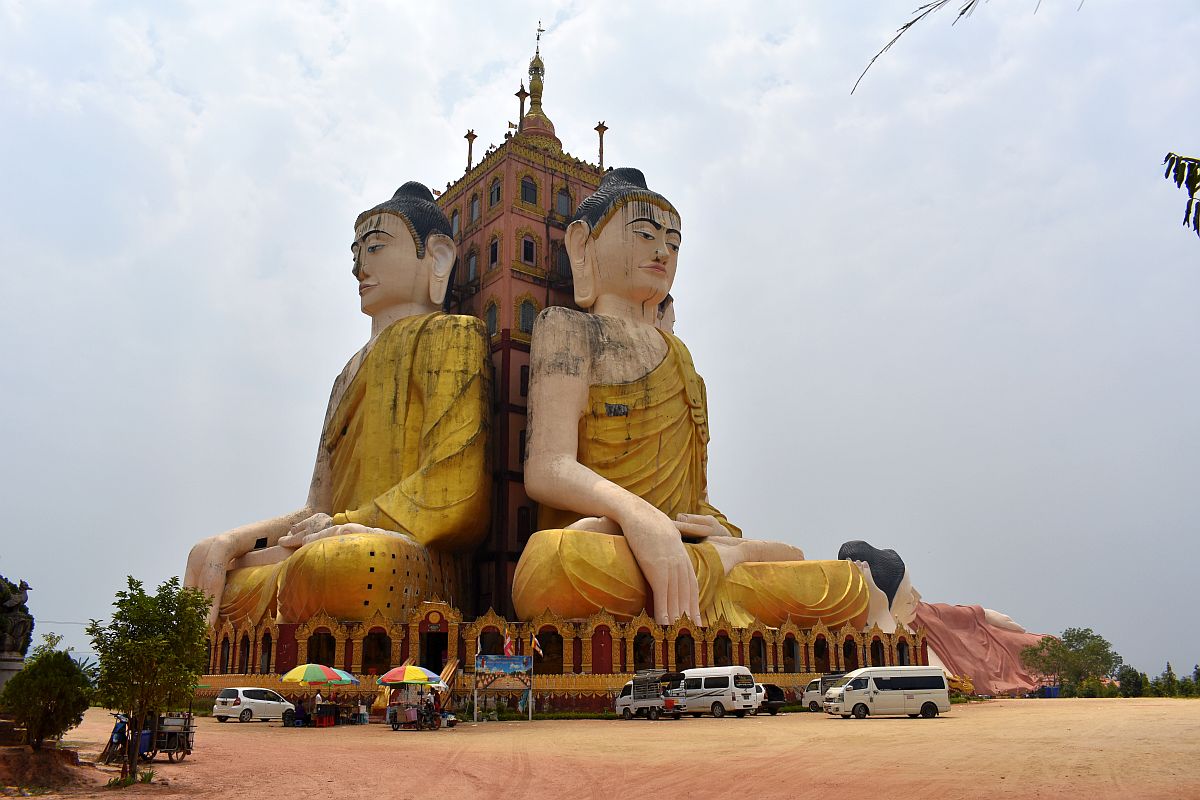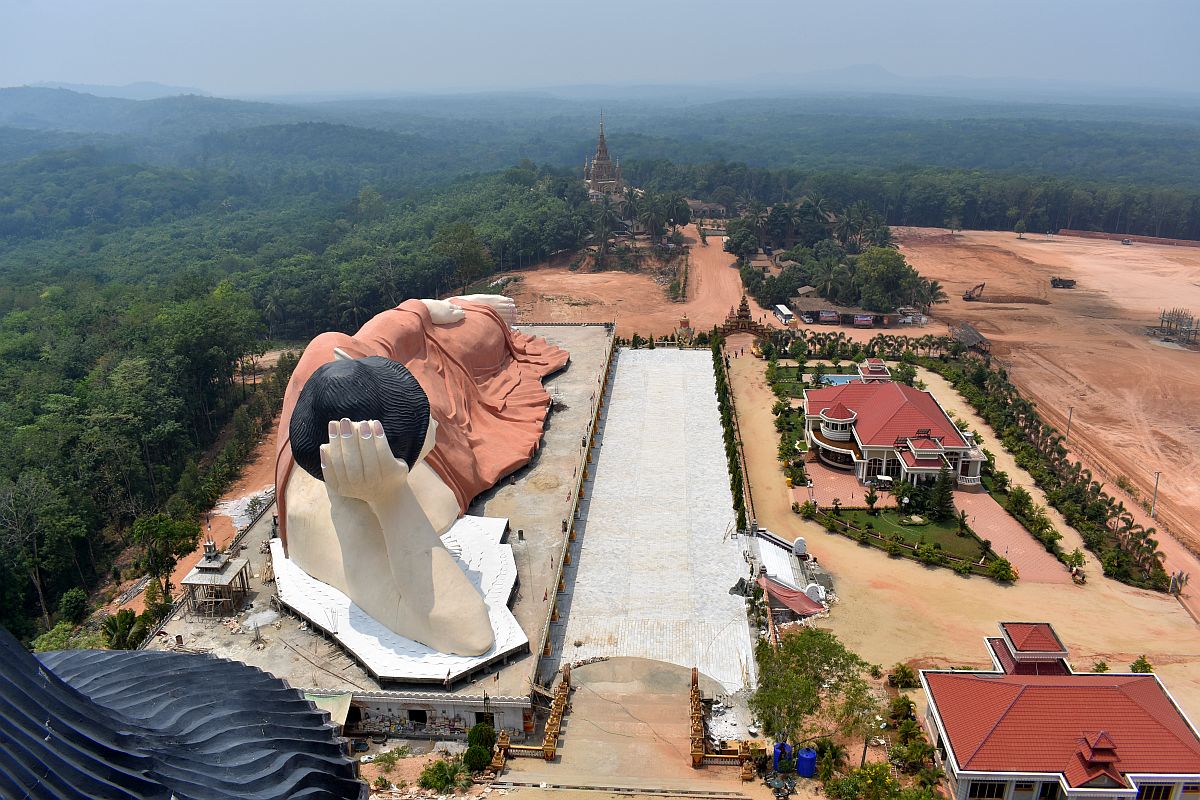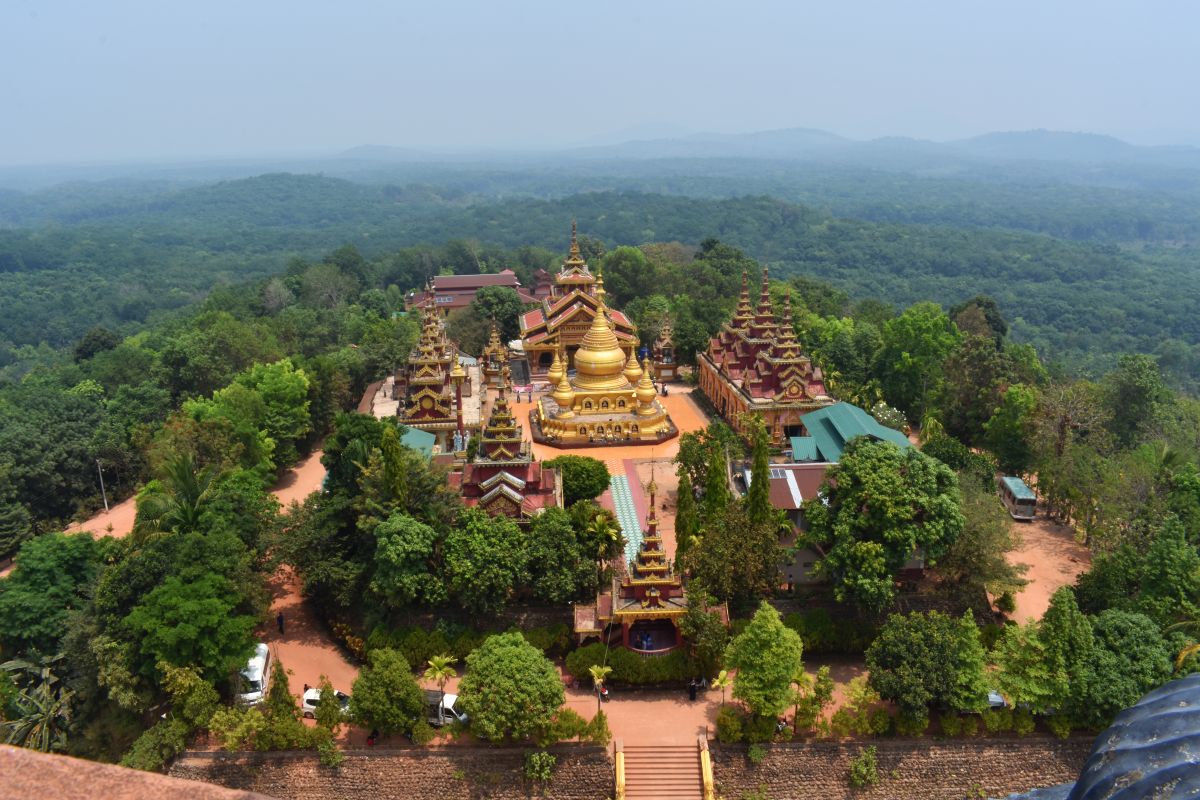 If you arrive around 10:30 - 11:00 am you can see the monks having their lunch in the old temple on the top of the hill and on days when there are not a lot of tourists (most days) you may be invited to join them.
The temple with the 500 monk statues
This one was kind of difficult to find, even with the map we had. After some time going up and down the main road (we knew we had to take a left somewhere) and accidentally visiting a local temple that was not the one we were looking for, a brilliant idea struck us. We tried to find it in the satellite view on Google maps - and we were successful! The row of monks is clearly visible and with that it was easy to see which road to take to get us there.
500 gold monk statues go out in a neat line exiting the monastery on top of the hill which offers beautiful views and a good sunset spot. The road winds up and as you crawl on your bike up the steep hill you can see the silent figures.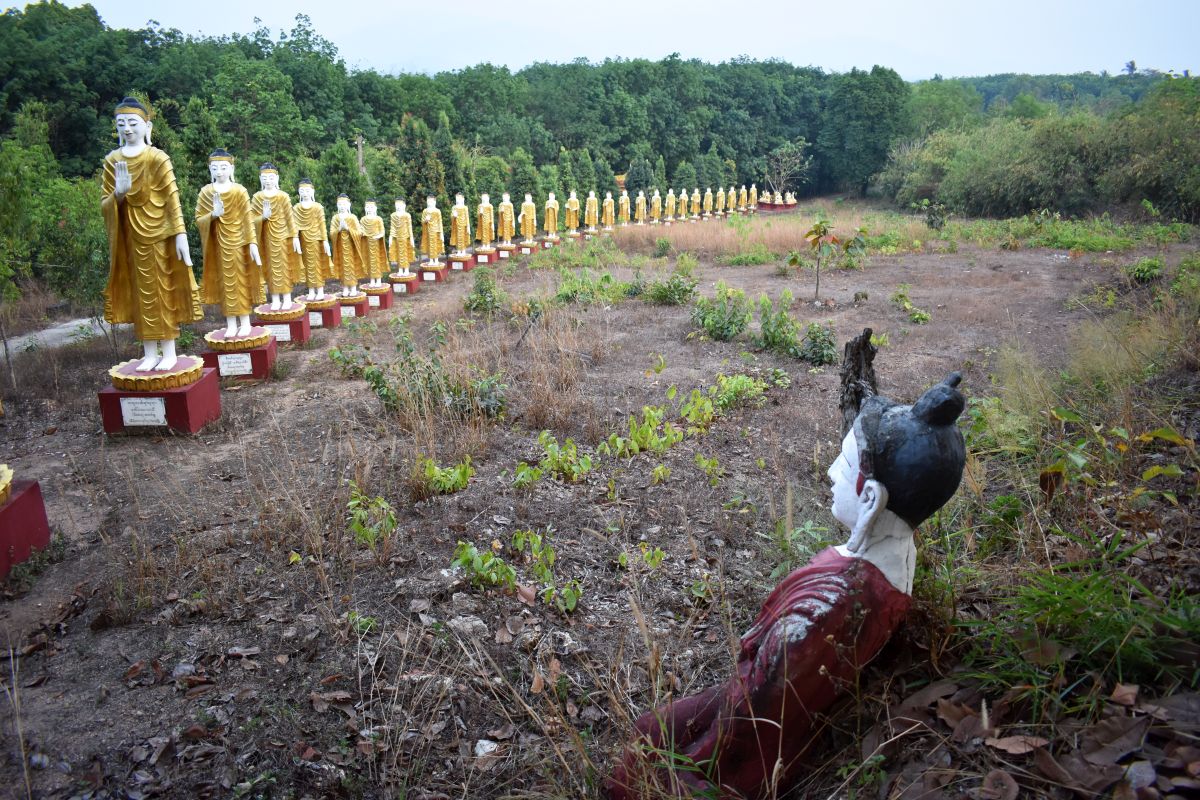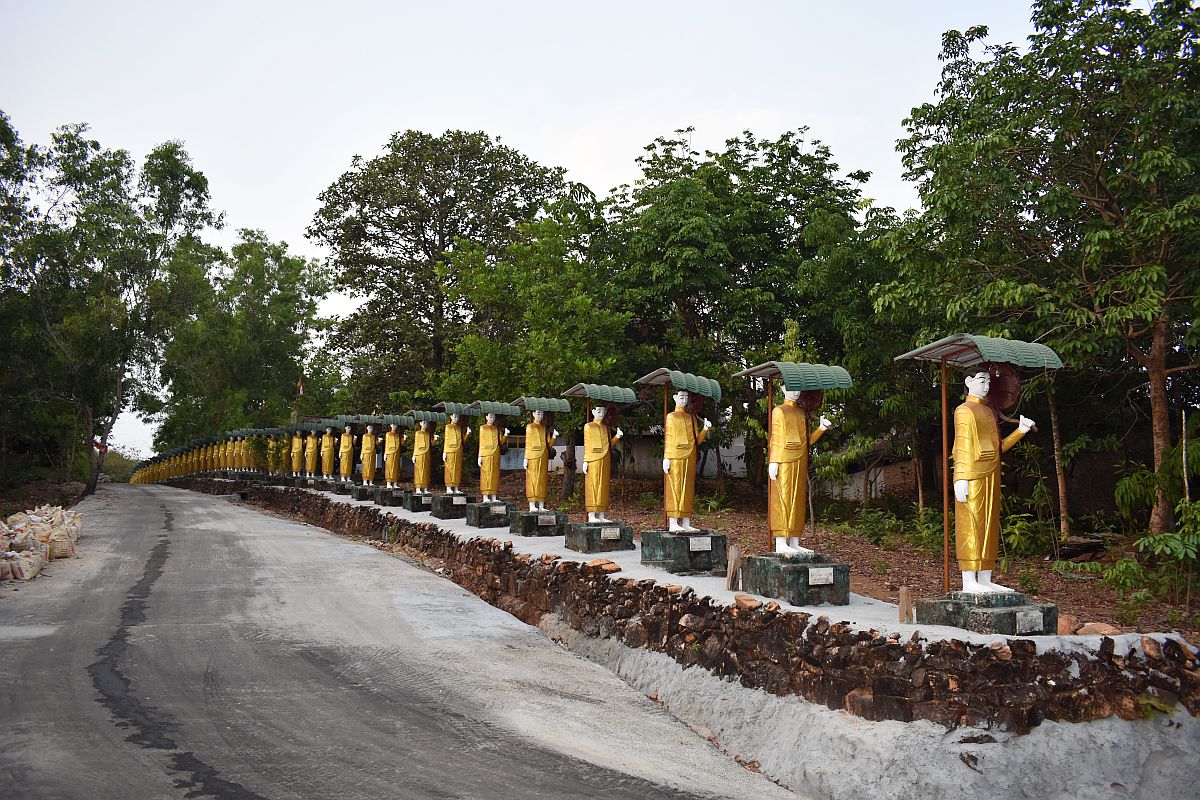 Although small and remote Ye surpassed our expectations. It was well worth the journey to get there and we enjoyed every moment of the time we spent exploring the town, the temples, the seaside and the jungle around.