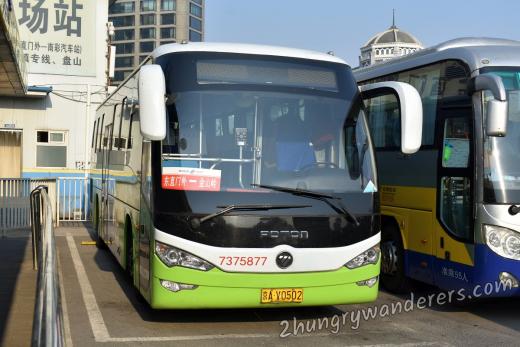 You have decided to hike the Great Wall at Jinshanling? Congratulations on your choice! Keep reading to learn how to get there the cheap and easy way.
Not sure yet? Read about our hike there and all the great things you can experience in our post here: How to spend your day at Jinshanling Great Wall or just watch this video:
There are not many options for transportation to Jinshanling and most of those are on the high end of the price range. Group tours are limited and expensive, hiring a car with a driver is even more expensive, Fortunately there is a bus that offers great value for money - convenient and cheap, it's our recommended way to get to the Great Wall at Jinshanling.
There is only one bus doing the route, it leaves Beijing in the morning and comes back late afternoon, allowing about five hours to explore the wall, which allows for a variety of ways to spend the day.
The bus departs from a depot close to Dongzhimen Station, which is on subway lines 2 and 3 and the Capital Airport Express. Once at Dongzhimen find Exit E or B - depending on which line you used one may be easier to find. Exit E is closer to the destination, but both are on the same side of a street.
Exit and go east and after about 200 meters turn left at the traffic lights (without crossing) along Dongzhimen Outer Street (called "Byway" on Google Maps).
Walk about 400 meters more and after a turn you will see some buses parked on the street, past them is the entrance to the bus terminal, there is signage for the Jinshanling Great Wall express.
Go in, the alley goes behind the bus stop you need, ignore the booths (can't pay there). Wait for the bus - sign says departure at 8:00 (paper taped over the old 7:40). The bus didn't have any signs in English, but the Chinese characters (金山岭) were easily recognizable.
Our bus departed on time (8:05) and made a stop at Wangjing West bus terminal (8:30), but we didn't take any passengers there despite the huge billboards advertising the route. A lady came on the bus to collect the money - 50 CNY per person one way.
Around 9:30 we had a 10 minute break at a service station with a convenience store and a toilet.
Arrived at Jinshanling Main Gate at 10:30. The driver didn't speak English, but a passenger translated for him the most important information - the bus departure was from East Gate at 15:40 and from Main Gate at 16:00.
It is a very short walk from the parking lot to the ticket office, about 5 minutes.
We did a 5 hike along the wall and greatly enjoyed it, there are other options - for shorter or longer visits - read all about it in our article How to spend your day at Jinshanling Great Wall.
After the adventure, the bus was right on schedule departing from East Gate at 15:40, collected more passengers from Main Gate and the only other stop was right after Jinshanling - a lady came on board to collect the 50 yuan fare. We arrived back at the Dongzhimen bus terminal at 18:05.