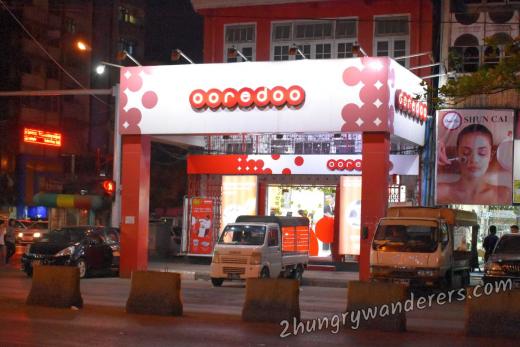 We've found that roaming is not a viable way to get connectivity when you travel - it is expensive and not always available. In most places, with a little research one can find good local SIM cards with good coverage and affordable data packs, plus having a local phone number is useful when organizing tours and hotels.
With that in mind we upgraded our phones in the year before we started our travels and got phones with 2 SIM capability. This means we can keep the Aussie SIMs that we have in and fill the second slot with another one for the country we are currently in.
The major operators in Myanmar are MPT, Ooredoo and Telenor. From our experience with Ooredoo they have good coverage and this should be the case with Telenor and MPT. MPT is state owned and up until few years ago was the only provider in the country. SIMs and top up cards for all three operators are sold on every street corner, at the international terminal of Yangon airport and in their own stores in Yangon or Mandalay.
We chose to go with Ooredoo because it seems to be a little more tourist friendly, with a lot of stores in Yangon and good prepaid plans. Ooredoo SIMs are sold everywhere, but to make our lives a bit easier we went to an Ooredoo store - there are several in Yangon, Google maps can show you which one is closest to you. The staff speaks English, you can just tell them what you need and they will put the card in and the all the necessary work to activate it - in less than 10 minutes you are ready to go.
The prepaid SIM we got was 1500 kyats and it comes with no data or calls, valid for 30 days. On top of that you can load some money for calls (25 kyat/min, we put 500 or $0.50 just in case) and add data packs. Our 7GB data cost us 10000 kyats, bringing the total to less than $10.
If you decide to buy a SIM from a corner store, best check in advance the provider's web site (they all have English versions) and know exactly what you want to avoid confusion and being charged more. Nano SIMs may not be so easy to find.
Overall, our experience with the local mobile network is surprisingly positive - Internet speeds are good and there is full coverage in all places we visited (Mandalay, Yangon, Bagan and around, Hpa An, Mawlamyine and all the way down to Ye, Sittwe, Mrauk U, Nay Pyi Taw). 
Be aware that the WiFi in hotels is not always as expected - can be slow, patchy or not working at all and a few bucks for a local SIM are well worth it.