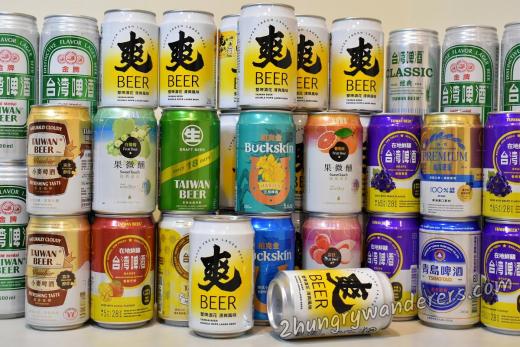 Spending several months in Taiwan gave me the opportunity to sample all the local beers, so here I'm sharing my findings with you. I will be discussing all the mainstream beers, Taiwanese craft beers are a whole different topic, not covered here.
The island has one company dominating the market and several small competitors, combined they offer products over the whole range from "undrinkable" to "truly great" plus some really exotic choices. I'll start with the big player, then mention the competition and the last section of this post is about a cool brewery-shop which is worth visiting.
Taiwan Beer - by Taiwan Tobacco and Liquor Corporation (TTL)
TTL holds the lion's share of the beer market in Taiwan and that's not a major surprise, as the company is the successor of a government branch that had complete monopoly until 2002. This is the year Taiwan joined the free trade policy countries, but the changes in the mainstream beer market have been slow and small. With its brand established as a national symbol, good quality and low price products TTL stays in the hearts (and fridges) of Taiwanese people, leaving almost no room for competition. They are constantly expanding their product range, here are their current products in no particular order, but I save the best one for the end.
Gold Medal 5%
"Distinctive flavor lager beer"
The moto suits it well, a very nice lager, nothing spectacular, but I would rate it above average - 7/10. I'm surprised it gets low scores on reviews, it's quite refreshing, has a decent, full flavour and pleasant aftertaste. Totally deserves a gold medal when compared to other mass-produced beers in Taiwan.
Classic 5%
"Brewed with carefully selected excellent malt, hops and ponlai rice"
Barely drinkable, you have to be very thirsty to tolerate it. Watery and tasteless - I blame the rice. Ponlai is Taiwanese rice (also known as Formosa rice), which probably gives some hard to get, but specific flavour notes. Rating: 2/10.
Weissbier 5%
"Top-fermented wheat beer with an abundance of yeast, blonde and creamy"
Now that was an unexpectedly pleasant surprise! Refreshing, strong taste, bubbly.... sweet, - everything you want in a weissbier. It is still a mystery to me how Taiwan can mass-produce wheat beer which beats many world-famous products in this category I've tried. Totally deserved rating of 9/10.
Draft Beer 5%
"Only 18 days"
Draft beer in a can? That's a new idea I guess. Something very wrong with this beer - smells and tastes like gunpowder and sulphur. Even a small sip leaves you feeling like you've just french kissed an old box of matches. Undrinkable. Rating: 1/10.
Premium 5%
"Achievement of Taiwan Beer"
I delayed trying this one on purpose, wanted to sample most of the regular beers before "rewarding myself" with a Premium. What a disappointment! It's not a bad beer, more like average - it is refreshing, has a bit of extra sweetness, leaves a pleasant malty aftertaste, but it doesn't deserve to be hailed as "Premium". If they called something less pretentious like "daily fix" or "lazy afternoon" I would've given it a higher rating, but the beer is just about OK, so I rate it 4/10.
Fruit Beers and Sweet Touch
This is an area where Taiwan Beer truly excels - fruit-flavoured beer. I've tried similar attempts of finding the missing link between fruit juice and beer all over the world, but what I've enjoyed in Taiwan really stands out. There are too many flavours to list and discuss them separately, so I will focus on general impressions.
When making beer from rice the product doesn't have strong aroma or taste, so it is ideal to mix with flavouring agents, in some cases in Taiwan - real fruit juice. All the fruit beers we tried were good, with a nice fruity taste, pleasant matching aroma and no weird aftertaste. Mango, grape, lychee, pineapple, apple, passion fruit, black tea, grapefruit and more - try them all, but be careful - it may taste like soda, however, the alcohol content is still there. It is 2.8% for the regular and 3.5% for the Sweet Touch series which carries a slightly higher price tag too.
My personal favourite is Grape - in the first moment you are hit by a nice grape bubblegum aroma that bursts out of the can. It has a very mild grape flavour and is not too sweet, can go on its own or can accompany fruit and desserts.
Song Beer (爽) 3.5%
"Super Fresh Lager Beer"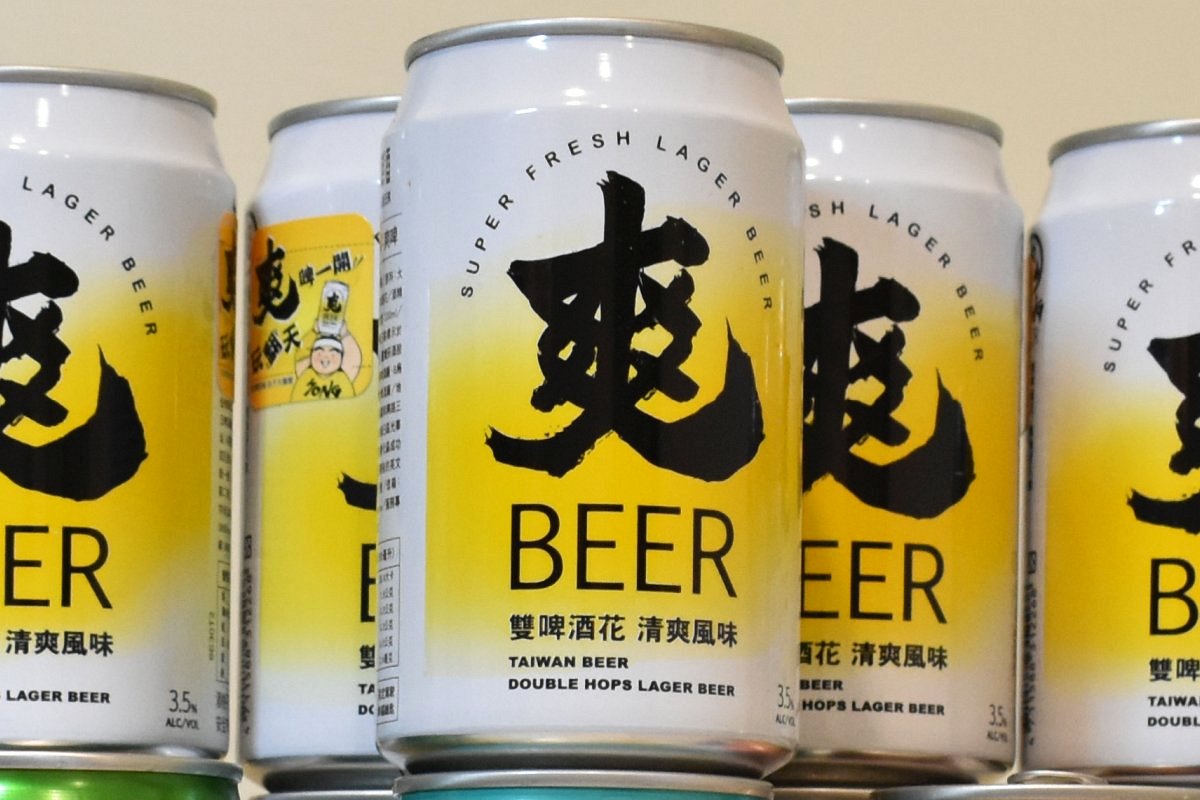 The absolute winner in this list. The only 10/10 rating and the only one to be missed when I leave Taiwan.
One of the latest additions to TTL's product line Song Beer was released at the end of 2018. This beer has everything - gentle but nice aroma, distinctive and pleasant taste full of hoppiness, perfect bitter-sweet balance, spot-on level of carbonation and an aftertaste that makes you want more. Which is perfectly fine as the beer has low alcohol content at only 3.5%.
The competition
As I said above, there aren't many companies challenging TTL, actually, the non-TTL market is mostly craft and imported beers. Of course, there are some attempts and here my thoughts on them:
Tsingtao
"Brewed by Taiwan Tsing Beer Co."
This is the blue label beer, not to be confused with the vile tasting liquid made by the Chinese Tsingtao sold behind a green label. I'm not sure about the relationship between those two companies, they seem to share the name and logo, but the packaging, as well as the content, are different. Regardless, the Taiwanese Tsingtao is far from good, it is bitter, sour barley flavoured, but despite that, way better than the Chinese product. Rating: 2/10
Buckskin Hefeweizen and Märzen
Those two are an attempt by King Car Group, the producers of the world-famous Kavalan Whisky to enter the beer market. Everything from the recipes, ingredients and equipment to the Deutsch names on the labels come from Germany and the result is not too bad. Noticeably more expensive than TTLs products, but that's understandable as those beers are not typical lagers. What I'm struggling to understand is whether it is a good idea to offer distinctive German beers on the Taiwanese market?
Hefeweizen 5.1% (blue): Smoky aroma, sour fruits, strong flavour for a wheat beer, bar smell. Literally, it tastes like an old, beer-soaked floorboards drinking hole. Good for trying something new or a bit of variety, not an everyday choice. Rating: 6/10.
Märzen 5.6% (green): Bitter lager, tastes like autumn leaves. If you close your eyes and focus you can almost feel the Oktoberfest spirit. Rating: 5/10.
Taipei TTL Brewery
Before visiting the brewery I looked at some reviews online and after visiting it I would like to help you set your expectations straight, so you don't get disappointed as some confused people before you. It is a great place and is definitely worth visiting, especially if you love beer and are staying in Taipei longer.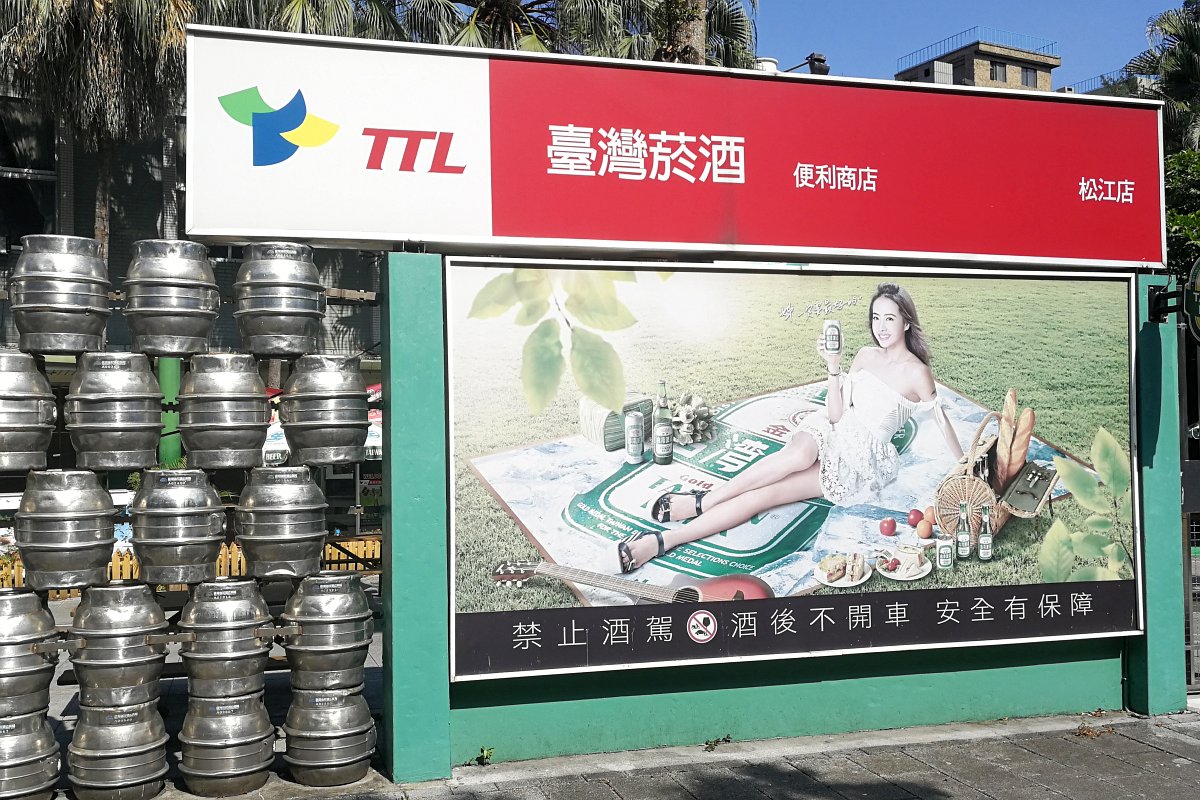 Let's start with what it is not - it is not your typical fancy-schmancy microbrewery joint. Don't expect to find a cheerful bartender ready to recite a poem about each brew, forget about the overpriced appetizers too. This establishment is a great face for a down-to-earth company, loved by generations of Taiwanese people. It is basic, old and full of small-village drinking spot charm, despite its location in the city. Even before you enter the yard you will notice the fence made of kegs, which is the only decoration in this joint apart from promotional posters.
Outdoors they have a seating area with furniture suitable for a prison yard, but there was a small group of middle-aged local men livening up the scene. They were enjoying their second or third drink around 11 AM, empty bottles piling upon a solid metal table, a sight that always brings a smile. On my to-do list for next time is visiting the brewery in the evening to see what prompted management to put signs asking customers to keep the noise down after 10 PM.
Stepping inside of the shop feels a little bit like going back in time, but not in a negative way. Not much has changed there during the last decades I assume - poorly lit vintage-looking shelves, but very soon my attention switched from the atmosphere to the products. To my surprise, the Taiwan Tobacco and Liquor on top of beverages and cigarettes offers cosmetic products, household items and cooking ingredients.
Of course, they have all their beers in all possible packages and most importantly - at the lowest prices one can find, a great place to stock up. The choice is yours - get a glass of tap beer from the bar, several bottles from the shop, or fill your trunk with cases from the back of the shop, which focuses on wholesale.