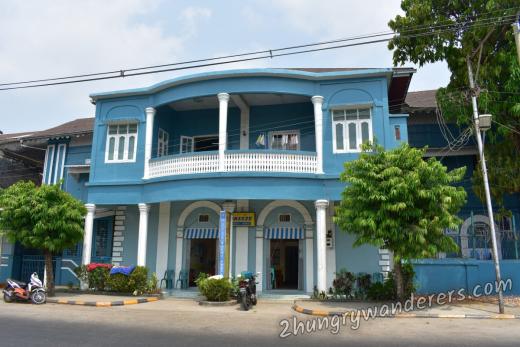 Before going to Mawlamyine we decided to book several nights accommodation in advance, so we wouldn't have to worry about it when we got there. There are enough options for most people to find what they want, we chose Breeze Guesthouse because of the positive reviews and great location. Looking at the room options they have some smaller, modern rooms with tile floors, etc. but we decide to go for the only room without photos, because of the double bed, air conditioning and en suite bathroom. We were expecting something similar to the smaller, basic looking rooms, just bigger. Somebody should've noticed that there actually two double beds...
After the pleasant boat trip from Hpa An we arrived at the small Mawlamyine jetty where the only transportation available were motorbike taxis. After some discussion each of us got on a separate bike holding some hand luggage, and our big suitcase was tied on top of a third bike. The procession was entertaining for both us and the locals, unfortunately I couldn't take any photos.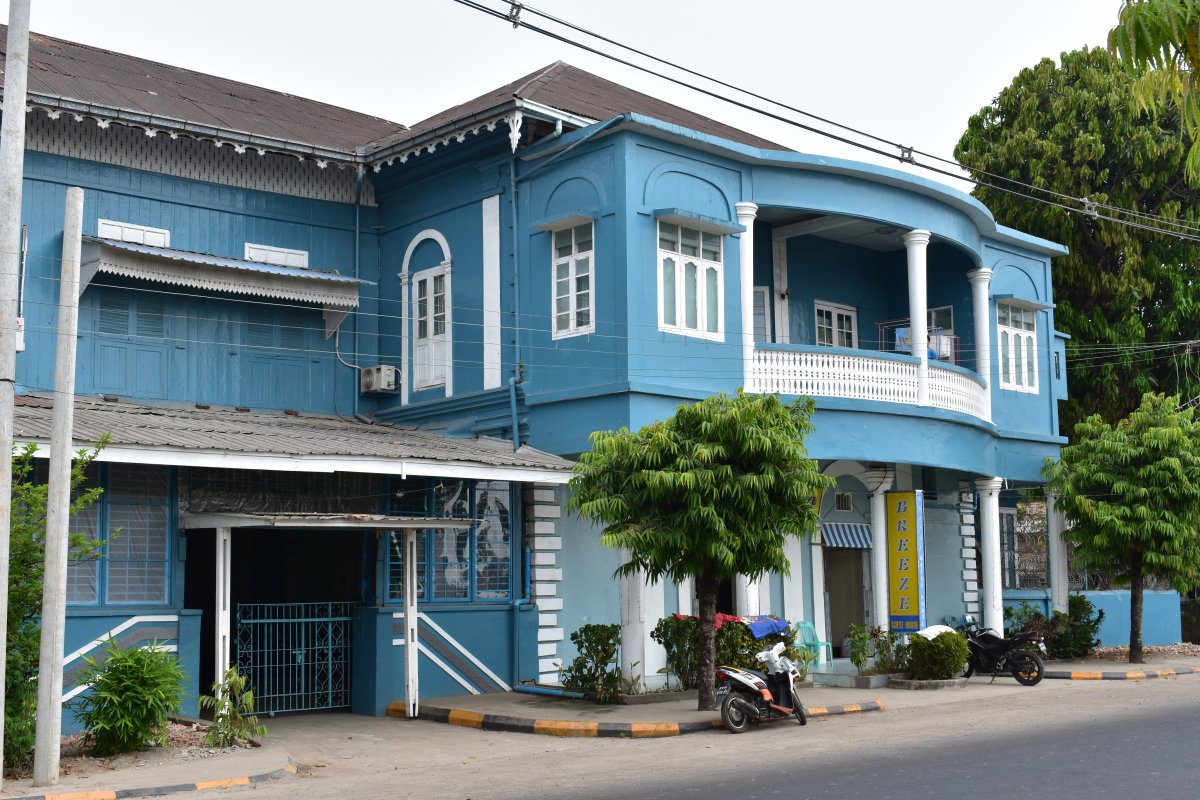 At the end of a short ride we stop in front of a huge colonial era villa painted in fresh blue color - Breeze Guesthouse. After some rummaging through the ever present in Myanmar notebooks, our reservation is found and we are taken to our room up a very old wooden staircase. At the top is actually the owner's living room with some hallways leading to other rooms, I got glimpses of beds, a kitchen and a TV on a stand. To our amazement the owner removes a padlock from a gigantic door and leads us to our room, which has obviously been the master's bedroom some decades ago. We stood there shocked and just nodded for a bit while he explained the proper steps to get a flow of hot water in the bathroom and what time the breakfast was.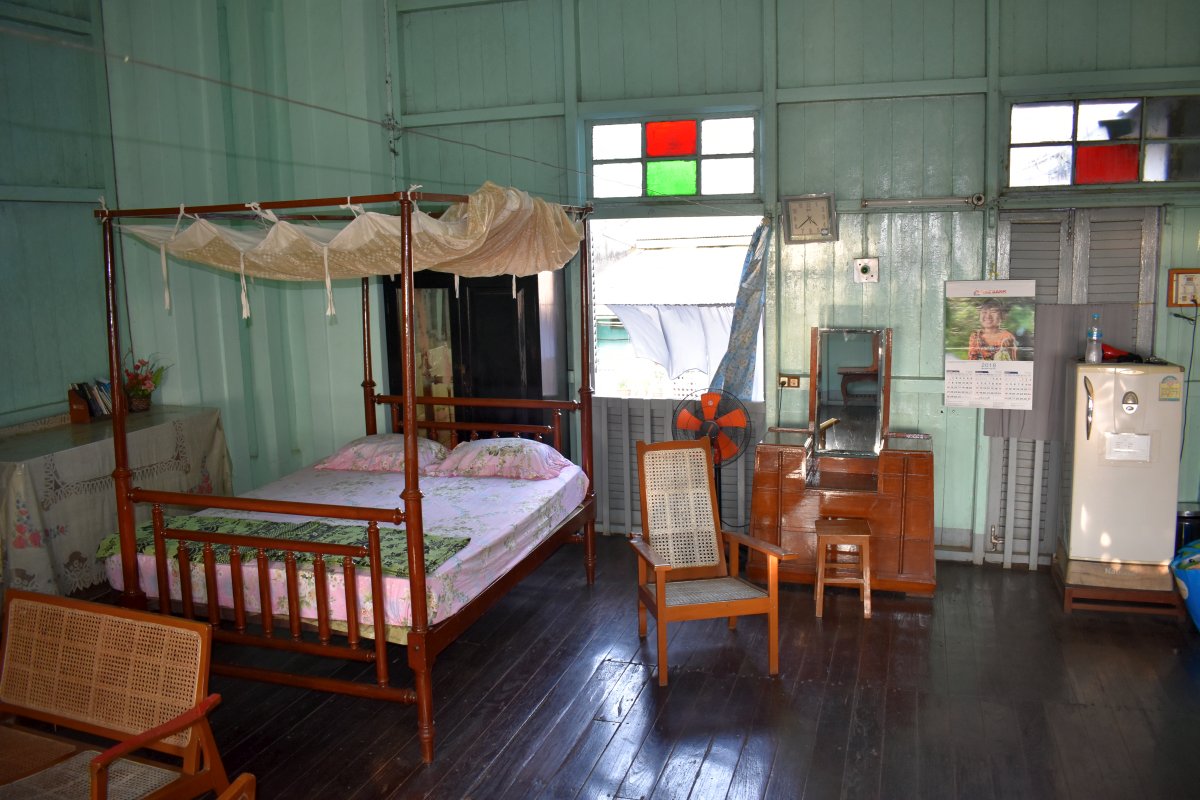 The room is the exact opposite of the small tiled rooms we passed on the ground floor. Spacious is an understatement - yes, there are two double beds in the room, but they are occupying just a little bit of the space, the rest of the furniture can fill a decent garage, but doesn't make the room feel crowded. I was really impressed by the height of the room - this was not a merely ~3 meters ceiling that I've seen in old European homes, this is more than 4 meters of vertical space that reminded me more of a palace or a church, far from a hotel room.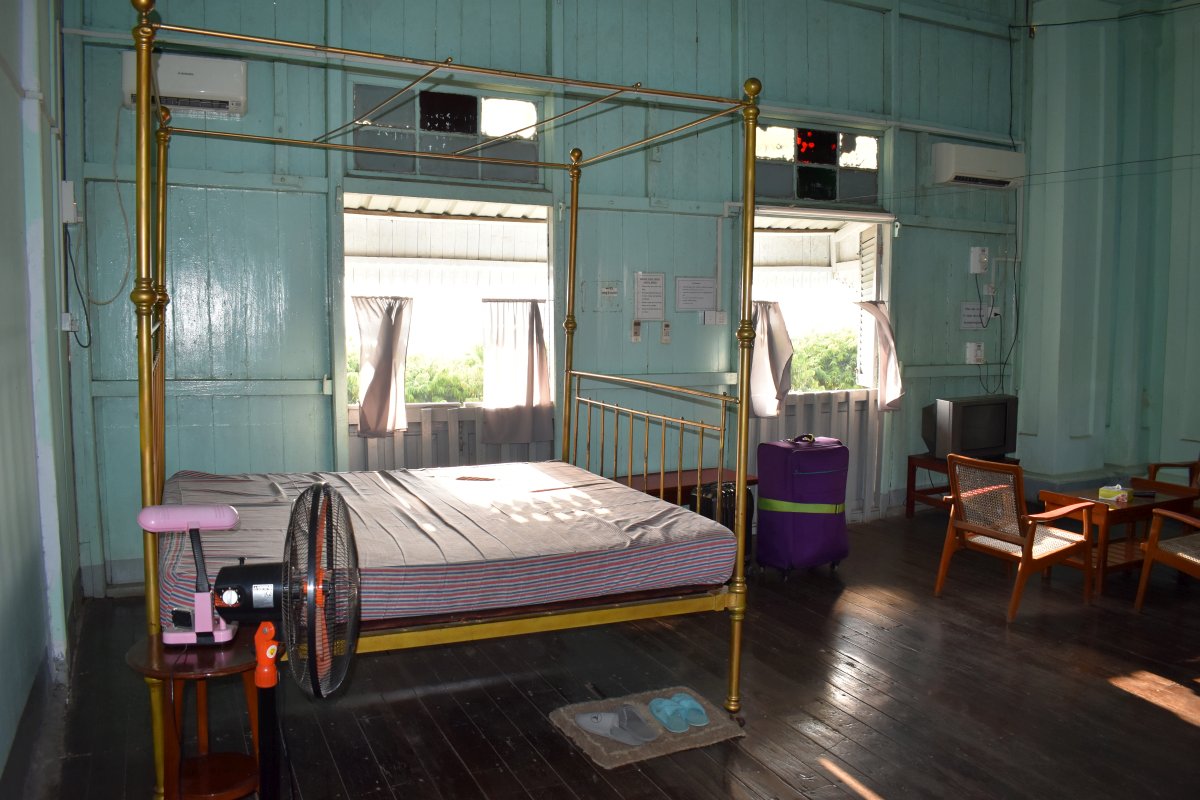 Most of the furniture is original - the beds, a dressing table, bookshelves, a coffee table, even the fridge looks old enough to have grandchildren. There are two air conditioners in the room, but both were off, three windows wide open, one on the back side and two on the river side of the room, giving way to the wonderful breeze to pass trough the room.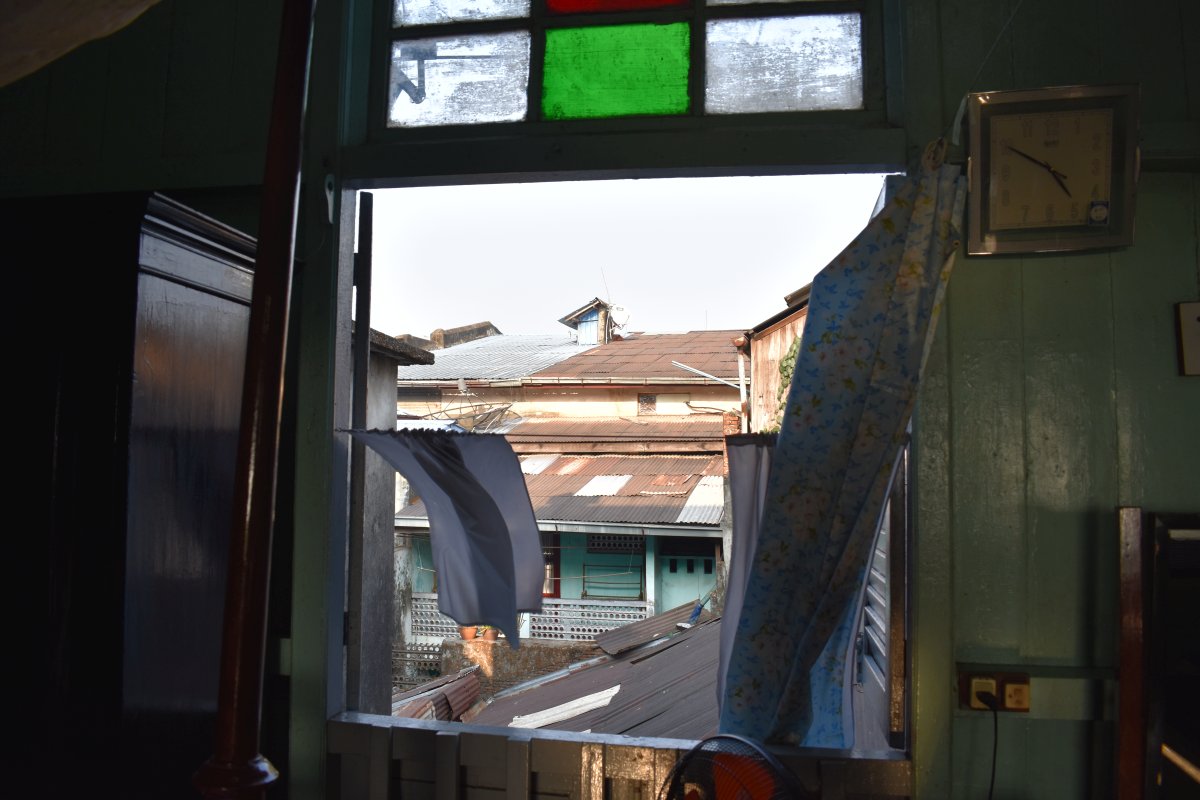 The initial shock began to give way to more cheerful thoughts and after unpacking we actually decided this was going to be fun. And that is when the bats came. Just after dark a couple of tiny bats came through some holes near the ceiling and began their hunt for small bugs. In our room. They stayed for 5-10 minutes and left, but came back several times during the night and the following nights. It was a surprise, but to be honest - I'm not complaining at all - bats are smart, they do not crash with furniture or with people and I prefer them to the hungry mosquitoes. 
Breakfast was served on the big terrace, offering a lot of fresh air and great views of the river and Ogre Island. Each guest was given a soft boiled egg, a single toast and a tiny banana. Not much but all this came with a Buddhist prayer on a small piece of paper. Best part of this modest breakfast was the desert. The Chinese owner, a man in his late seventies carried a big box of crispy cookies and with a smile, he proudly offered it to everybody, reminding us to take only one. In a special way his satisfaction and happiness from sharing such a delicacy with his guests was a better start of the day than any great breakfast buffet.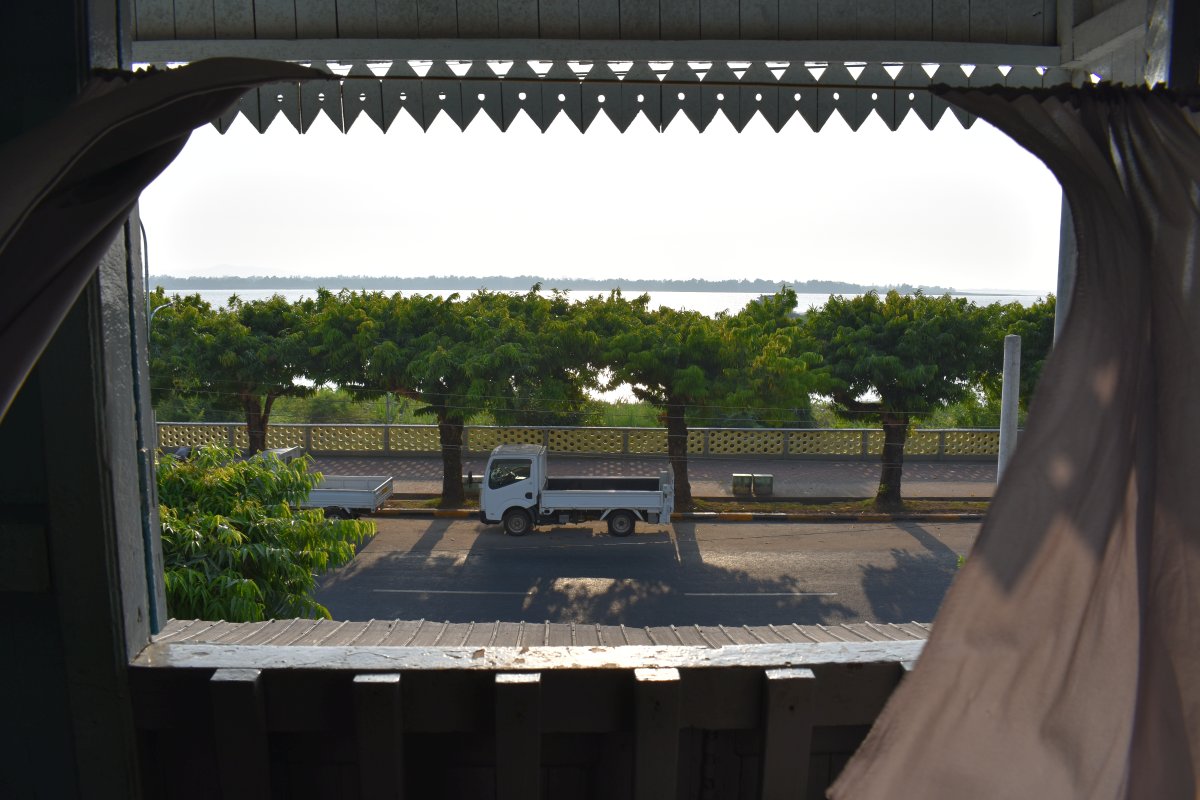 Last but not least, Breeze Guesthouse offers a tour of Ogre Island - they were the first to do it, so it is proudly called the original. It is also featured in Lonely Planet with a favorable article. We were lucky to do it with Mr Anthony, read the full story here: Ogre Island Tour - a day trip from Mawlamyine.