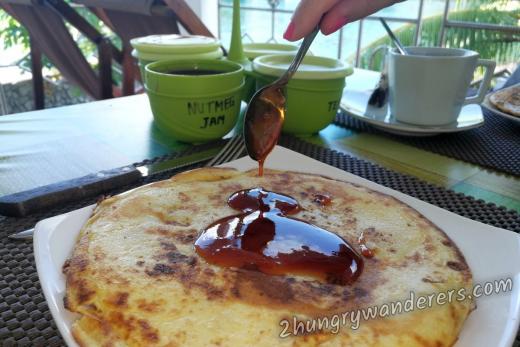 Culinary adventures may not be in the top reasons to visit the remote group of tiny Indonesian islands, but don't worry - there are plenty of tasty, healthy options to keep you fueled up for all-day snorkelling. Here I will present some of the local dishes you should try, the limited and aimed at locals, but active street food scene, restaurants we recommend and the curious local snacks available with hints what you should bring home. If you read until the end you will even learn what a "lobster dealer" is!
Some great news for the organic food fans and people on a budget - most of the ingredients come from the islands themselves, where food is grown in a traditional way, keeping the prices low even in the best restaurants.
Local specialties
Ulang Ulang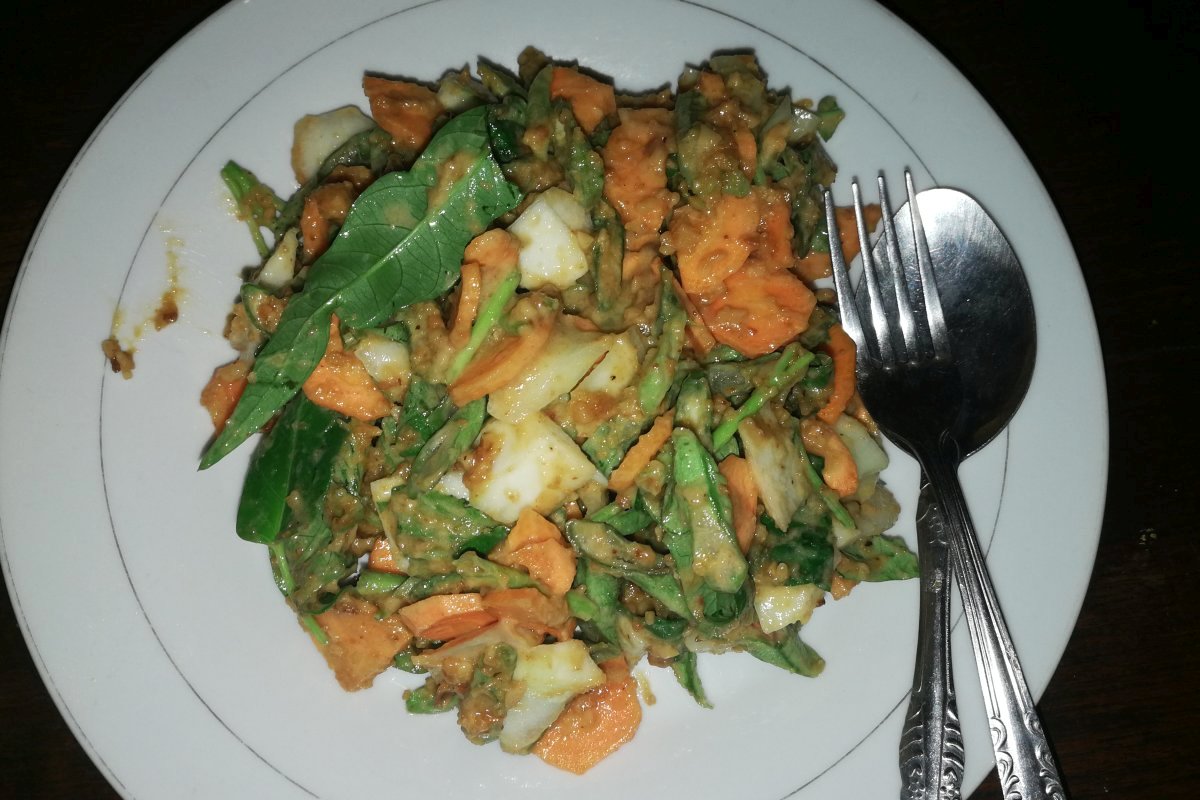 This was our favorite dish - a rich salad with mixed vegetables and kenari sauce, served slightly warm. The vegetable mix can change depending on what is in season.
Gado Gado
Another salad-like dish, mixed vegetables with kenari and peanut sauce, it is so filling that can be the main dish on its own.
Terong goreng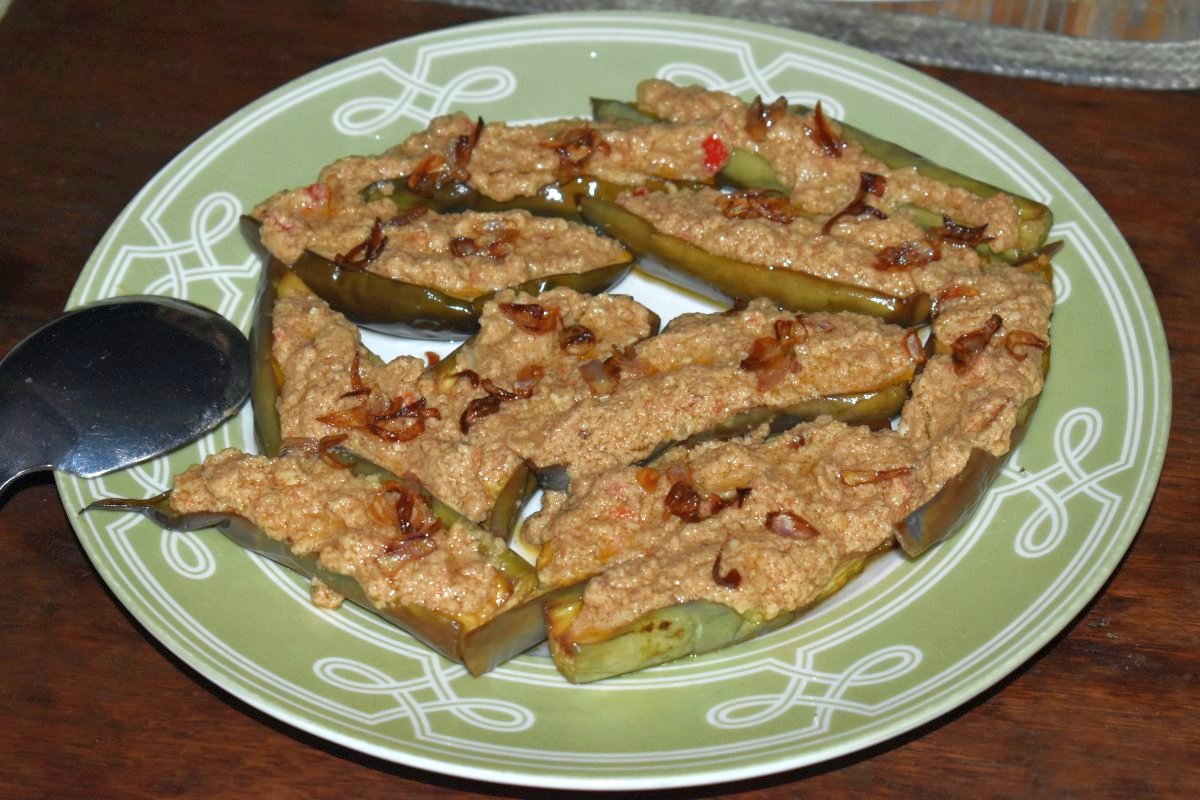 Eggplants, halved and fried, served with kenari sauce, similar to the sauce used in Ulang Ulang.
Interestingly, every restaurant we tried had their own, slightly different kenari sauce. They were all delicious, but by the end of our stay, we would choose where to dine based on which sauce was best.
Soup pala
Prepared with the nutmeg fruit, and a mix of locally grown spices, like cinnamon and cloves, this soup is full of balanced flavors and very delicious.
Aru-Aru - Bandanese yellow curry 
Tasty and filling this traditional local curry is perfect for dinner after a long day of snorkeling or diving. It is served over roti - the flat bread pieces soaked in the rich sauce.
Rendang ayam
Rich stew with an intense exotic aroma - the pieces of tender, slow cooked, meat are tender are covered in rendang sauce with coconut milk and spices. Very flavorful and very tasty.
Grilled fish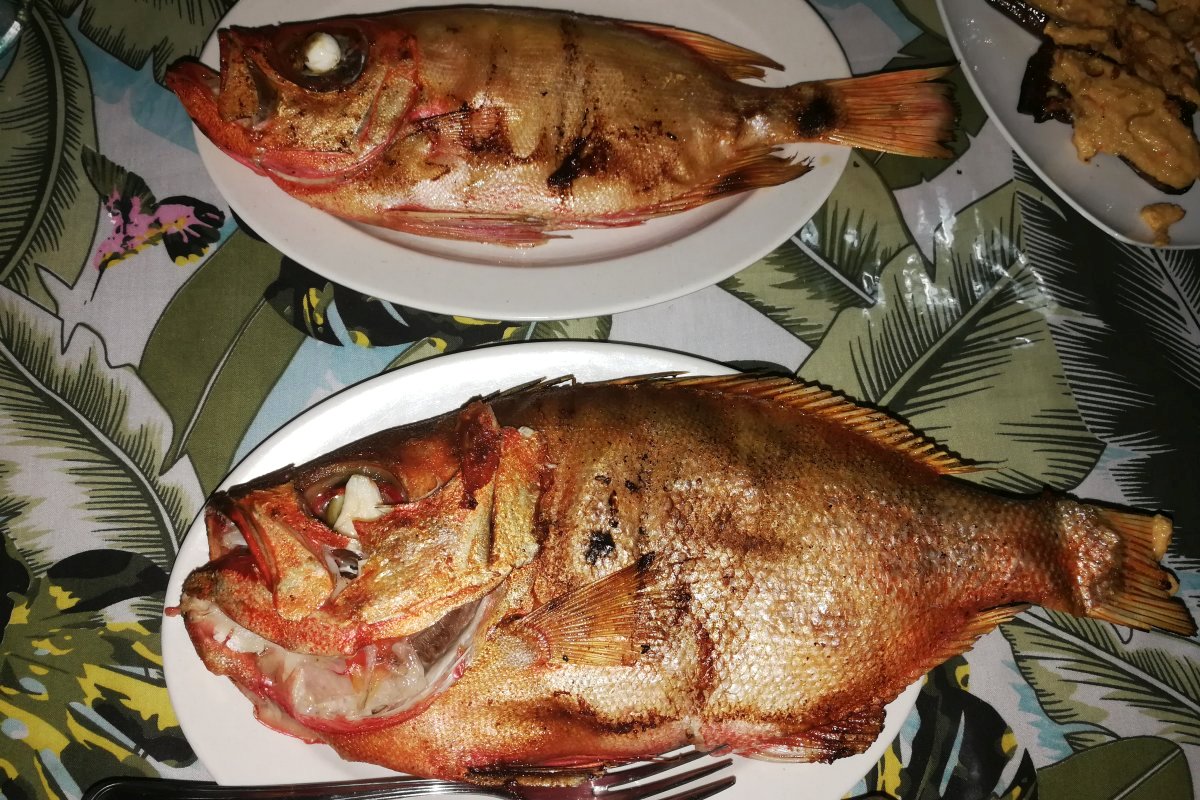 Not a specialty per se, but the fish is fresh, caught not more than a few hours before being cooked, healthy and delicious. During the day you see so many fish in the water, why not have a grilled one for dinner? It's best to order it the day before or at least 3-4 hours in advance - fish is fresh, the restaurant will have to make sure to buy some during the day, then prepare it. It may be a simple dish, but you will not get the same one at every restaurant, depends on the catch of the day. We had a whole grilled fish at Delfika, a real treat, very nice presentation - the same as in the picture in their menu, while in Spice Cafe we had tuna with rich smoky flavour from the grill, both came with fresh spicy tomato sauce.
Nutmeg jam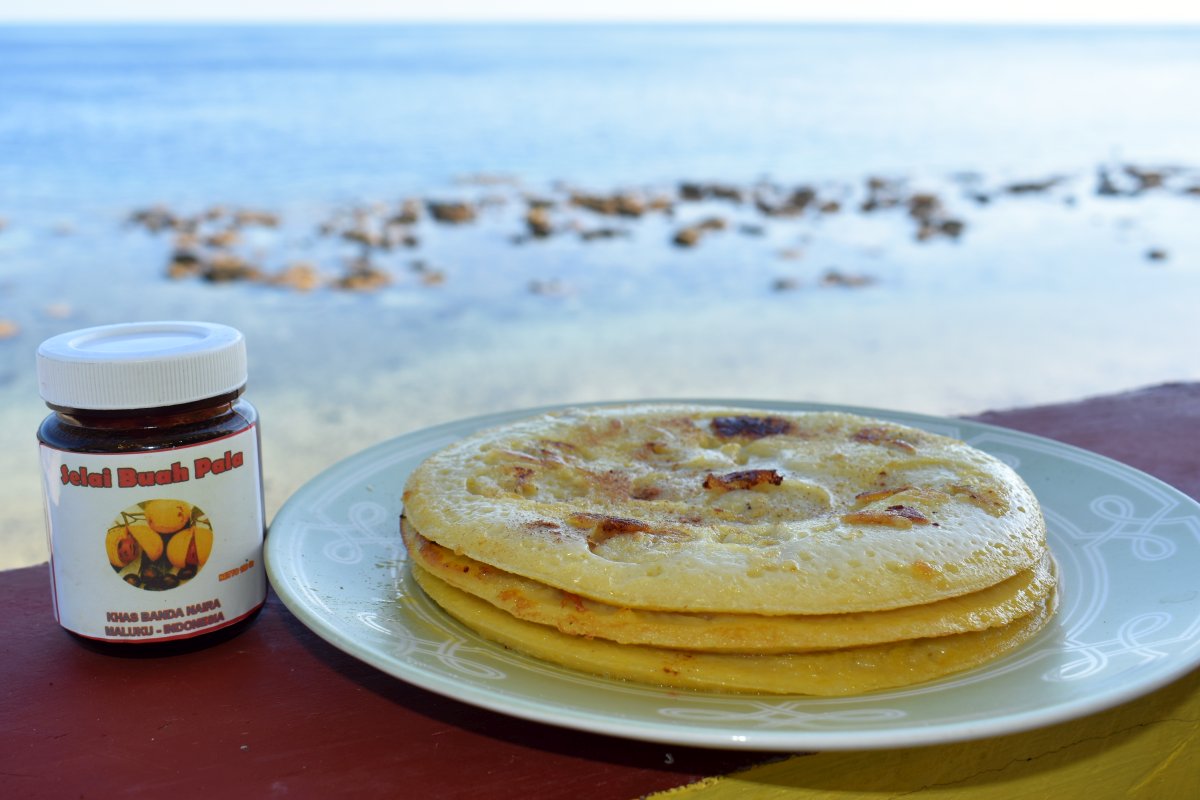 If you will try only one local food, this must be it. The dark brown jam can be used to sweeten your tea and is even better on pancakes. It was our first time to try it and it has an unusual flavour, something slightly familiar, yet not easy to pinpoint at the first moment. I'll spoil the surprise for you - it tastes like Coke. Not just similar, it has the exact same flavour, just more concentrated, they can call it Coca Cola Jam. The reason is one of the flavouring agents in the popular carbonated drink is precisely nutmeg. Having a cup of tea and pancakes with nutmeg jam for breakfast, looking at the serene islands, anticipating a day of snorkelling and relaxing - that's a truly unique Bandanese experience. 
Cinnamon tea
So simple, it actually has only one ingredient (and water) - cinnamon sticks. The journey of this refreshing drink begins mere kilometres from you - the cinnamon comes from plantations right there, on the Banda Islands. When dried, the aromatic "bark" just needs to be boiled in water to make this sweet, flavourful drink that can be enjoyed hot or cold. No need to add sugar! We loved it so much, that we bought a whole bag of cinnamon sticks to take back with us and enjoy this tea outside of Indonesia.
Restaurants
There is a very limited number of restaurants on Banda Naira, most of them are located on the two main streets. We noticed some were closed, maybe during high season, there will be more choices. Another observation - locals don't eat in restaurants, most likely due to the higher prices. This means the tried-and-tested strategy for finding a good place to eat by following the locals doesn't help here. Don't worry, here we share our experiences to help you find a nice place for dinner. 
Spice Island Cafe
Let's start with the best! If you are lucky to get one of the tables on the small terrace you can do some people watching as an added bonus/entertainment to your dinner. Definitely our favourite dinner spot on the island (inside is nice too). All the food they serve is good, prices are average and the service did not disappoint us in more than 10 visits. It's best to ask for an ice cinnamon tea immediately, as choosing a meal, waiting for it to get ready at your table takes time.
Delfika 1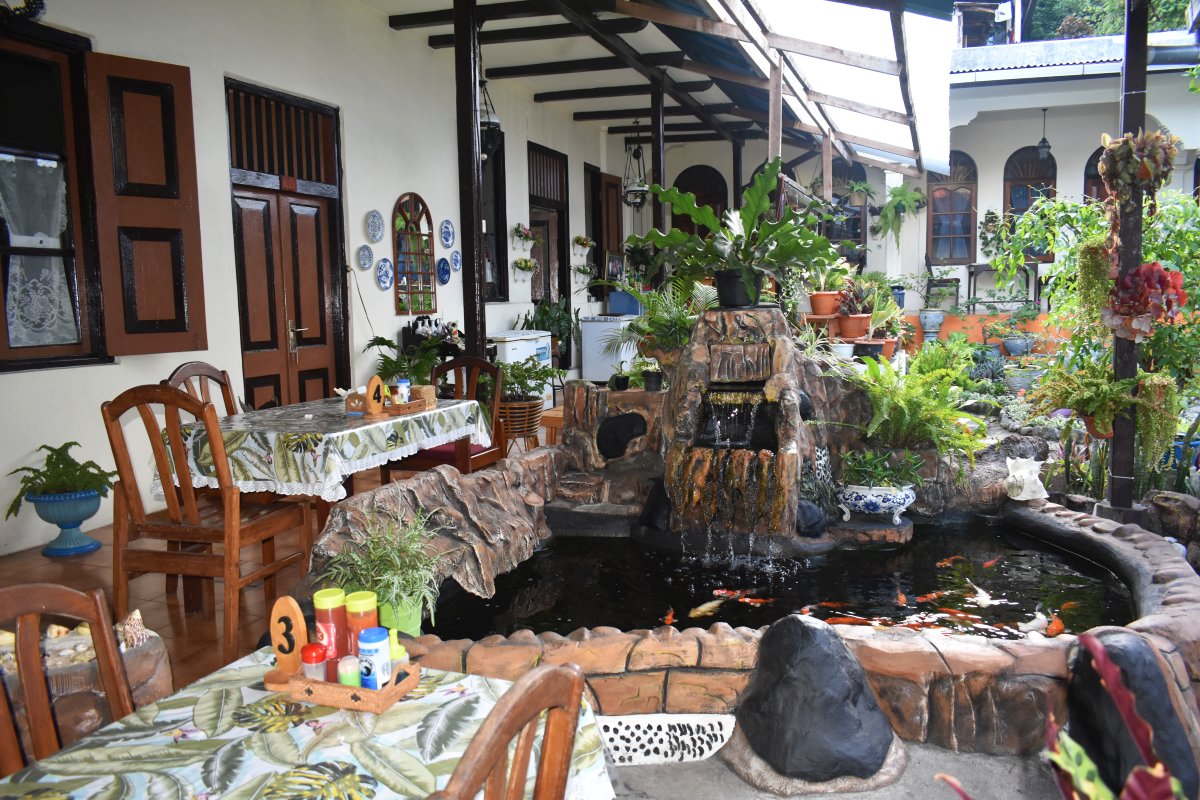 Centrally located, this is another great choice we recommend 100%. One of the oldest guesthouses on Neira has a lovely garden yard in which the restaurant tables are spread throughout the quiet oasis. If you are a guest in one of the back rooms the table actually is on your porch, in front of the room. For visitors, we recommend the tables around the small waterfall and the fish pond. Richly decorated, the whole yard feels a bit like a museum - spend some time to look at the tiny figurines, souvenirs and photos on display. All dishes we tried were very good, including the one thing that really stands out in the menu and is not available anywhere else on Banda - fish and chips! 
Rumah Makan Nusantara
On our first visit we had to wait about one hour for the food to arrive, so we didn't go back, considering the better options available. Also, the atmosphere is not as pleasant as at Spice Island Cafe or Delfika.
Cilu Bintang
Far from both the lively part of town and the top of our list this was hands down the most disappointing dining experience on Banda. Misled by reviews praising Cilu as a fancier place with great food we decided to give it a go. The estate is a preserved colonial mansion right next to Nassau fort and the atmosphere is really nice and classy, with comfortable sitting and dim lights. Unfortunately, we were disappointed with the food, the portions were small and the dishes were more expensive than other places, which probably was to be expected but we loved Bandanese food and there it was just not that good. We did not go back for a second try.
Street food
In the evenings around 6 pm, some food stalls pop up at one of the central corners. Be sure to get there quickly because by 8 pm most of the food is sold out. The place is easy to find, just follow the dim lights and the locals. Usually, there are two or three tables with food and the menu doesn't really change.
Yellow rice
Very cheap at 10 000 IDR per portion, comes with a choice of salad, fish, some sauces and noodles. Surprisingly tasteless for a good looking mix of different foods. A great choice if you are after a whole meal for under $1.
Fish on a stick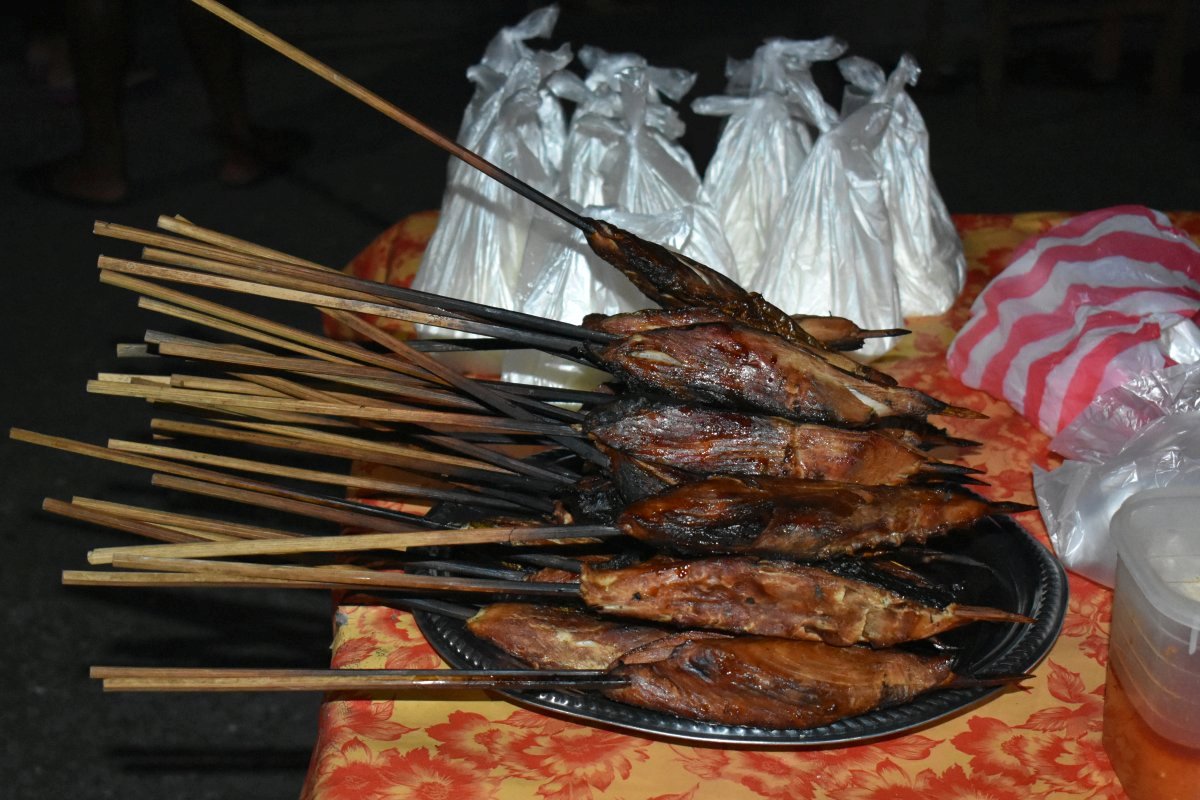 10 000 IDR per stick. I really liked this one, it is not just grilled fish, but the meat has been dried and possibly smoked beforehand. Very rich taste, a bit dry but full of flavour and smokiness. Fills you up pretty quick, goes well with sauce or some side dish.
Meat skewers grilled over coconut charcoal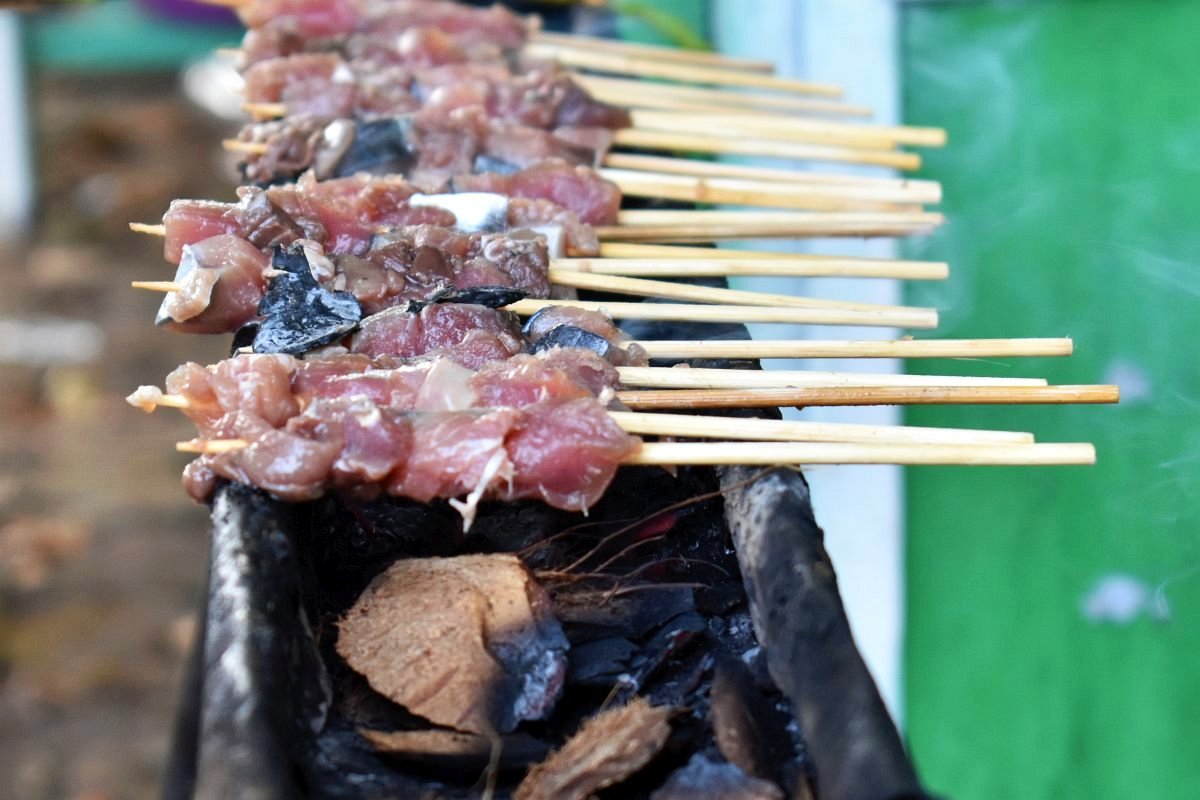 Just five steps up the street you will find a unique BBQ at the green stand. A very narrow grill is fueled by coconut shells and tiny skewers are cooked over this special fire. The choice is limited - ayam (chicken) or ikan (fish), both come generously soaked in peanut sauce (sata). The price of 10 000 IDR for 5 skewers makes the tiny meat bites the most expensive street food on the island, but it is totally worth it. The meat and sauce are good, but the coconut charcoal gives it a distinct and wonderful aroma. Even if you are not hungry just watching (and smelling) those while cooking will awaken your appetite!
Food cart / the tiny restaurant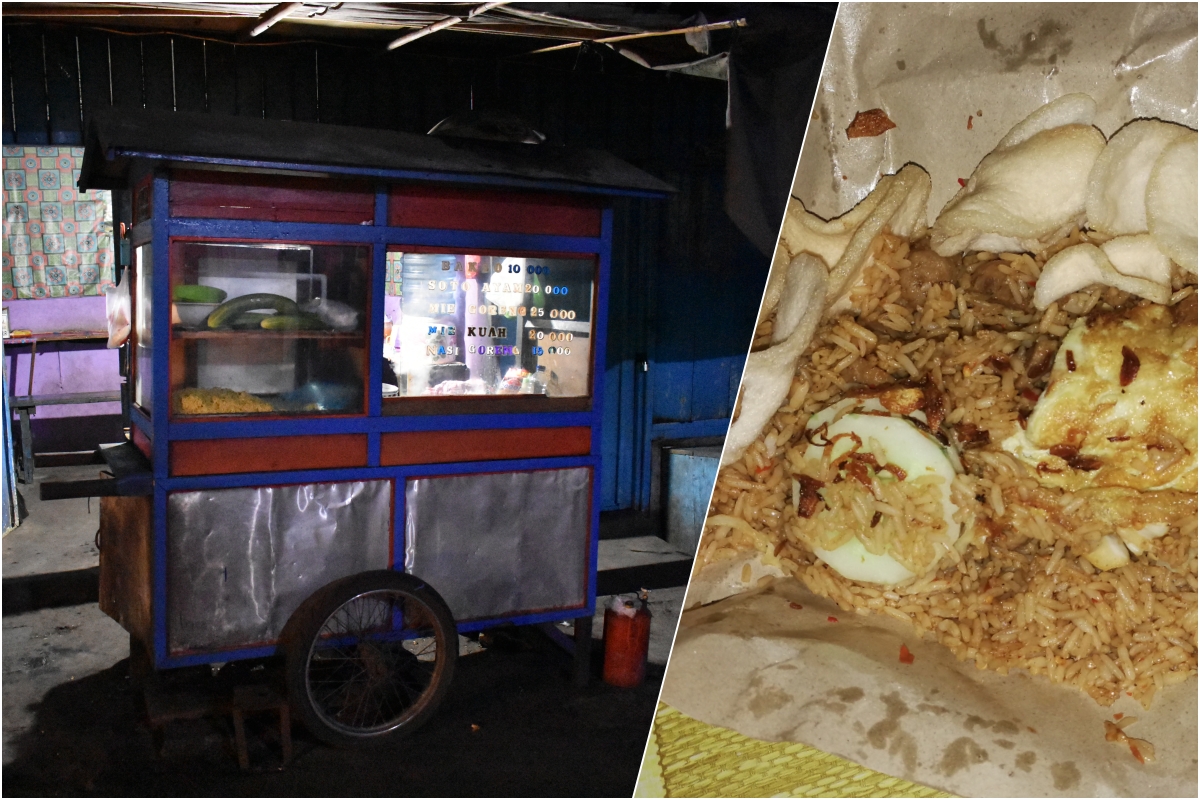 A little bit further up the street on the right side, you will find Ale Rasa Fishball - a small, hole-in-the-wall (literally!) restaurant. Very cheap and popular with locals. The menu includes soups and 2-3 other traditional dishes, we chose nasi goreng with an omelette - 20 000 IDR for a big serving. The young chef is passionate and prepares the food with such care, it is a pleasure to watch him work. Sadly, the food was bland and we didn't come back to try other meals this time.
Snacks
If you are after a bag of chips or chocolate biscuits just head over to the nearest shop for local and global brands.
Surprisingly, fresh fruit and vegetables are very poor quality and variety is very limited - the best you can hope for is average bananas. I assume this depends on the season, but don't get your hopes up.
Nuts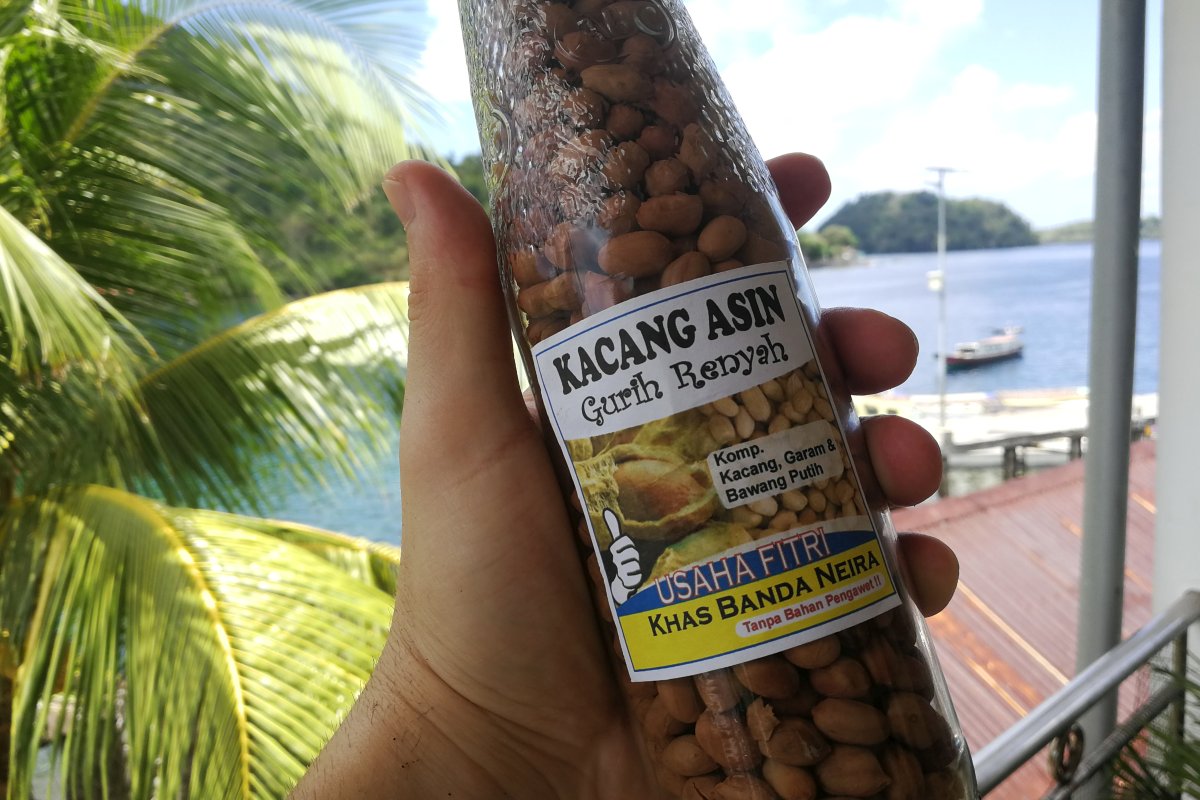 Local nuts are sold everywhere and taste really great. Roasted peanuts for some unknown reason are sold in bottles and kenari (a type of almond) is something you must try, we recommend the skinless.
Almond dessert
Want something sweeter? Go for the halua kenari - the local version of the popular middle eastern desert halva, of course, made with bandanese almonds. 
Dried fish
Walking in the village you can see many racks with fish drying in the sun - a very popular local snack food. It is not cheap - 100 000 IDR for 1kg, but that's a lot of fish jerky! Salty and fishy (surprised?) not easy to eat a lot of it at once, but a great snack to take to the beach or on a snorkelling trip. Just try to remove the skin, it doesn't taste good.
Dessert in a cup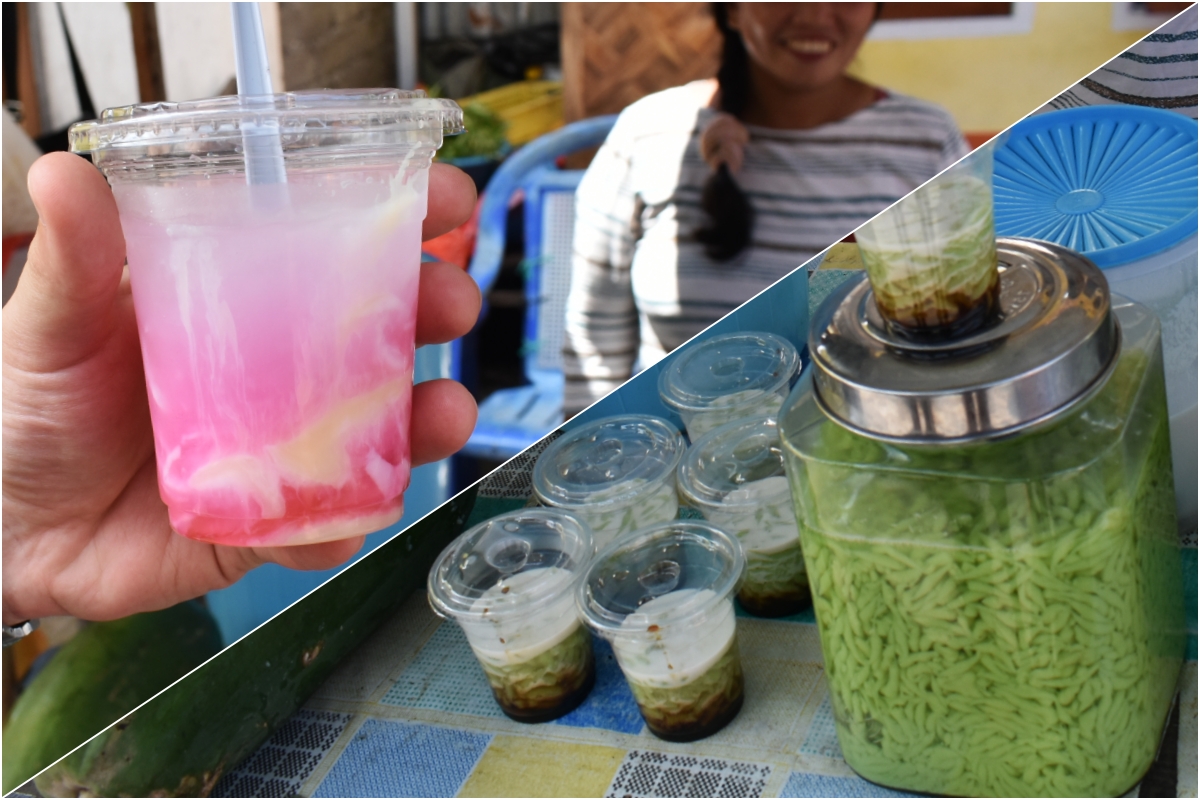 There are many small stalls selling cups of colourful juice/cream concoctions. I'm not sure what exactly goes in all of those, but some are a green banana pancake cut into pieces and dunked in pink juice. Others have different types of jelly and juice or milk. At only 5000 IDR per cup, it's worth trying some, they all have ice, so it is a refreshing drink-dessert mixture. 
Dried nutmeg
The world-famous nutmeg comes from the seed of the nutmeg fruit, but what about the juicy flesh around it? Indonesians dry it out in the hot air and it quickly turns into a candied dessert. Light orange in colour, it keeps most of its volume and shape, so even when dried it is easily recognisable. For me, the flavour is a bit weird combination of spicy, tangy and sweet. Like it or not - it is a very unique present to bring back home from the Banda islands.
Lobster dealers
This is worth mentioning but it doesn't really fit in any of the above categories. On several occasions, while walking around Neira we were approached by local men, speaking good English, offering lobsters. The offer didn't come right off, they first asked general questions like "Where do you come from?", "How was your day?" and eventually it led to "Would you like to have lobster for dinner?".
Let me explain the whole situation. Lobster fishing is not popular on Banda as transporting to more central parts of Indonesia is difficult and the local market is almost non-existent. When a local fisherman catches an unlucky crustacean he has two options - make it a family diner or try to sell it to a tourist and make some money. Most fishermen don't have the language skills and time to chat with tourists, so that's where the "lobster dealers" come in. They have other jobs around the busier streets, but enough skills to persuade tourists to buy the delicacy and make some profit from the deal.
You may ask to see the merchandise first and if you agree on a price can pick it up or have it delivered to your hotel or a restaurant so they will cook it for you. It's a win-win, as the price is lower than anywhere and the local people are happy to get some money. To be on the safe side, if you are up for some lobster, it might be best to organize this with your host or through one of the restaurants - they can make sure that you get what you are paying for and will probably negotiate a fair price for you.