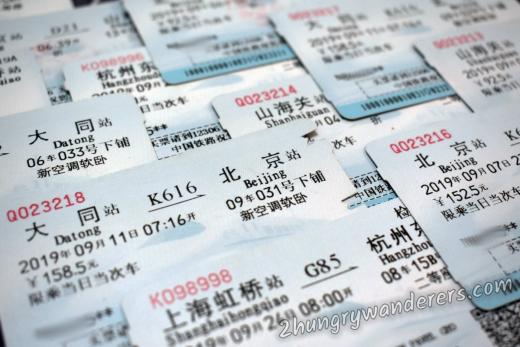 The train system in China is extensive, reaching every part of the country, very popular and convenient. Train journeys are generally a lot cheaper than flights and the trains are quite modern and clean in most part. The main train stations may be huge and crowded but are also well organized and easy to navigate, with signage in English.
One thing to note is, that because train travel is so popular, many routes sell out quickly and if you want to travel on specific dates (as is usually the case) you need to make sure you buy tickets in advance, especially during the peak summer period and around the major holidays. For most trains booking starts 30 days before departure time for online purchase and 28 days for buying at a ticket window. 
The official online purchasing system is really good, but you need to have a Chinese ID card to use if you are a foreigner you can only buy tickets in person at a train station or use resellers.
Buying tickets the easy way
The easiest way to buy a ticket is to use online resellers. There are numerous sites and apps that can sell you train tickets, we found Trip.com to be the best - easy to use interface, best prices, lowest fees and very reliable. You just need to select a route and pay for the tickets using your credit card. The things to be aware when booking online tickets:
The information about schedule and availability you see on those sites is not completely up to date - information is pulled from the China railway system periodically and your choice is not guaranteed until you get the final confirmation for your purchase 
Seating preference cannot be guaranteed, there is an option to choose a preference, but it will depend on the availability
There is a fee for booking the tickets
If you want to have the physical tickets delivered to your hotel, there is an additional fee. If you choose to collect your tickets at the train station you will have to go to a ticket window, show your confirmation number and passport in order to do that, queuing will be involved - if collecting before departure, make sure you have enough time to do that.
Double-check the information you enter - passport numbers and names - if you make a mistake and something doesn't match you won't be able to get your tickets
Buying tickets the cheap way (DIY)
Those booking fees can really stack up, especially if buying multiple journeys and going to a train station or local train ticket offices is a good option if you are on a budget and have an hour or two to spare. It can be a little intimidating, as almost no one speaks any English and communication is not easy but is not impossible.
Go to the main train station and find the ticket office.
Find the ticket window where English is spoken (look for the signs) unless you speak Mandarin, you must go to that one.
Even if it is supposed that the person in that ticket window speaks English, do not put too much faith in this - be prepared with what you want to book exactly. Before going to the train station check the schedule online (use Trip.com, for example), write down which train number you want to travel on, date, number of tickets, what class you want and the price you expect to pay. Having everything written down makes the purchase easier.
Make sure you have your passport with you, as well as enough cash, foreign credit cards are not accepted.
Buying train tickets at Beijing Railway station - step by step instructions
If travelling by subway, take the Line 2 to Beijing Railway station stop, go out through exit C.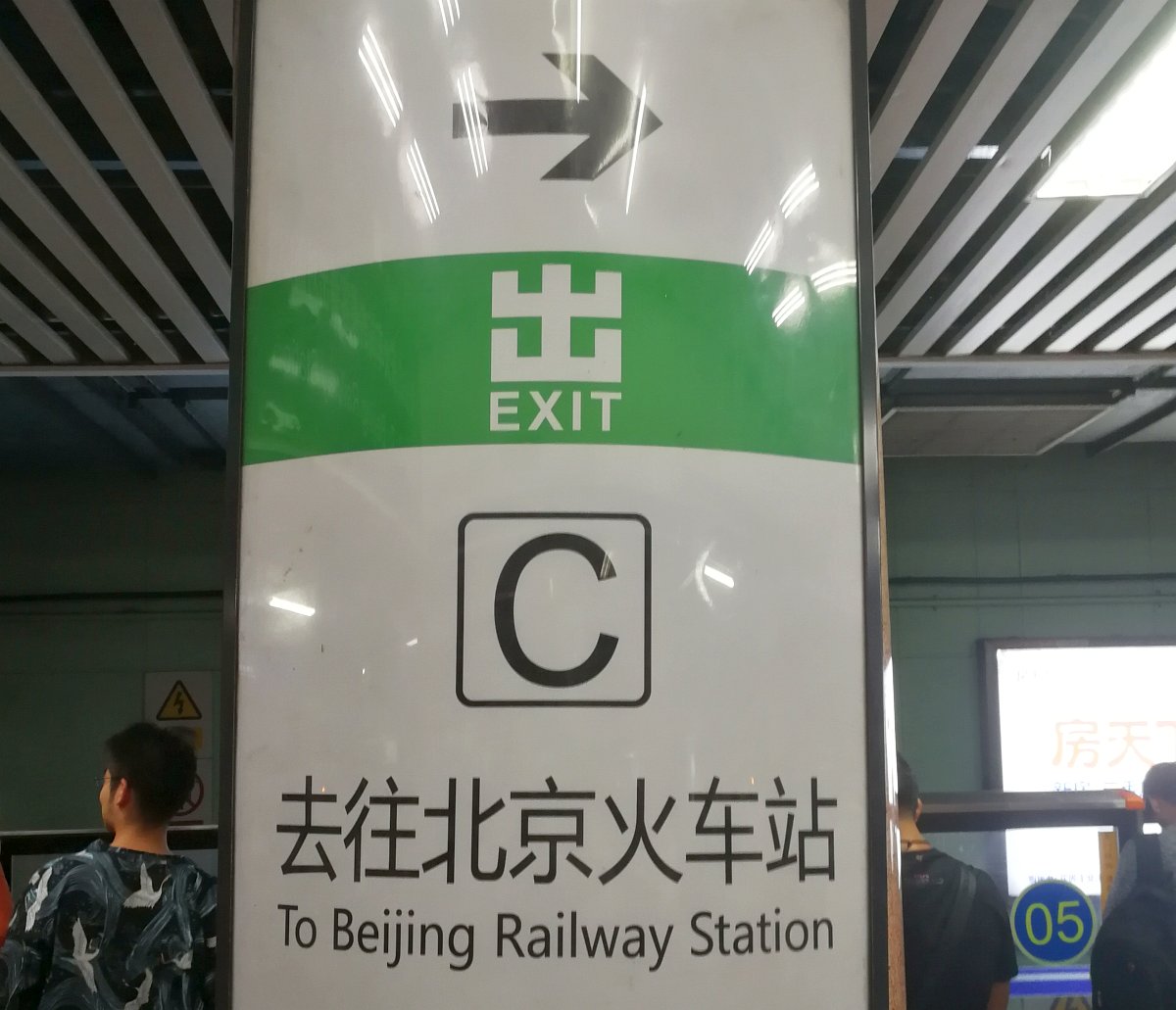 Go right when you exit and follow the signs to the ticket office - it is on the right side of the main entrance, next to a KFC.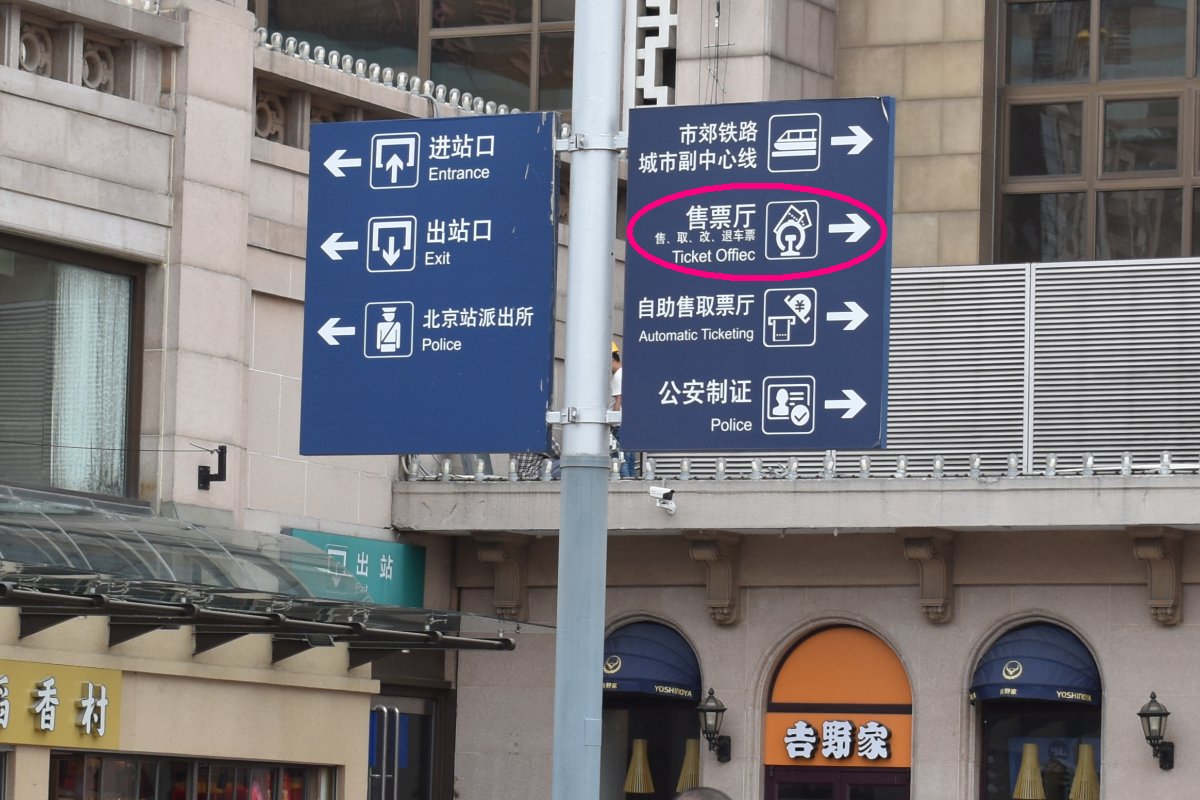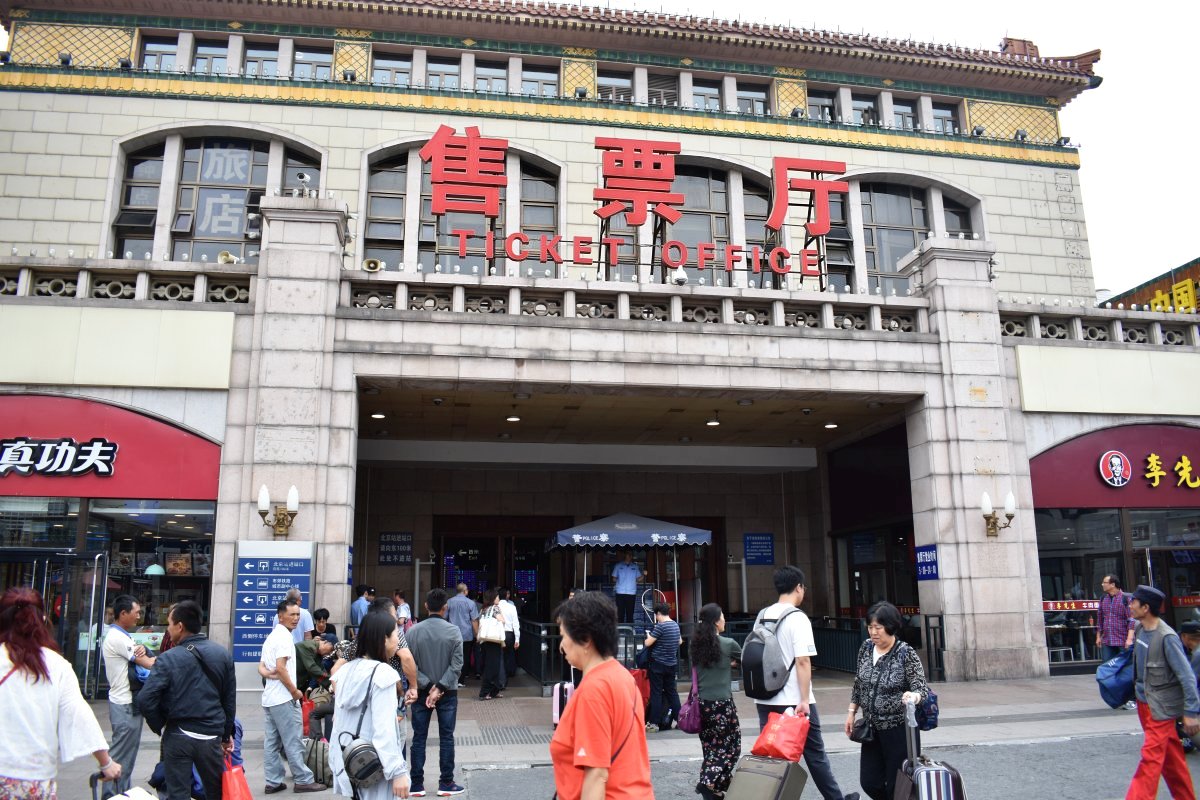 Ticket windows are on the right side of the hall, look for the English speaking window - it was window 14 when we visited.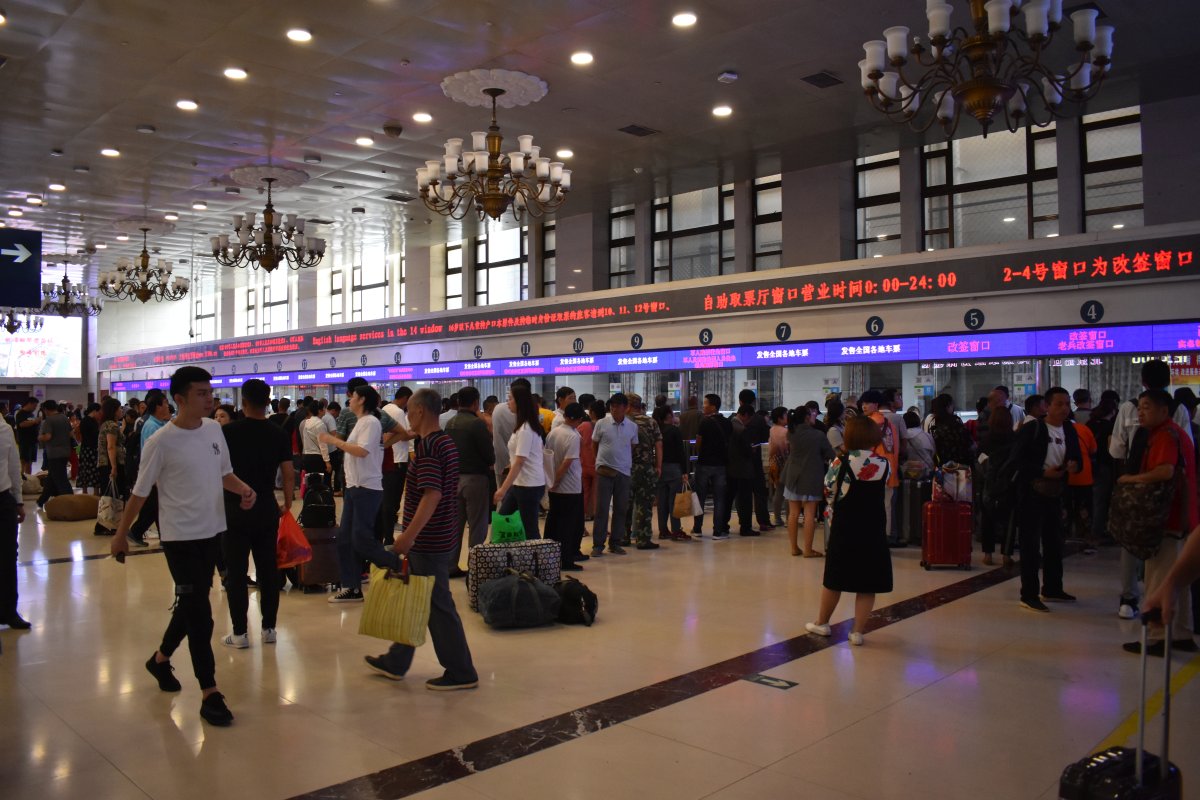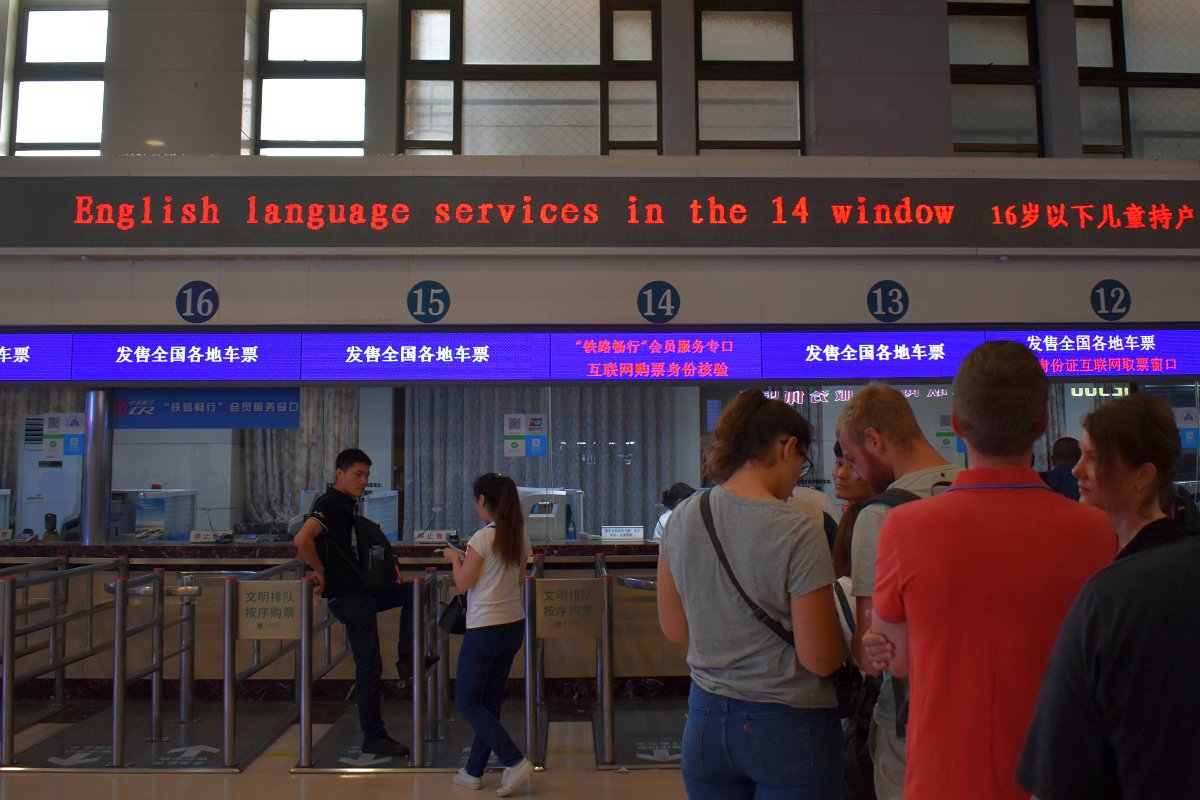 If the English speaking window is closed, there is an Information counter on the left side of the hall, you can go there and ask which window to use. Even if you have everything written down, unless it is in Mandarin you will not be serviced at a regular ticket window.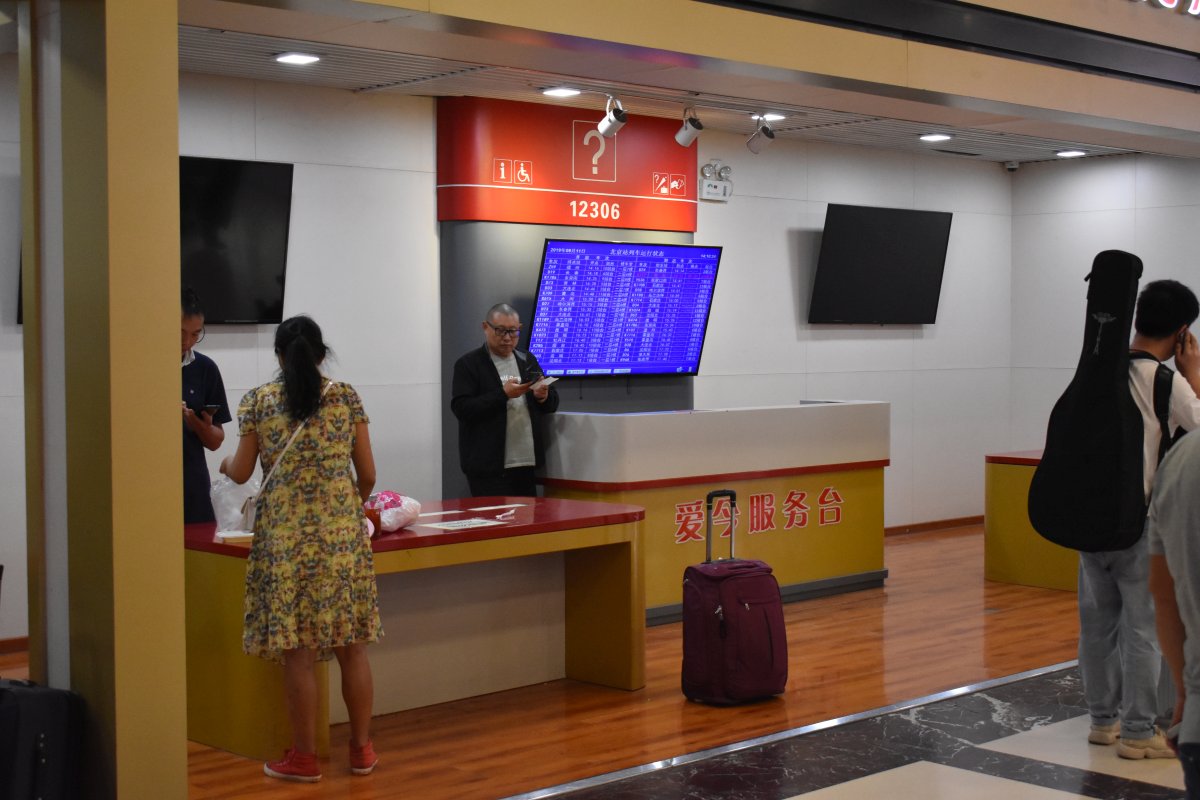 * When going back to the metro station you need to use exit/entrance A. A is only an entrance, C is only an exit.
Our experience
We went to the railway station in person. Exiting the subway it was a bit intimidating to see the big station building with different entrances and nothing in English, but after some looking around we found the signs pointing to the ticket office. We entered the ticket hall and many ticket windows lined one side of it, all the same, some closed, some with people queued up, and all had signs in Mandarin only. After some head-scratching, we decided to just choose a queue and line up. When it was our turn it became obvious this was not the correct line - the cashier tried talking to us in Mandarin, unsuccessfully, then just wrote down "14" and waved us off. The ticket windows had numbers, so at least this was easy to figure out, and as we were looking for number 14 we noticed that the message board over the counters would display "English language services in the 14 window" from time to time - good! - we knew where to go.
Window 14, however, was closed and holding the paper with the number 14 we were given by the first cashier we went to the Information desk on the opposite side of the hall. We managed to communicate that number 14 is closed and the lady at this desk contacted three or four different people over the radio, most probably trying to find someone with enough English skills to assist us. After a couple of minutes of back and forth, we were directed to counter 1.
After 10 minutes in yet another line, we got to the cashier at counter 1, but seeing that we were foreigners he started to talk in Chinese and tried to redirect us to counter 14. Having had waited on three separate lines already we did not budge and tried to explain that that window is closed and the Information lady had sent us there. A few minutes of pointing and the cashier got up and another one came back in his place - his English was good enough to get us our tickets, finally.
Overall, looking back it was not that difficult, we had to be a little more persistent than usual and for the 14 tickets (3 return journeys, 1 one-way for two people) we saved around $100 in booking fees we would have paid if booking online, so it was worth it.