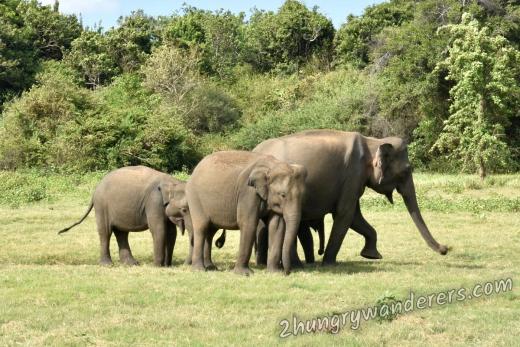 Located close to some of Sri Lanka's main historic sites are two excellent opportunities to observe the local wildlife and have an amazing experience in nature. Those two national parks are famous for being the best spots to see large herds of elephants, plus countless other animals and birds. Located right next to each other, they do have a lot in common, but there are some differences too. Keep reading on how to choose which one to visit on your safari and why you should definitely do so.
How to visit a national park and how to choose a tour?
The parks do not offer any services directly, so you have to hire a private ride. There are plenty of operators in the area, but it is advisable to do your own research as prices vary greatly. Some have better vehicles, but a higher price doesn't guarantee this, if you want to be sure what you get - ask to see a photo of the jeep (that's what the modified off-road vehicles used for safaris are called). Most companies offer safaris in both parks, and some even can take you to both on the same day.
Our advice is to choose a safari tour in advance. A simple Google search will give you lots of options - get in touch, check their availability and prices. You can always ask your accommodation to help you organize it, our host, however, was most unhelpful in this matter. Some people recommend to go to the park and find a ride there, I cannot recommend this option unless you are prepared to get whatever vehicle is available at whatever price they ask. Negotiating may be easier if you know what the prices are in advance. It is also possible to spend the time to go there just to find that no jeeps are available.
Usually, the tours include transport from your accommodation. If you have your own transport and want to save some money, the cheapest option should be to drive yourself there and meet at the park entrance.
What is the best starting point?
Anywhere in the Cultural Triangle will do! It doesn't make a big difference if you are staying in Polonnaruwa or Sigirya, even Dambulla is not too far and the centrally located Habarana is closest to both parks. All these cities are good places to add an extra day for a wildlife safari and plan a visit to one of the national parks. Here are the distances and time needed according to GoogleMaps, which is usually very accurate.
Distances between the national parks and nearby cities

| From/To | Kaudulla | Minneriya |
| --- | --- | --- |
| Sigiriya | 48 min / 39 km | 26 min / 20 km |
| Polonnaruwa | 46 min / 34 km | 47 min / 37 km |
| Habarana | 27 min / 24 km | 11 min / 9 km |
| Dambulla | 52 min / 45 km | 37 min / 31 km |
When to do the safari?
The majority of tours are called "half-day" and start either in the morning or in the afternoon. All people we've talked about this have recommended the afternoon as there is a higher chance to see more animals and especially elephants. They tend to wander for a bath and to drink water before sunset, after spending the day hidden in the shade. Of course this means more people and more jeeps will be hoping for the same, so afternoons also get more crowded.
To minimize the crowds of people it is advisable to avoid the weekend and especially public holidays. That is the time when locals swarm from the big cities and the parks can get really busy.
Don't forget that this is not a zoo, so your luck plays a big role in your experience - one day visitors may see hundreds of elephants, the next - just a few.
How much does it cost?
The total cost is comprised of two elements - the national park fee and the safari tour. Both Kaudulla and Minneriya national parks have the same pricing as the majority of wildlife parks in Sri Lanka. For the entrance, you will have to pay the sum of:
$10 per person for foreigners
$8 service charge (per group)
40 LKR entrance fee for your driver, locals pay about 50 times less than us
250 LKR vehicle fee
8% tax on the sum of the above
When we visited Kaudulla, for us two the total entrance fee was about 6000 LKR.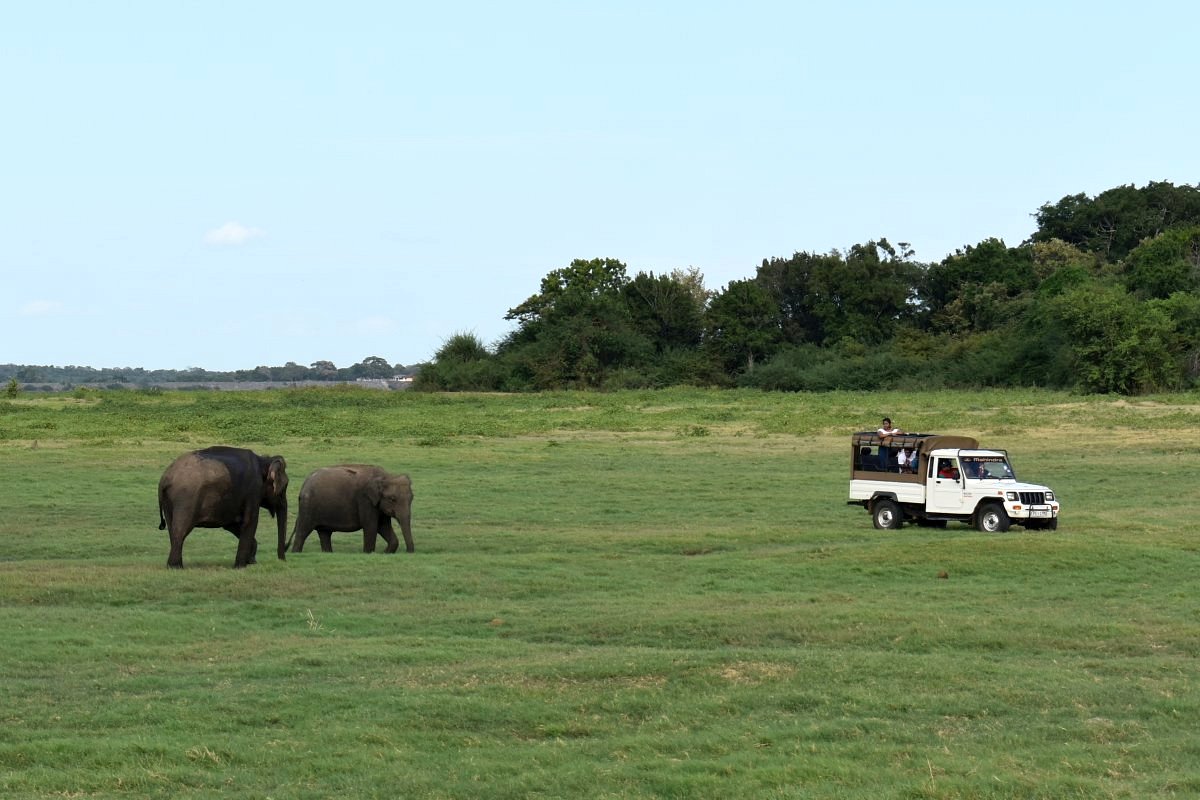 For the tour, it makes a big difference if you do it in a shared jeep or you prefer to hire a private just for you. Most offers we got for a private half-day tour were between 4000 and 6000 rupees, again this depends on many factors like the season, type of the jeep and your haggling skills. A seat in a shared jeep goes around 1000-2000 rupees, but those are not always available. 
So, should I visit Kaudulla or Minneriya? Where are the elephants?
It's time for the most important question - which park is better? Which gives you better chances to see more elephants? Honestly, there is no easy answer. All kinds of stories have been shared online regarding what people experienced or were told about the parks. A common opinion is that Minneriya used to be more popular, so it got more crowded. There are stories about drivers getting too close to elephants and even vehicles being attacked. Blessed by ignorance people claim that one park has way more elephants than the other. Some even say that many elephants have left both parks in recent years.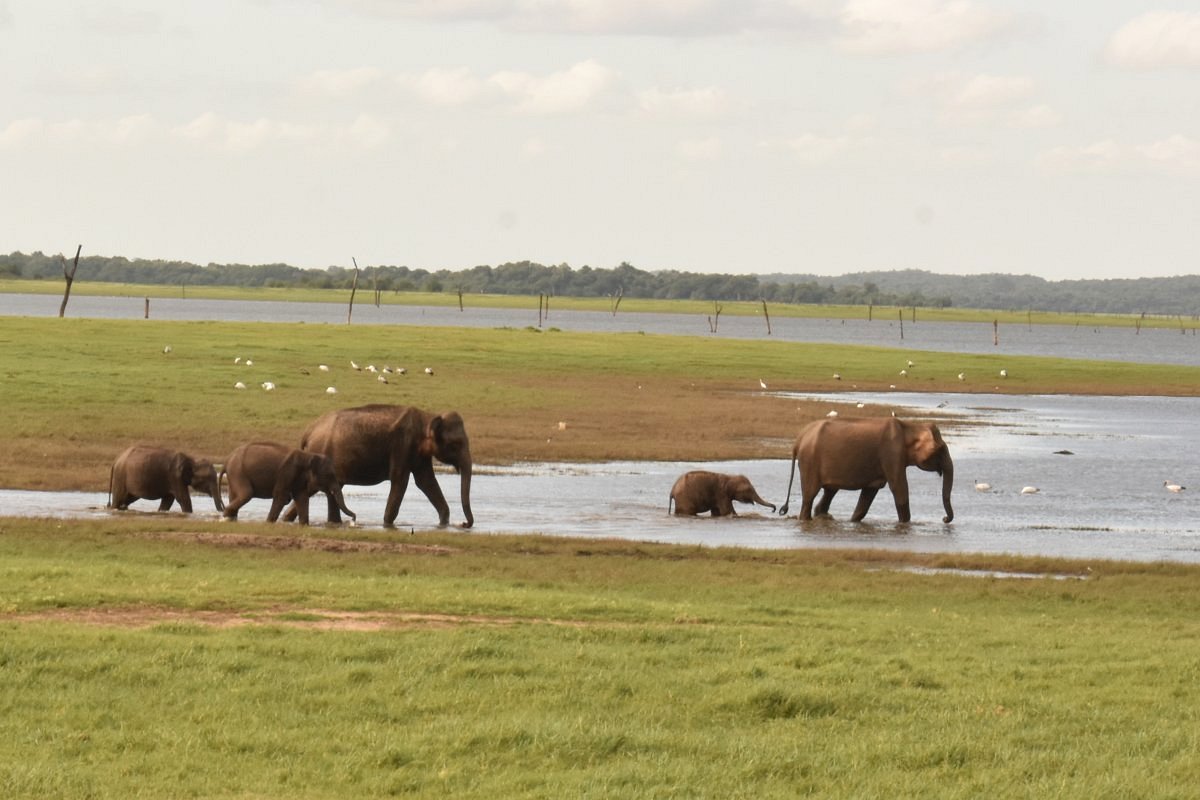 The truth is that the situation changes. The elephants are free to move between the areas and they do so as they please - because the grass is greener, or there are fewer intruders or just because they want to. Instead of reading advice from years ago, just ask the tour operators. People who drive through the parks on a daily basis have the complete, fresh picture. We chose Kaudulla because a helpful driver told us that there are much more elephants there than in the other park and he was right. They have no reason to lie, as the prices are basically the same.
Elephant gathering
The Gathering is an event when an unusually high number of elephants come together in one place. Usually animals migrate according to their mating seasons, but the reason for the largest elephant "convention" is different. In Sri Lanka, July and August are the peak of the dry season. The weather is hot, rain is rare and rivers and lakes dry up, forcing the large animals to move closer to water sources.
The huge mammals need a lot water to survive. The average adult elephant will drink about 100 litres per day, but it is not uncommon to double this amount, especially when it is hot and sunny. 
The two national parks of Minneriya and Kaudulla are the perfect "summer getaway" for elephants, with dense jungles and large water reservoirs. Most elephants from central Sri Lanka spend several months there resulting in the largest in the world gathering of Asian elephants. The numbers vary, but it is common to reach 300-400 at times.
Your best chance to observe The Gathering is during or right after the peak of the dry season. Reports from previous years stretch the dates from June to September, but it all depends on the weather.
Our visit to Kaudulla National Park
We got picked up from our hotel in Sigirya at 13:30 and were at the parks entrance before 14:30. Ten minutes later we were lucky to see the first small herd of elephants, four females and a couple of babies happily grazing under some trees in the distance. Absolutely lovely picture, but we were not impressed yet, just hoped our luck didn't run out so soon.
Soon after this, on a curve of the road, our driver slowed down, stopped and pulled back a little bit. A group of four grey giants was just coming out of the jungle just a stone throw away from us. A small group with one baby hiding between its moms legs, but this was our closest encounter so far, a truly exciting moment! We watched them for a while and continued our ride, our guide pointing some large storks in the distance.
If we knew what was waiting for us we wouldn't have wasted time with the birds. The first big herd - about 30 elephants were literally on the road ahead of us. Our driver got us as close to the animals as possible without disturbing them. After watching the group and taking lots of photos we eventually had to turn around and go along a side road as they were blocking the main one.
In the next 2-3 hours we encountered several single males roaming the park, other groups of elephants, watched two separate herds merge at a lake where some bathed and others just drank water, even saw some who had tusks. Along the way there were other animals like deer, crocodiles, several species of monkeys and plenty of birds, making the tour more complete. Observing just a single wild elephant in nature is something that can make your day, we were lucky to see about 150 of them in just one afternoon. An absolutely amazing experience!