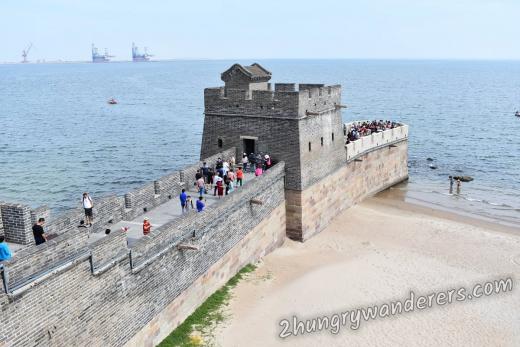 The Great Wall of China is thousands of kilometers in length - many different styles, going through various landscapes, some sections restored and drawing hordes of tourists, while others crumbling out of sight. Of particular interested to us was the Old Dragon's Head - the point where the wall meets the sea, the start of this engineering marvel. It is located in the city of Shanghaiguan - just a 3 hours train ride from Beijing and is easily done in one long day tour.
Even though it is a popular attraction for the locals, there is not much information online in English on how to get to Shanghaiguan and any other attractions in the area. It was a challenge to piece together an itinerary with the limited sources. We mostly relied on odd comments here and there and a single article - https://jonworth.eu/the-great-wall-of-china-at-shanhaiguan/, which was 5 years old at the time.
The places we visited on our day trip were:
How to get there
To be able to do it all in one day we had to take a train from Beijing to Shanhaiguan. It takes two and a half to three hours and getting on an early train, then leaving in the evening means having a whole day to explore Shanhaiguan.
It is important to buy tickets several days in advance as they sell out quickly. Tickets can be bought online or at any train station in Beijing - more about how to do it in our article here - How to buy train tickets in China (and step-by-step at Beijing Railway station).
The earliest fast train from Beijing was D30, departing Beijing train station at 6:39 am and it got us to Shanghaiguan at around 9:30 am. For the return trip we got the 19:30 fast train and managed to get back to our hotel around 10:30 - 11 pm. It was a long day, but we managed to squeeze everything that we wanted to do in it.
Our day
At the train station at Shanhaiguan we had to make the decision how to go around the attractions:
As we exited the station, just after we crossed the exit there were a couple of touts (probably more on weekend, we visited on a weekday) who were trying to sell transport to the main attractions. As it is usual in China, their level of English was mostly nonexistent, they were holding pictures of the places and writing their price on their phones. We decided do give them a pass as in most places using the middle man is the most expensive option. However, it might be a relatively easy way to organize a tour as they have a set route. If you decide to go with one of them - do not forget to haggle for the price.
Passing the exit of the station, in the big square in front of it, there were parked cars waiting to take passengers around - they were not official taxis and none of the drivers spoke any English, but instead of using a tout one can negotiate a route and a price with them directly.  
Across the square official taxis were lined on the stand along the main street - using a meter is always the cheapest option, but again one has to explain where to go to the driver. If you have to do that - best is whether to find the address or the attraction name written in Chinese (Google maps or Wikipedia can be useful for this) or show a picture of it.
We decided to go with Didi (a car sharing app) to get to the farthest place and back first - Jiumenkou Great Wall, then use a bus for the attractions within the city.
Didi is the Uber/Grab alternative in China. The upside of Didi is that it is easy to choose a destination as the interface is in English and then driver gets the exact information of where you want to go on his phone. Plus the driver is forced to use a meter because of the app and you get the honest price.
Didi is just one of 12 useful apps to have on your phone when travelling in China.
There was one downside of using it, however - getting back turned out to be harder than expected, as there were no taxis in Didi near the scenic area of Jiumenkou Great Wall and we had to haggle a bit for the return trip.
Jiumenkou Great Wall
It was 30-40 minutes winding drive to the entrance of the scenic area that cost us 39 yuans, the entrance fee for the Wall was 80 yuans and included the Wall, a zoo and a tunnel under the wall that was used to house the local guards.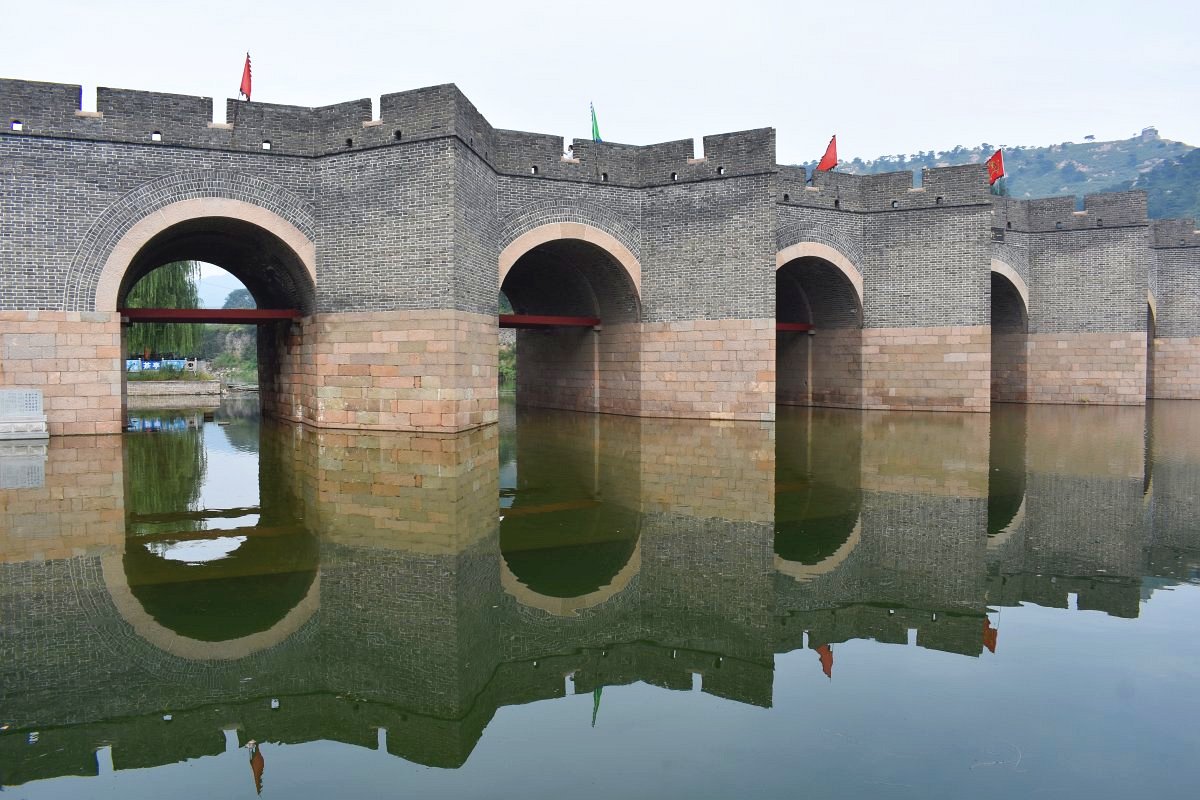 An unusual feature of this part of the wall is a bridge over a river - one of the few bridges along the Great Wall, rivers were considered to be harder to attack over. The bridge itself is fully restored, along with short sections east and west of it. The whole length of the restored section can be walked in around one hour with some steep parts to the west, but beautiful views of the area from the top. Past the "new" wall, the original crumbling "wild" wall can be seen curving over the nearby hill tops.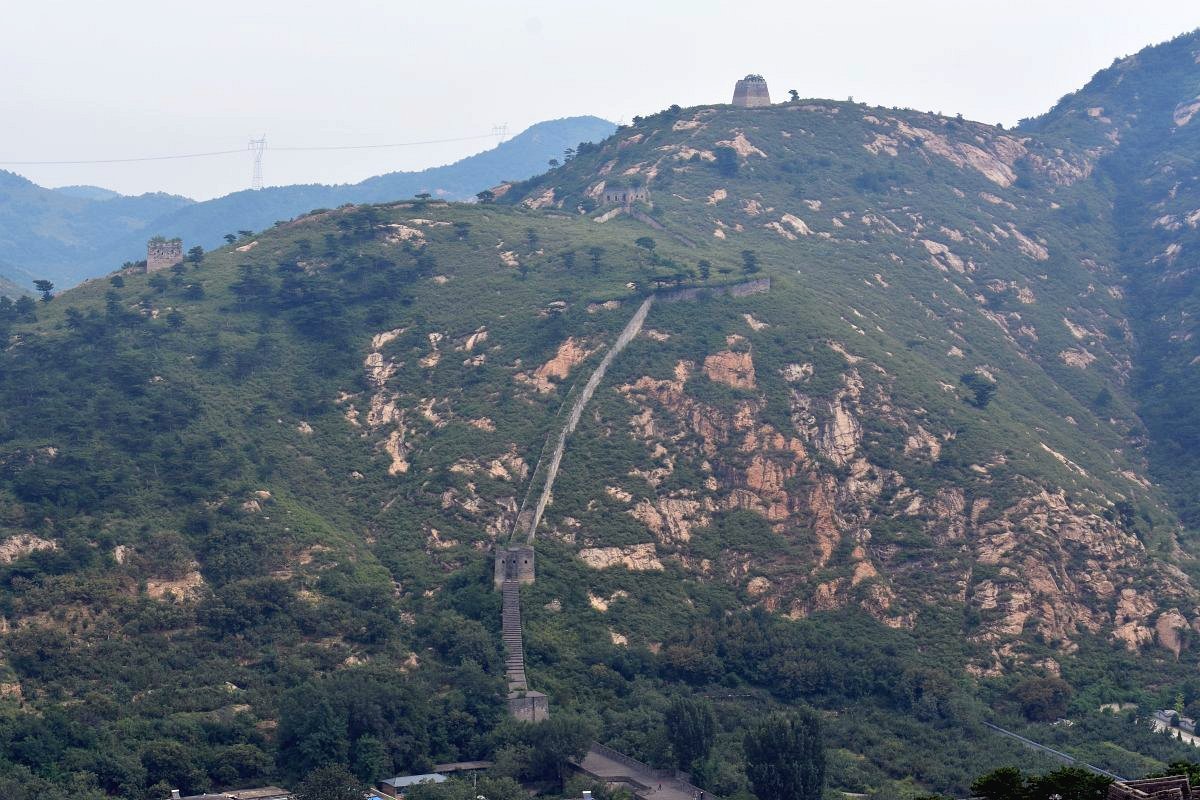 The zoo inside the scenic area was nothing more than a few ponds with ducks, not really an attraction except maybe for little children. The sleepy animals seemed undisturbed by the few visitors passing by their cages to get to the more interesting guard tunnel.
The guard tunnel is a 2 m high and around 1 km long tunnel dug through the mountain under the wall. It was used as garrison for the soldiers guarding the wall. Damp and cold it now features exhibits of weapons and torture devices, quite a few rooms and niches used for living quarters, temples and shrines, kitchens, prison cells, toilets. Story boards and figures in traditional clothing in some of the rooms tell historical tales about the building of the wall and the guards living there, unfortunately the English translations of those are impossible to make sense of, Google translate or more probably some Chinese equivalent had not done a good job.
We spent about 2 hours at Jiumenkou Great Wall. When it was time to go back to Shanhaiguan it turned out that there were no taxis nearby in Didi. We were forced to haggle for a ride back with the taxis waiting near the entrance and as there wasn't any other way to go back we had to settle to pay 100 yuans to get to the Old Dragon's Head. Not too expensive, but unpleasant compared to the metered taxi that brought us there.
Old Dragon's Head
The shiny big ticket office in front of the scenic area even had someone who spoke a little English to help us buy the tickets - Old Dragon's Head only was 50 CNY ticket, with several other options available that include entrance to other sites close by.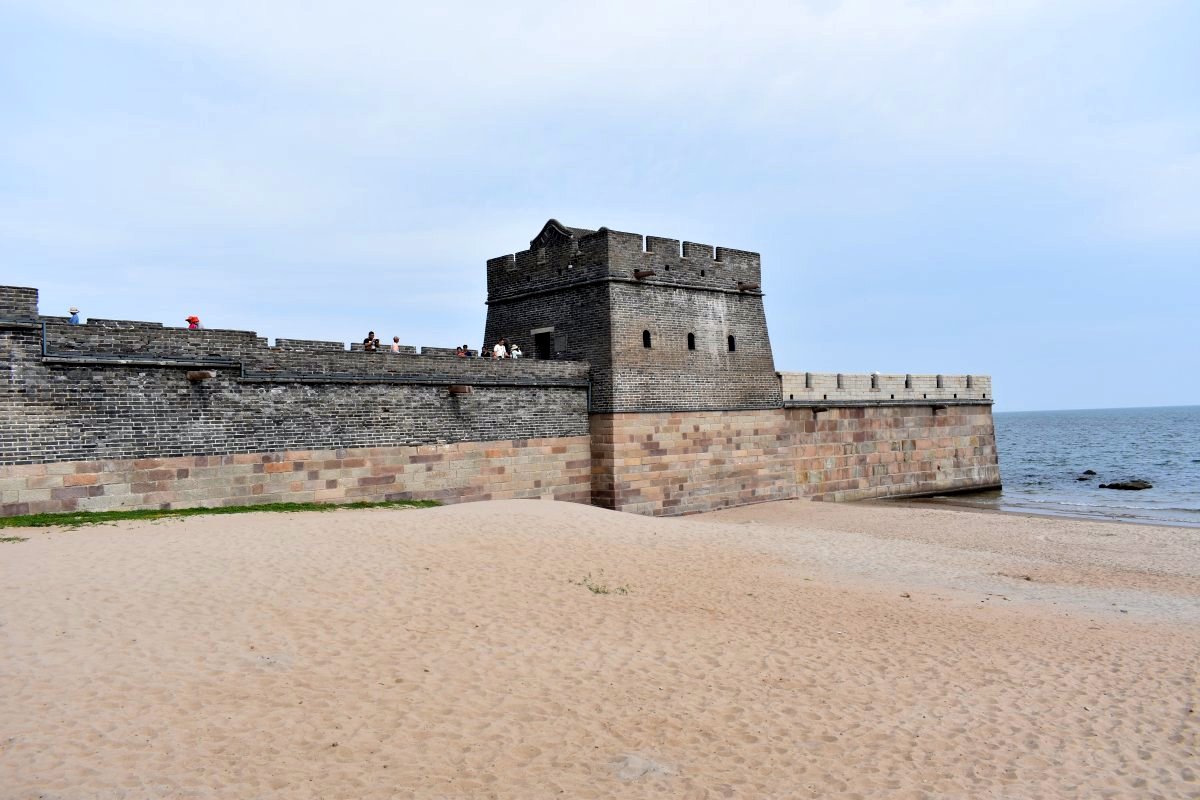 The site was crowded, not really something unexpected in China. It has a small park and a training camp, which is either restored or completely new, but would be interesting for children mostly. The part of the wall going into the sea was really impressive.
We spend around 1 hour at Old Dragon's Head and after that we headed to the First Pass Under Heaven. Bus 25 that passes near the scenic area frequently got us there for only 2 yuans per person.
First Pass Under Heaven
We got off the bus and walked about 10 minutes to get to the First Pass Under Heaven. Along the way we were approached by someone who claimed that the First Pass Under Heaven was closed, his English was minimal but he had a photo showing a gate with a barrier in front of it to better convey what he was saying and offered to take us to other places instead. Knowing this scam from other places we just politely said "No" and continued on our way. In situations like this, never believe that an attraction is closed, the scammer most probably wants to get you on an expensive "tour" of local shops.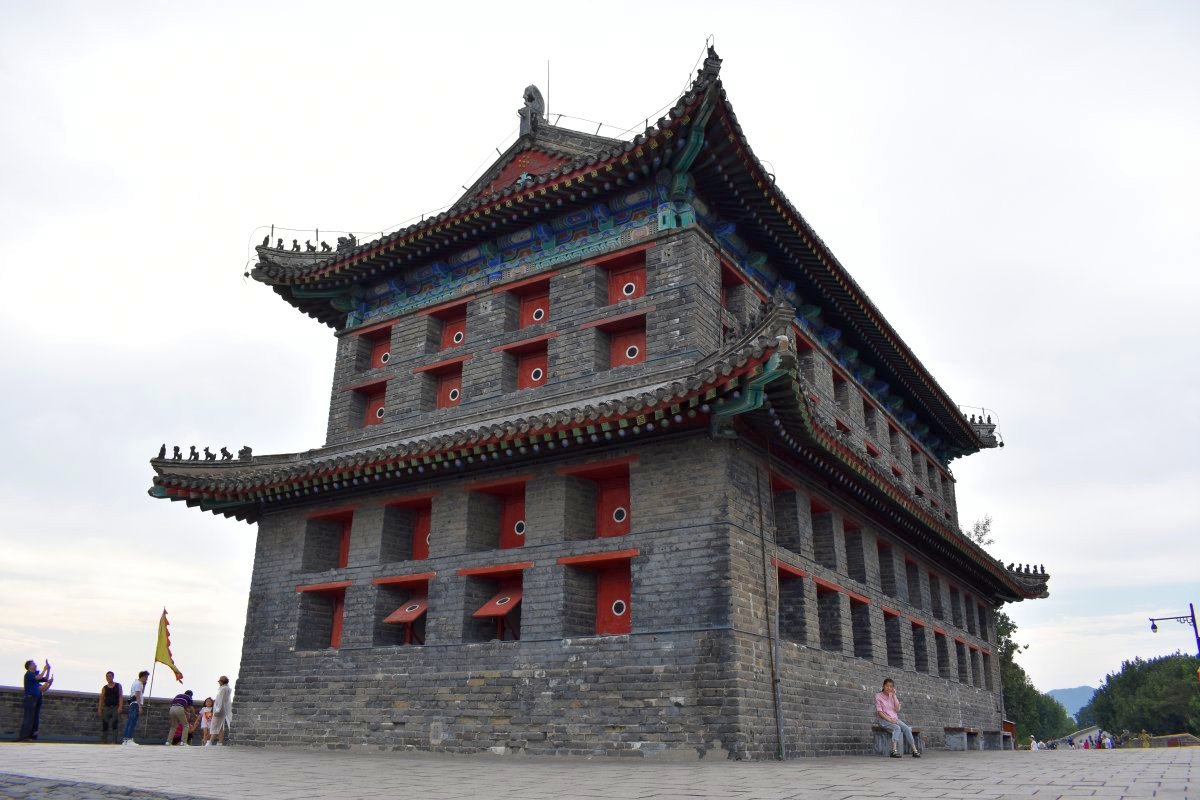 The entrance for this scenic area was 40 yuans and we felt it was too much for what it had to offer, despite its historical importance. There is one gate with a tower, a short section of the wall, a lake and a small park.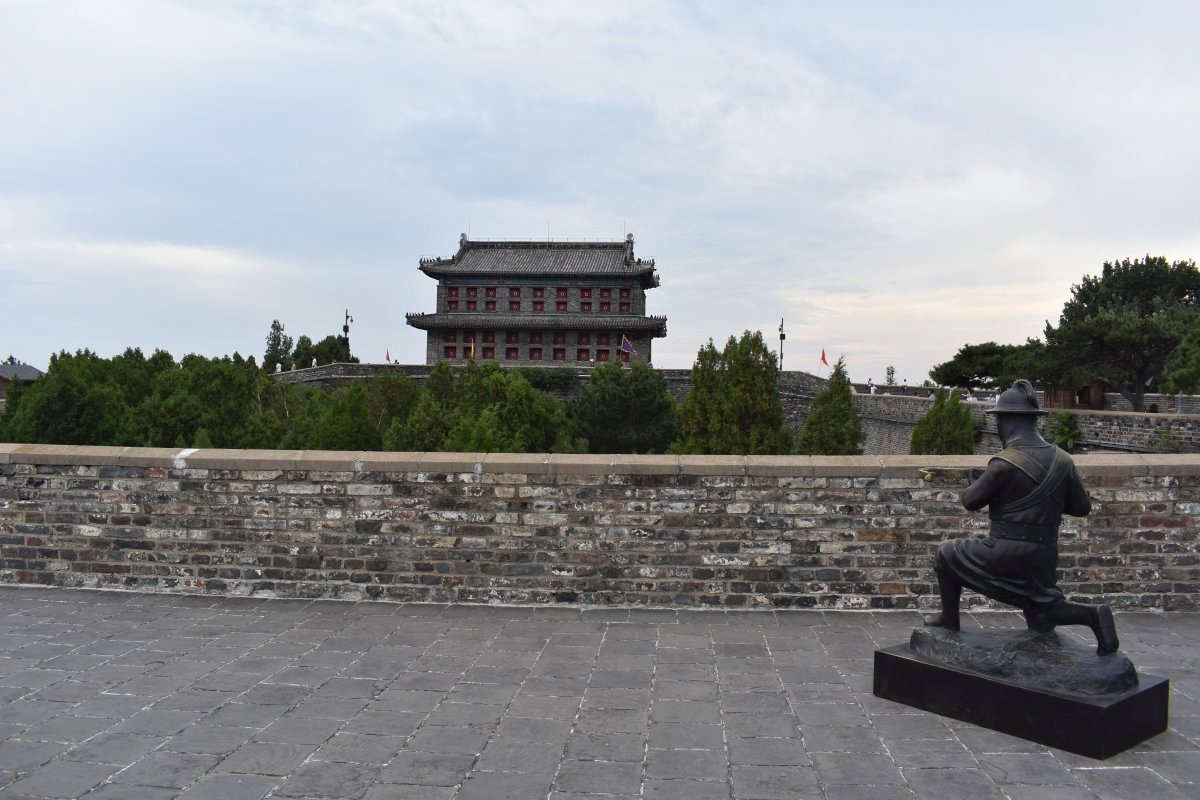 We spent around 30 minutes there.
Drum and Bell tower and "Old" town
Exiting the First Pass Under Heaven we were in Shanhaiguan Ancient city - at least, this is what Google maps said. There was a 5 minutes walk to the Drum and Bell tower and another 5-10 minutes tothe  west gate of the city.
The "old" town is at most restored, but more probably, a newly built attraction. It has the less than genuine feel of other such Chinese restored places - a lot of cookie-cutter souvenirs and local snacks stores, touristy, but lacking real atmosphere.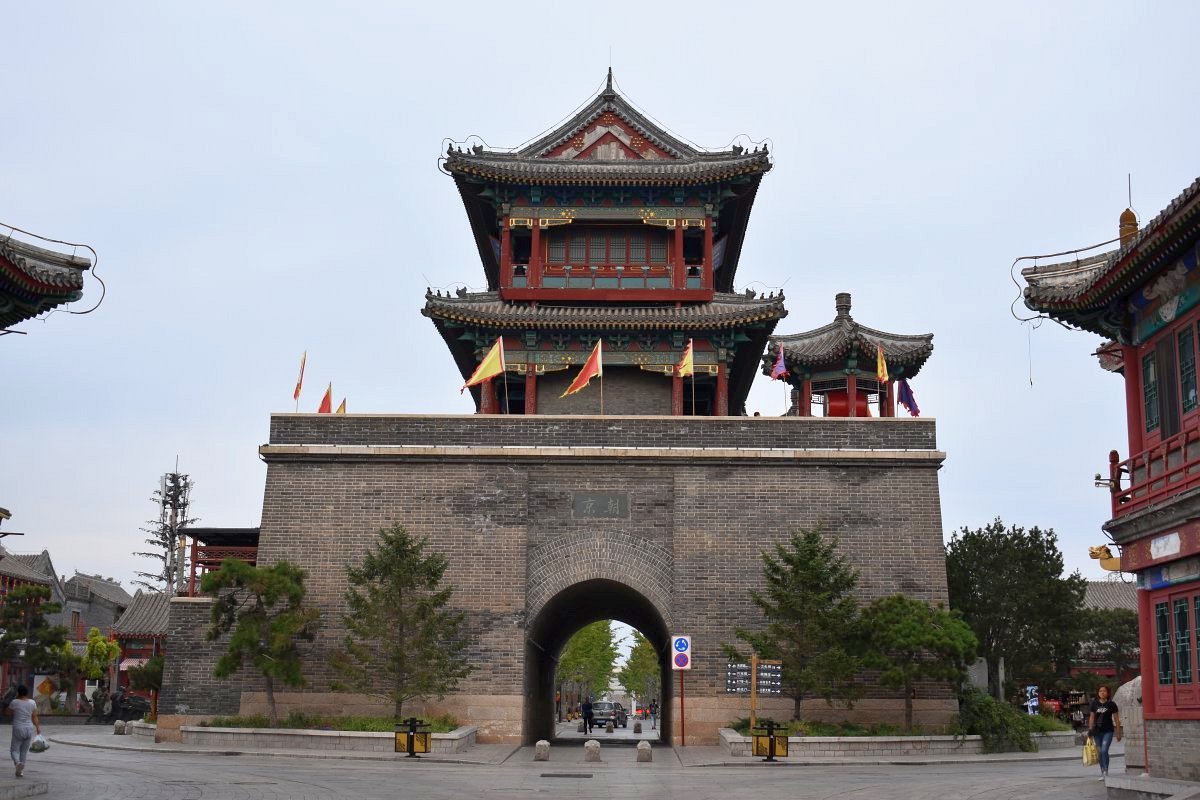 Walking around the old town it seemed that we were the biggest attraction with many of the local tourists taking sneaky-not-so-sneaky pictures of us or with us.
It was a 15-20 minutes walk to the train station from there, along the way we found a busy little restaurant and had an early dinner and some rest.
Caught the train at 19:30 - we could have done it for the one at 18:30 even, there wasn't much to do after sunset. Arrived in our apartment back in Beijing late, after a long day full of new experiences.