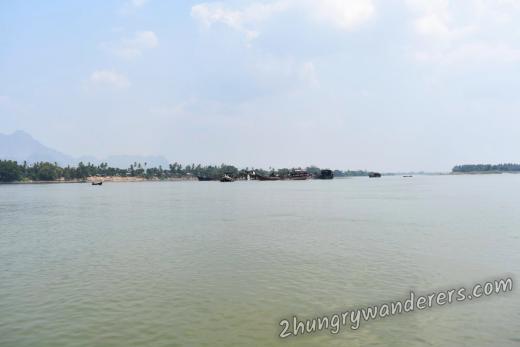 One of the ways to travel between Hpa An and Mawlamyine is by taking a boat down the Thanlyin river - it is a beautiful trip that takes about 4 hours and is definitely worth a go if one has the time for it.
The boats leave Mawlamyine in the morning, make the journey up the river and go back in the afternoon - so if you travel from Mawlamyine to Hpa An you will have to get a boat in the morning, in the other direction the boat will most probably leave around 1 PM.
Buying tickets for the trip is easy - most guesthouses and hotels can arrange them and if not - one of the guesthouses in the town center will be able to do it for sure. The staff at our hotel could not help us so we went and asked around - got a good price from Galaxy motel. It is located just opposite the market and for 8000 kyats (~$6) we got tickets plus pickup with a tuk-tuk ride from our hotel.
The boat trip is amazing - a slow ride on the river that is surrounded by stunning scenery - high mountains rising up from the lush green fields. There are other boats along the way - smaller and bigger fishing ones and some that were sifting out sand from the bottom of the river, bringing it to bigger barges and trucks.
We were just three passengers on our boat - that gave us plenty of space to put our feet up and even nap while enjoying the light breeze. There was bottled water on the boat for us and we had some fruits and nuts to snack on as it is 4 hours with no stops.
We travel travel with one big suitcase and will usually get a taxi to the hotel we are staying, but when we arrived at the jetty - there were only motorbike taxis. There was some confusion at first, but then, our suitcase got its own bike and one for each of us and off we went.