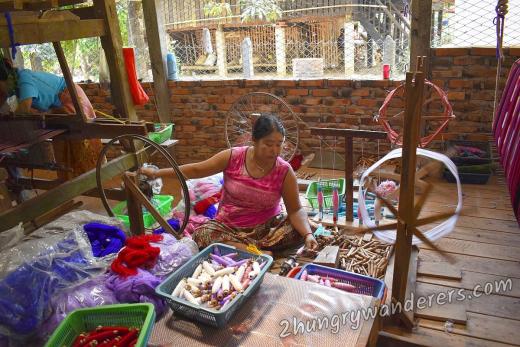 Surprisingly, there are no ogres at Ogre Island, but it is home to more than seventy small villages, palm plantations and rice fields. The tropical atmosphere is really nice, the lifestyle there is very relaxed and this, combined with the opportunity to visit some craft workshops makes it a worthwhile day trip from Mawlamyine. The island is very close to Mawlamyine and with the newly built bridge there is no need to worry about a ferry, you can rent a motorbike and explore it yourself but chances are you will miss some of the interesting stops.
A better approach is a guided tour, there are different options around but we decided to go with the one offered by Breeze Guest House. For 18000 Kyat per person it is great value for money, including transport, lunch, many stops at workshops, a pagoda and a break for swimming. What makes the experience unique is the guide, we were lucky to have Mr Anthony, who has been doing this tour for decades. I admit, after seeing some traditional workshops at Inle Lake I wasn't super excited about the tour, but we decided to do it and it was a great day, hugely thanks to Mr Anthony's sense of humor, personality and how much he cares about the people he takes on a tour.
From the start things looked promising - our transport for the day was a VIP tuk-tuk. I'm talking about one of those tiny trucks where tourists are usually loaded in the back, along with their luggage with only a mat to sit on. Now, by VIP I mean the tuk-tuk was upgraded with plush car seats screwed in in the back - a huge improvement! After a short ride through Mawlamyine we crossed the bridge which offers great views in both directions and entered Ogre Island. It is a different world from Mawlamyine, the colonial influence is nowhere to be seen, just small roads going trough lush greenery even in the middle of dry season.
We made a stop at a pagoda which in addition to the Buddha statues inside offers great views in all directions from the top of the hill. As Ogre Island is larger than Singapore but sparsely populated one can definitely get the "middle of the jungle" feel there. The pagoda has some interesting features too - the steel pillars are left by the British, there is a miniature version of Kyaiktiyo Pagoda (The Golden Rock) and you can see (and ring) a Japanese bomb shell turned into a bell.
During the tour we saw many small workshops and everywhere we stopped felt more like visiting a friendly family than a shop. Everybody offered us snacks and drinks, I loved sitting on the floor and talking with the locals while enjoying homemade delicacies and tea. There was zero pressure to buy the products and all prices were surprisingly low - for example 2000 kyat ($1.50) for a handmade bamboo hat or 10000 kyat ($6.50) for a teak pipe is a lot closer to the manufacturing cost than to inflated price for tourists. Mr Anthony showed us and explained how things were made, throwing a joke here and there and even demonstrating things himself - you can see him in action in the video from the rubber band factory below.
I learned a lot about the Myanmar economy and they have a lot to do to catch up with the more developed neighbor Thailand. For example, raw materials like silk and cotton are imported from Thailand as they are better quality than local produce, Burmese hands working for 7000 kyat (about $5) a day weave it into fabric which is then exported back to Thailand.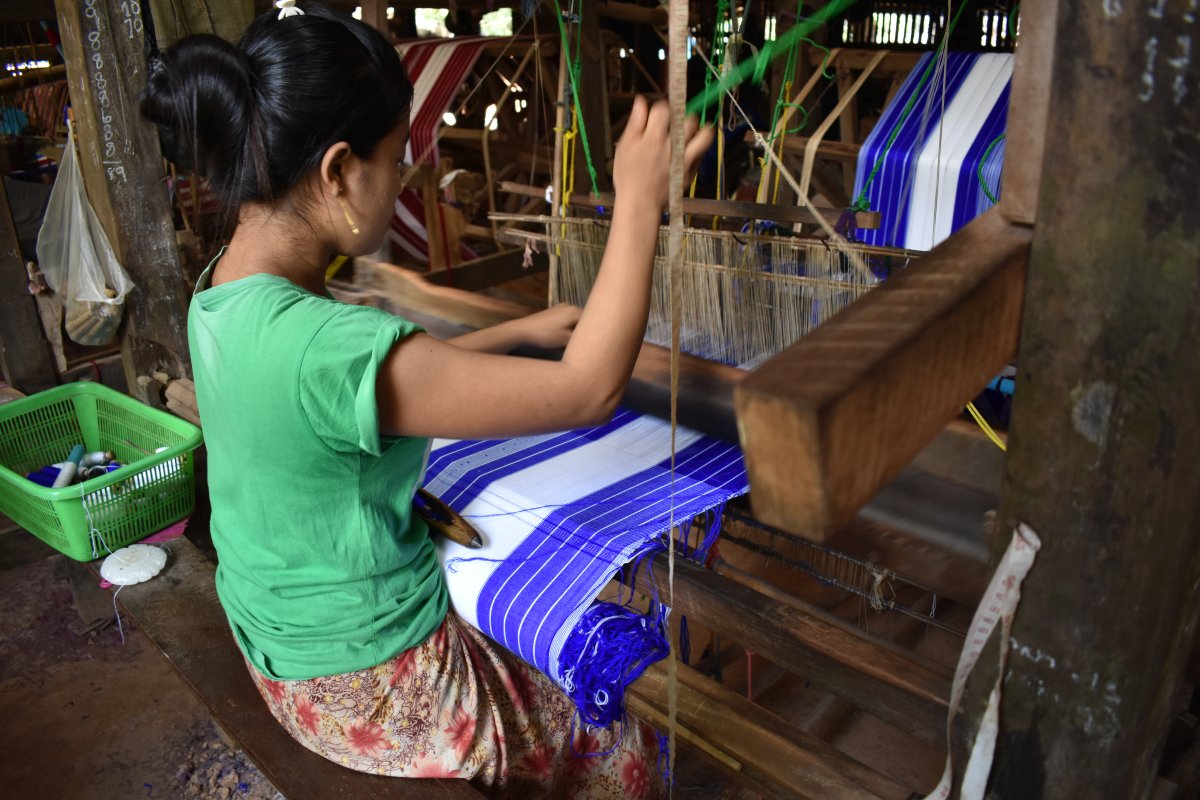 We were also lucky to see the slates that were going to be distributed to schools throughout the country very soon. A writing slate is a piece of flat rock framed with wood - kids in the lower grades use them as miniature blackboards, writing on a slate with a "pen" of limestone. What you see on the photos are some of the last batches as the stone mine is almost depleted and soon all children will have to use pen and paper, which is more expensive. In Myanmar a pen is still called respectfully a "ballpoint pen".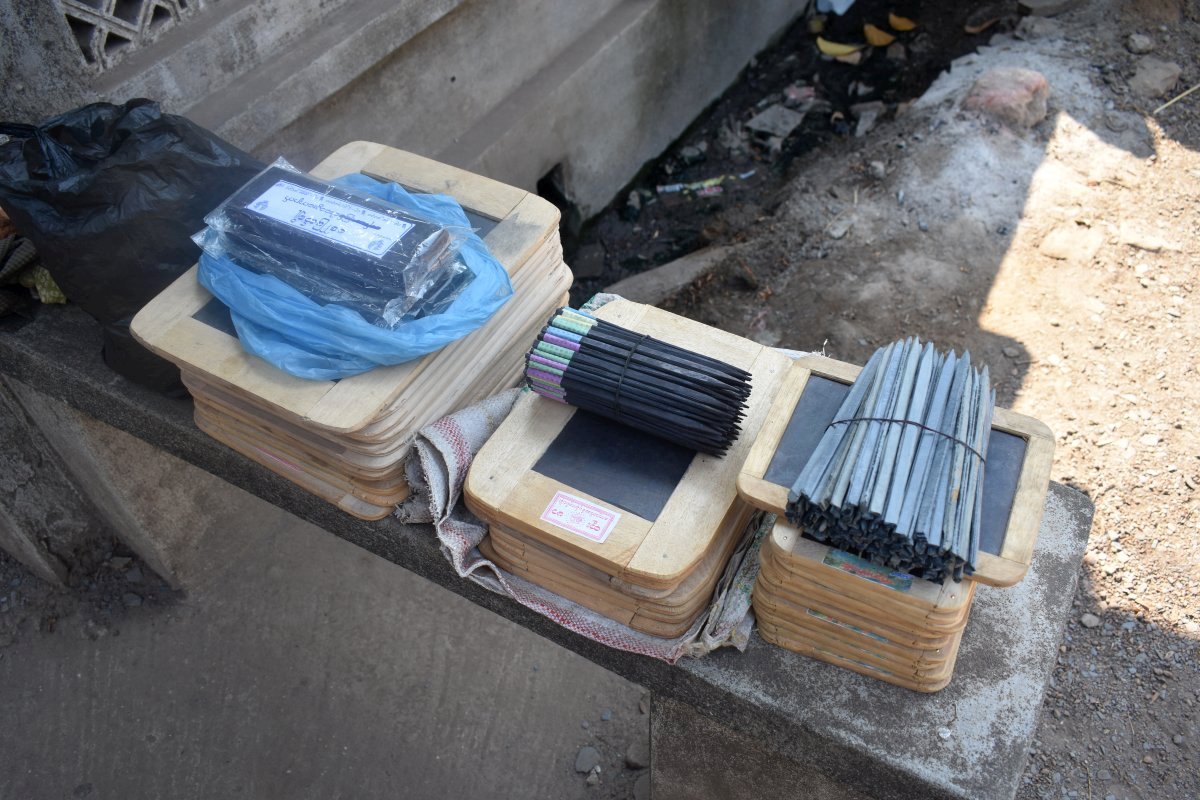 The lunch stop was almost unnecessary due to the heavy snacking at every stop, but we enjoyed it nonetheless - tasty burmese noodles with a cold beer under a shade - what is not to like? That was the point where we got even more gifts, in addition to the small items everybody received during the day. Nobody goes back home empty handed or hungry from this tour - Mr Anthony makes sure of that and handpicks the presents for each tourist individually.
Last stop for the day was the swimming pool, we were treated to the fancy one as the more rural swimming hole was under maintenance. It is a rather large complex, built by the British and still in reasonable condition with plenty of locals enjoying the water slides in the hot weather.
We skipped the swimming, but that gave me a chance to have a chat with Mr Anthony and to observe with him a very unusual and heartwarming scene. There was a group of about five or six kids-monks aged between 5 and 10 being kids and breaking some Buddhist monks' rules - all were having soft drinks in the afternoon (monks are not allowed to take anything but pure water after 12 noon) and some were even bathing in the pool and going down the slides in their monk robes - a good laugh made the perfect end of the tour.
Gallery