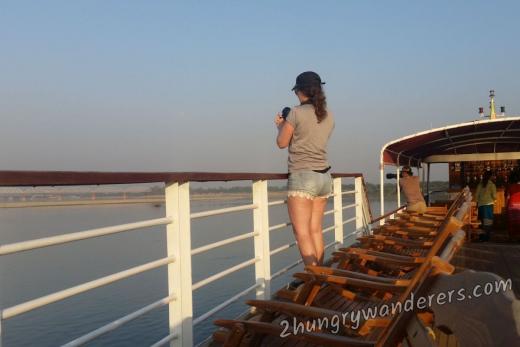 We've always loved to travel and have done as much as we could - from day trips to favorite spots to three-four week holidays overseas. Until now we have been lucky to visit more than 20 countries in Europe, Asia, North America and Australia. We have had amazing experiences and always wanted more. In a way our new adventure is just the next journey, but it is also a whole new chapter in our lives and here is how it began.
It was around the middle of February 2017, we were on a boat in Myanmar - going from Bagan to Mandalay. The trip takes a whole day on the Irrawaddy river and after saying goodbye to the temples of Bagan in the dark hours of the morning the sunrise on the river was magically beautiful. The boat was really nice - quiet and cosy, making the trip a relaxing experience, a welcome break in our busy schedule in Myanmar. We spent a lot of time on the upper deck enjoying in the sights - numerous pagodas and small villages on the river bank and all the traffic along the river itself, from small fishermen's paddle boats to cargo trawlers and cruise ships. We have been quiet for a while when Nevi said:
Why don't we quit our jobs, so we can travel all the time?
I smiled, said yes and will remember this day as one of my happiest. Yes, there were a lot of details to think through, and yes, it took us a while, but here we are - roughly one year later we are ready to leave home for an unknown amount of time and go see the world.