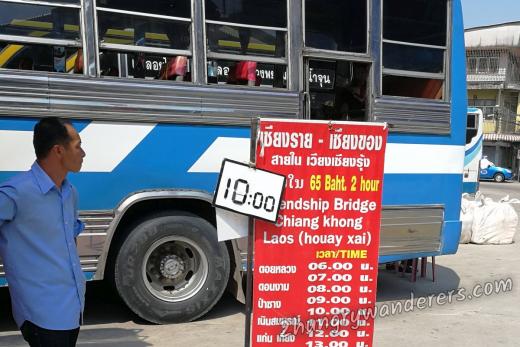 Recently, like many travelers do, we decided to go from Thailand to Laos. We were in northern Thailand exploring the awesome Chiang Rai and one of the most popular destinations to get to from there is Luang Prabang in Laos. Initially we planned to do the (in?)famous slow boat, but it turns out there are so many different options to make this journey! Online many people share their experiences about a particular way to travel, but I wanted to summarize all the options we discovered, so if you want to get to Luang Prabang from Chiang Rai you can choose the one that fits your mood and budget best.
Let's start with some key points, also take a look at this map from, it will help "mapping" things in your head:
Chiang Rai Bus Terminal 1 - that's the one in the center of the town, right next to the Night Bazaar, chances are it is within walking distance from your hotel or guest house. In addition to the buses mentioned in regard to getting to Laos, there are plenty of other local buses from this terminal, including the very cheap (20 baht) blue buses that can get you to the White Temple.
Chiang Rai Bus Terminal 2 - about 6 km (15 min) south of Terminal 1, larger station with a mix of domestic and international buses stopping there.
Chiang Khong - the small town on the Thai side of the border, a bit more than 100 km (2-3 hours) from Chiang Rai. Chances are you will not even reach it, most buses drop people off (or make a turn) at an intersection with a road going to the Immigration office.
Houay Xai (Huay Xai) - the Laos counterpart of Chiang Khong, again most travelers do not explore the town, not a big loss - nothing to do there and by heading to the docks or a bus terminal one can soon get to the interesting parts of Laos.
Fourth Thai-Lao Friendship Bridge - the bridge over the Mekong river that connects Chiang Khong and Houay Xai and is several kilometers south of both.
Slow boat docks - at the north end of Houay Xai, 13 km (25-30 min) from the Laos Immigration counter, using this departure point will take you through the town of Houay Xai.
Speedboat docks - 7 km (15 min) from the Laos Immigration counter after the bridge, south of town.
Bokeo bus terminals - Keo Champa and Phetaloon, both about 5-6 km (10-15 min) from the Laos Immigration counter after the bridge, south of town, same as the speed boat docks - you won't even see Houay Xai.
Ok, after sorting out the basic geography for the region here they are, all the different ways to get to Luang Prabang from Chiang Rai, starting with...
By plane - fastest, $$$$$
If you are in a hurry and have money to spend this is your best option. Unfortunately there are no direct flights between Chiang Rai and Luang Prabang, so if you don't want to fly Chiang Rai - Bangkok - Luang Prabang (even more expensive and not fast) there is a better way. The nearby city of Chiang Mai has a daily flight directly to Luang Prabang and getting there from Chiang Rai will take about 3 hours.
First step is to book a flight from Lao Airlines, departing almost every day at 15:15 from Chiang Mai to Luang Prabang. Price is $130, including 20 kg luggage.
Then you have to get from Chiang Rai to Chaing Mai Airport. With the flight departure time in the afternoon you have plenty of time. Below I've listed some options:
taxi can always be arranged for the ones ready to splurge, but it will cost you several thousand baht
shared van will be cheaper, book through a travel agency
buses with ticket price ranging between 150 and 400 THB will get you to the city, add a taxi or a tuk-tuk to the airport
Traveling this way I would advise to leave early in the morning trying to catch a bus around 9:00, making sure to be at the airport before 13:00. Catching the flight at 15:15 and landing at 16:25 means you will be in Luang Prabang in time for dinner the same day.
By bus
Getting to Luang Prabang by bus is one of the cheapest ways and can be a really comfortable trip. The only downside is you will miss all the river sights, but if that's a sacrifice you are willing to make - please keep on reading, the bus will also give you an opportunity for a whole night sleep.
Cheapest - sleeper option 1, $ (+ information how to get across the border)
This option is the most popular, reliable and easy to organize. There are several hops, but everything is straightforward and easy to do. Plan for about 4 hours travel to get from Chiang Rai to your departure point in Houay Xai, be it the docks or a bus station.
First leg is from Chiang Rai Bus Terminal 1 (Night Bazaar) to Chiang Khong. The dingy old red buses depart every hour on the hour starting at 6 am, cost 65 THB, paid on the bus. After about 2 hours you will be dropped off at the highway where tuk-tuks await to get you to immigration.
The tuk-tuk ride to Thai immigration is about 5 minutes, costs 50 THB per person, potentially negotiable if travelling in a larger group.
After clearing immigration at the Thai border you have to buy a ticket for the shuttle bus that takes you across the Fourth Friendship Bridge to Laos. The ride is about 2 minutes, but waiting for the bus might take close to an hour. Price is 25 THB.
If you already have a visa for Laos just head to the counter, otherwise fill the forms, provide a photo and pay the visa on arrival fee ($30-$40 depending on nationality). It is best to have US dollars to pay for the visa, paying in kip is more expensive, just make sure your greenbacks are in perfect condition. There is an exchange booth with surprisingly fair rates.
There will be agents trying to sell you bus and boat tickets at higher prices, try negotiating or best - avoid.
Once you get the visa and are in Laos get a tuk-tuk to your next stop - price will vary between 20 000 and 50 000 kip depending on where you are going.
To get the cheaper sleeper bus ask for Keo Champa bus station. It is a small bus terminal with several restaurants and massage shops around, the best thing about it is here you can get on a sleeper bus to Luang Prabang for only 120 000 kip. Departs daily at 16:00 and is the same quality as the more expensive sleeper departing from Phetaloon. After about 12 hours you will wake up in Luang Prabang, might even be on time for the morning Alms Giving Ceremony.
Convenient - sleeper option 2, $$
To avoid the multiple hop-ons/hop-offs of the cheapest option above you can catch a bus that takes you directly from Chiang Rai Bus Terminal 2 to Bokeo - Phetaloon, which is the main bus terminal on the Houay Xai side. The convenience is that the same bus will take you to the border, wait for you to cross it, carry you through the bridge, wait at the Laos border and after that take you to the bus station for the next leg of the journey. This bus is scheduled to depart daily at 10:00 and 16:00, which makes it easy to catch the sleeper bus at 18:00 if you get the morning one. The problem is that this schedule is unreliable and you will need to confirm the day before, best by visiting the counter at Chiang Rai Bus Terminal 2. Ticket price is 220 THB.
Once at Bokeo (Phetaloon), you can get on this sleeper bus for 170 000 kip and after 12-14 hours you will be in Luang Prabang.
Direct, all the way - $
According to HoboMaps there is a bus departing from Chiang Mai that stops in Chiang Rai and continues into Laos all the way to Luang Prabang. At a total price of 950 baht this is the cheapest option to travel, but booking can be difficult and the schedule is unreliable. For more information check Bus Terminal 2 in Chiang Rai or call Transport Co. Thailand at 053 241 449.
By boat
Going down the Mekong river can be a great way to travel as you can enjoy the scenery. Most people headed this way have heard of the slow boat, but this is just one of the options, here they are:
Speedboat - adventurous, $$$
* This part of the journey begins at the  Houay Xai speedboat docks, how to get there from Chiang Rai read in the "By bus" section above.
These boats are noisy but make the trip to Luang Prabang in about 6 hours. Please keep in mind that some travelers have complained from very uncomfortable seating arrangements and wearing the provided life jacket and helmet at all times is strongly recommended (accidents really happen!). Ticket price at the docks varies between 340 000 - 400 000 kip per person, but may go even higher if there are not enough passengers. Booking a ticket through an agency in advance will most likely cost more. The speedboats depart in the morning, make sure to be at the docks before 11 am.
Slow boat - backpacker style, $$
* This part of the journey begins at the Houay Xai slow boat docks, how to get there from Chiang Rai read in the "By bus" section above.
The slow boat is a popular choice because it is an affordable and in many cases - enjoyable trip. Price per person is 210 000 kip which includes two days on the boat. Day one takes between 6 and 8 hours to get from Huai Xai to Pakbeng, day two the journey continues to Luang Prabang for another 5 to 7 hours. Actual travel times depend greatly on the number of locals embarking/disembarking the boat as every stop delays the already slow boat. Accommodation in Pakbeng is not included, the town is just a stop along the way, nothing to see and do there, budget guest houses available. Boats depart around 11:00, so do your best to catch the earliest buses from Chiang Rai to have enough time to reach Chiang Khong. Depending on the season (and your luck) the boat might be overcrowded, some people have spent most of the time standing or sitting on the floor.
Cruise - luxurious, $$$$$
Several companies will make your trip pleasant by providing a complete tour including hotel pick up, border transfers, accommodation, meals, tour guide and stops at tourist spots, but all comes at a price. Depending on the package expect to pay between $150 and $500 per person. Do some research to find the best match for you, here are some starting points: Mekong Smile Cruise, Luangsay Cruise, Shompoo Cruise.
Side notes
Every tour agency in Chiang Rai offers transfers to Luang Prabang. Usually a hotel pick up is included then it follows one of the options explained above, with somebody leading you along the way, for a fee, of course. Although it is not too expensive for the convenience, doing it on your own is easy and straightforward.
If in an emergency change of plans you have to get from one of the Chiang Rai bus terminals to the other - no need to pay for a taxi, there are big blue tuk-tuks (songatews) going back and forth for 20 THB per ride.
All travel plans here are in the Chiang Rai - Luang Prabang direction, but they are like those cool two face jackets - reversible! If you are headed from Laos to Thailand the information here should still be helpful in terms of what can be done and how much it costs, just check what the schedules are in your direction.
Prices and schedules are accurate as of June 2018. If you are aware of any changes or new options - please share in the comments section below.