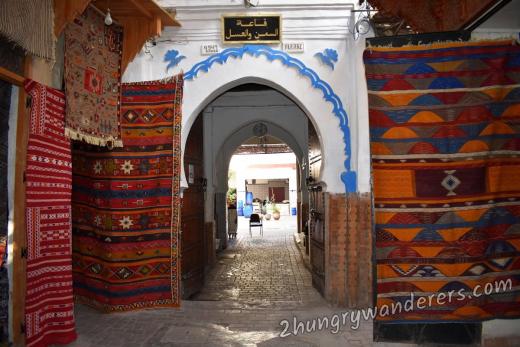 If you have more than 2-3 days to spend in Fes, getting lost in the medina (old town) is a fun adventure, this part of the city holds many treasures to be discovered within its tiny maze-like streets - see what we found just walking and taking random turns.
Even walking aimlessly, you will most likely stumble upon some of the "Top 10 things to see in Fes", check out our post, so you don't miss any of the best attractions.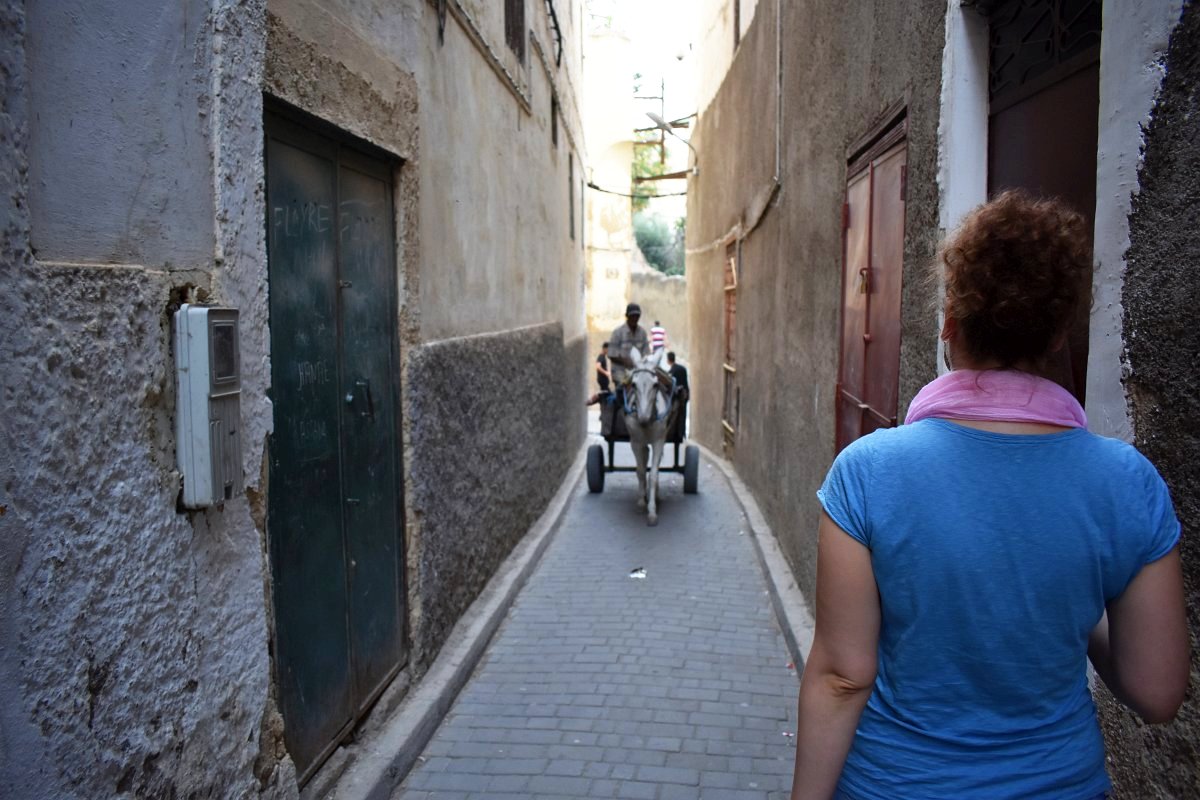 If you look at Google Maps, you will see some of the main streets of the medina, but there are many side streets and small alleys, not marked there. You can use the navigation to try follow a general direction, but do not expect turn-by-turn instructions.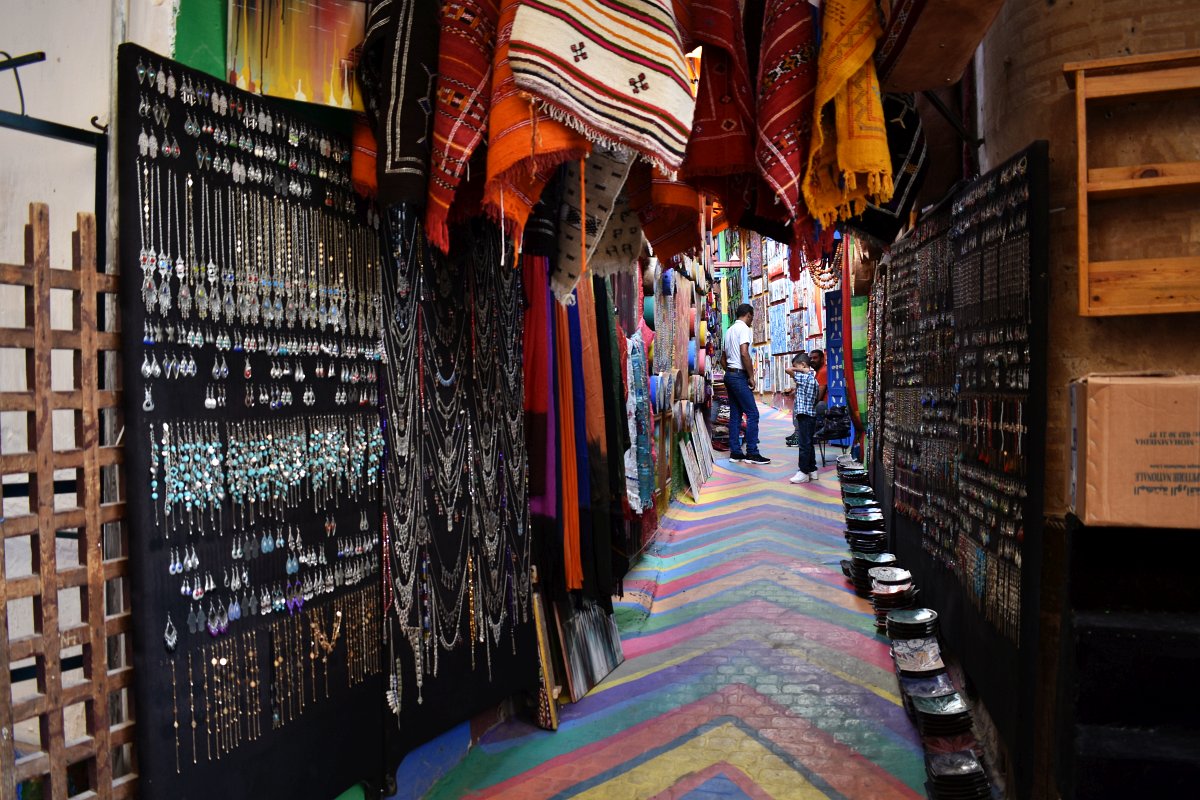 Don't be afraid to leave the main streets, you may have to go back if you hit a dead end, but that's part of the fun. Small alleys might take you to all kinds of places, but in any case - they offer a more intimate and quieter view of everyday life in the medina.
Here are some of the interesting spots we discovered while wandering, some can be called less popular tourist attractions, others - just cool photo opportunities.
The medina districts
Walking through the medina you will notice that there is some logic to the chaotic little streets and alleys - the shops are not randomly spread, but rather, in small districts, each specializing in different trade. No sign will tell you when you enter a specific market - the locals know their way around and for tourists it is a treat to discover the unique places in the old city.
The coppersmiths are usually outside the shops banging on bigger or smaller vessels to form to perfect shape, then polish them until they shine like a mirror. In the metal filigree district you will find shop after shop filled with lamps, lights and decorations, each covered in mesmerizing intricate details. Beautiful carpets with colorful designs await in the carpet section, where the shop owners will wait for clients offering great deals and quality rugs. 
We were particularly enticed when we entered the Moroccan desserts part of the medina - sweet smells, syrupy delights all around, and every baker offering a sample to prove their products are the best. 
If you plan to return to some particular section of the medina - don't forget to mark it on your GPS - it is not easy to find it again otherwise.
Cheez Alaoui Tannery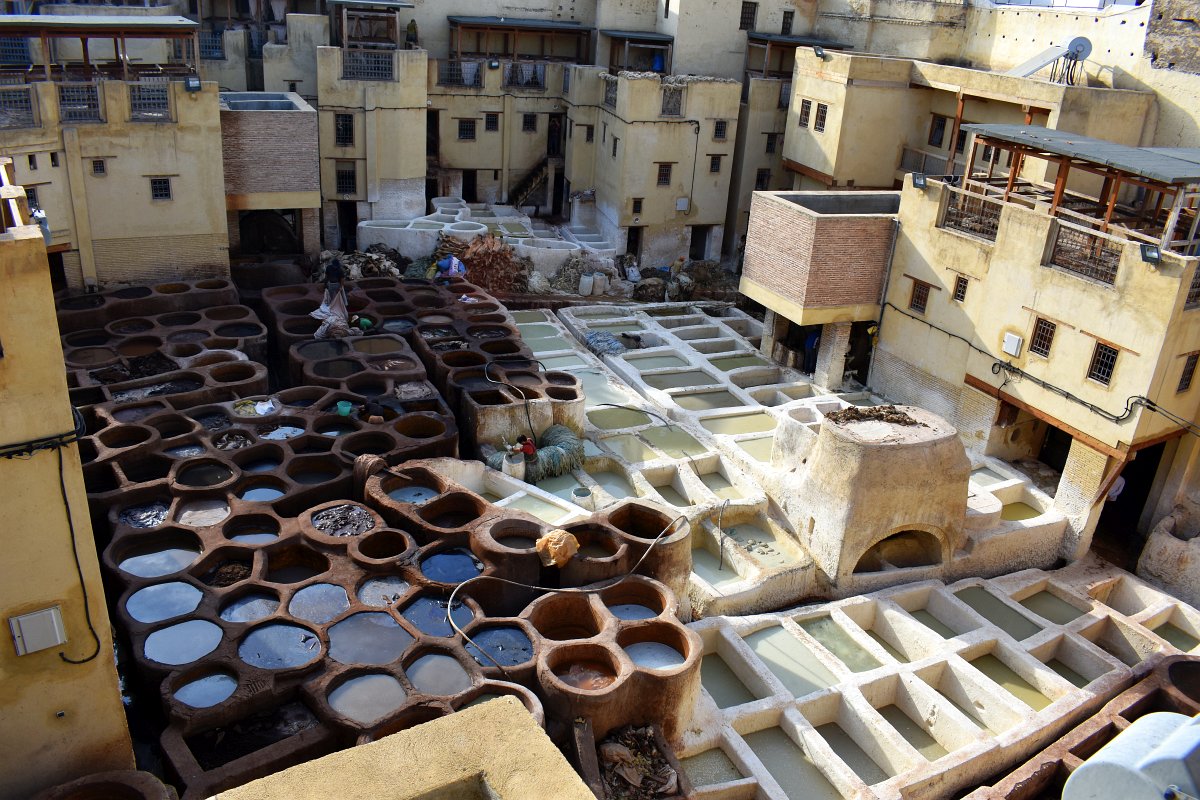 One of the smaller tanneries in Fes, but it was the first one we saw, after finding it on our own and it really made an impression. Sales people are happy to take visitors to the roof where the smell is overpowering, and no wonder, considering that urine and pigeon poo are used to process the raw skins. There are vats for softening and dying the leather and the man who took us upstairs explained the whole process, then took us to the shop where a huge variety of leather goods is on display. Here, nobody asked for an entrance fee, but there is always the expectation to buy something so the guy earns a commission. Keep in mind that if you don't have any intention to buy, you can always leave a small tip and explain that there is no need to waste your and his time - that's what we did and was met with an understanding smile. 
Markets and souvenir shops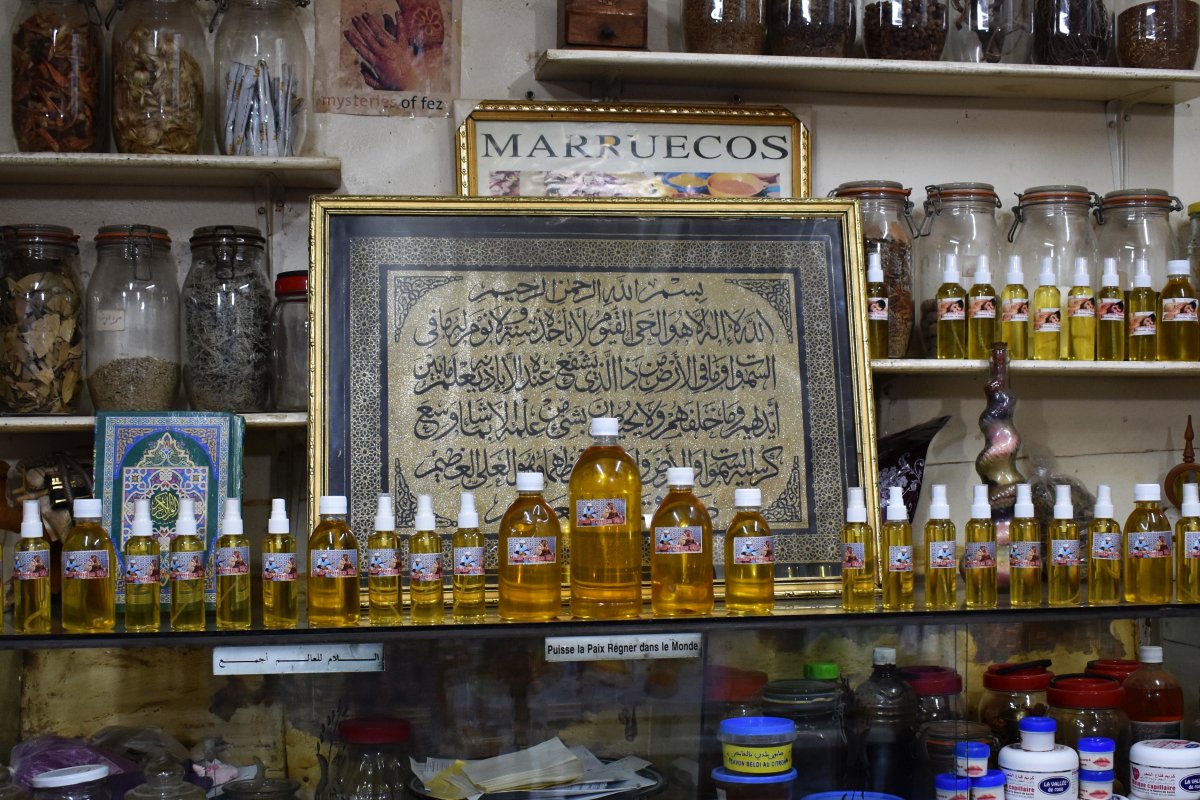 Many souvenir shops are hidden in the labyrinth of the medina offering curious gifts for the traveler to bring home - leather slippers, pottery, argan oil. You probably won't get the best quality, but they are inexpensive and interesting for anyone who has not been to Morocco and you can practice your haggling skills.
Zaouia Sidi Ahmed Tijani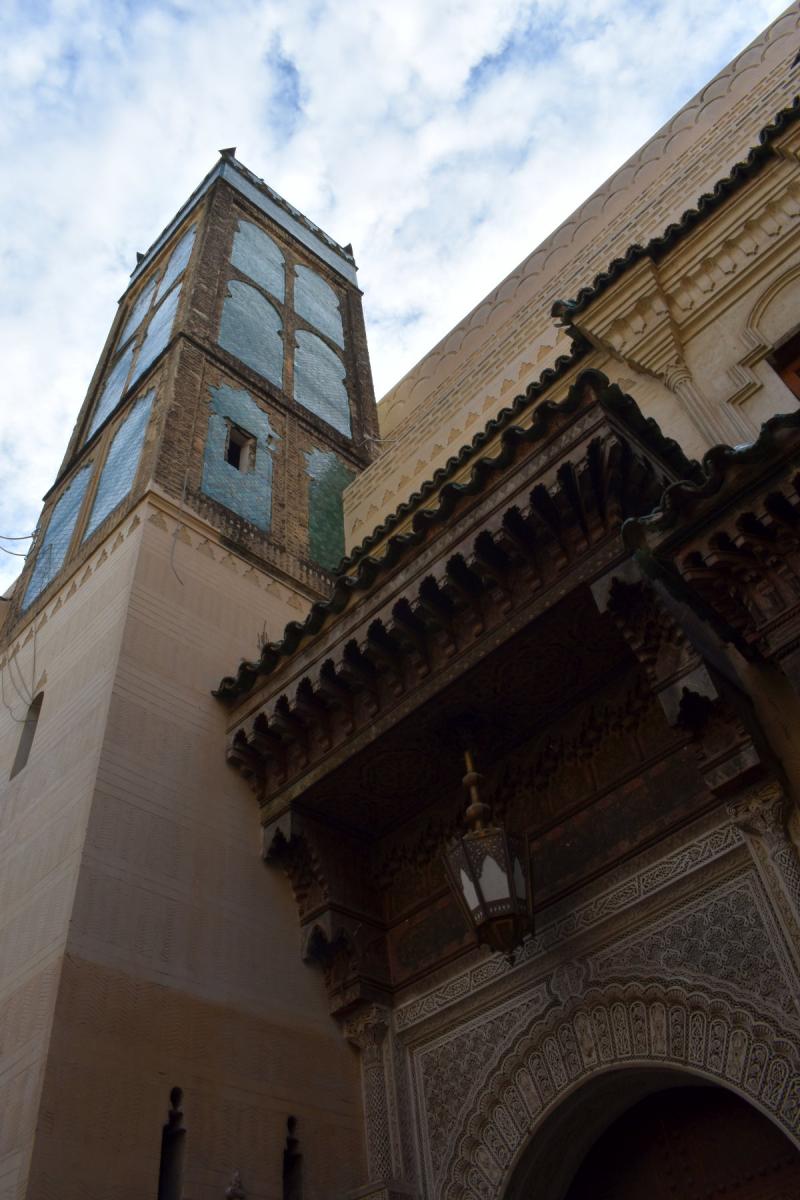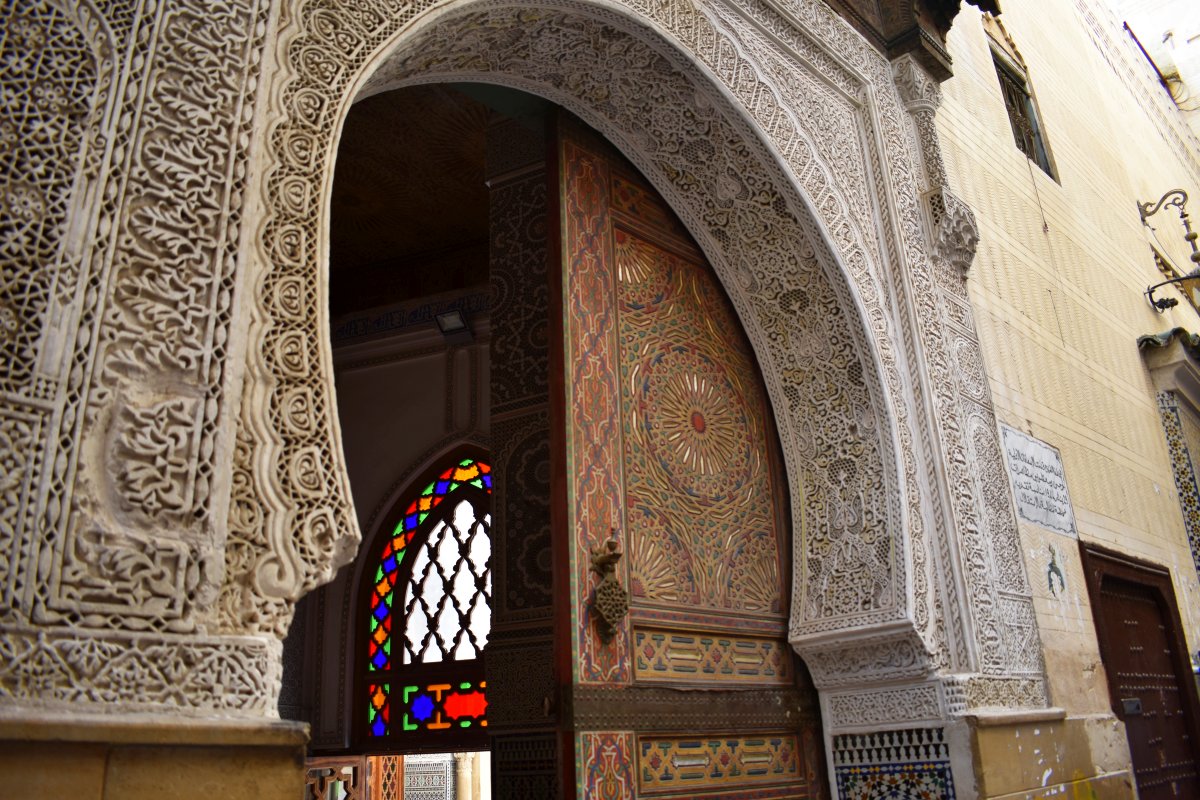 According to the info outside this mosque-mausoleum, it holds the remains of one of the city's great saints, born in Algeria. Even nowadays, pilgrims from some African countries pay visit to the tomb before continuing their voyage to Mecca. Non Muslims can just look from the outside, but it is still worth a stop to admire the beautiful carvings, colored wood panels and colored windows that can be seen inside. Also, the bright green minaret acts like a beacon that attracts people this way.
Tiny tea shops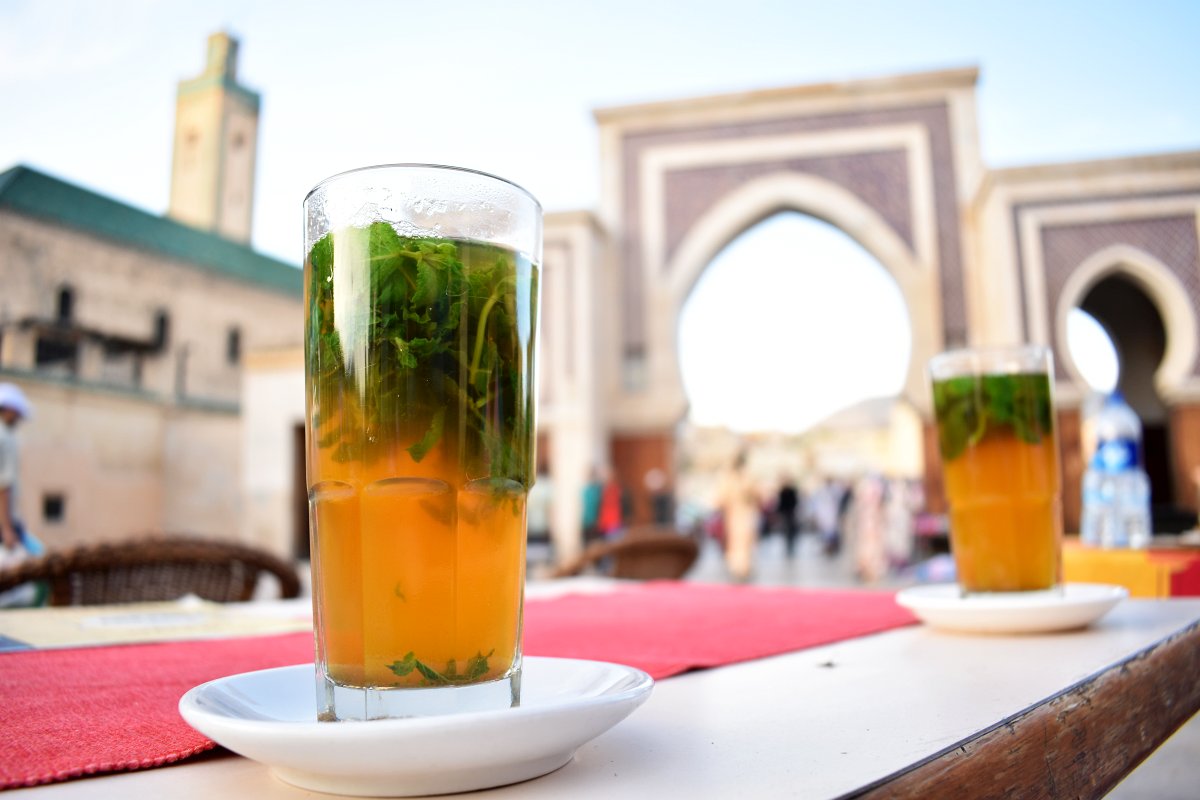 When you get tired of being lost in the maze, it is not hard to find one of the many tea shops tucked away in the alleys. There you can relax your feet, drink some refreshing mint tea and do some people watching as locals go around their business.
We particularly liked getting a seat at one of the tea shops near Rcaif gate at sunset. It is a very lively place with people going in and out of the medina after work and the square fills with families and kids enjoying the coolness of the coming night and having fun.
Al Quaraouiyine Mosque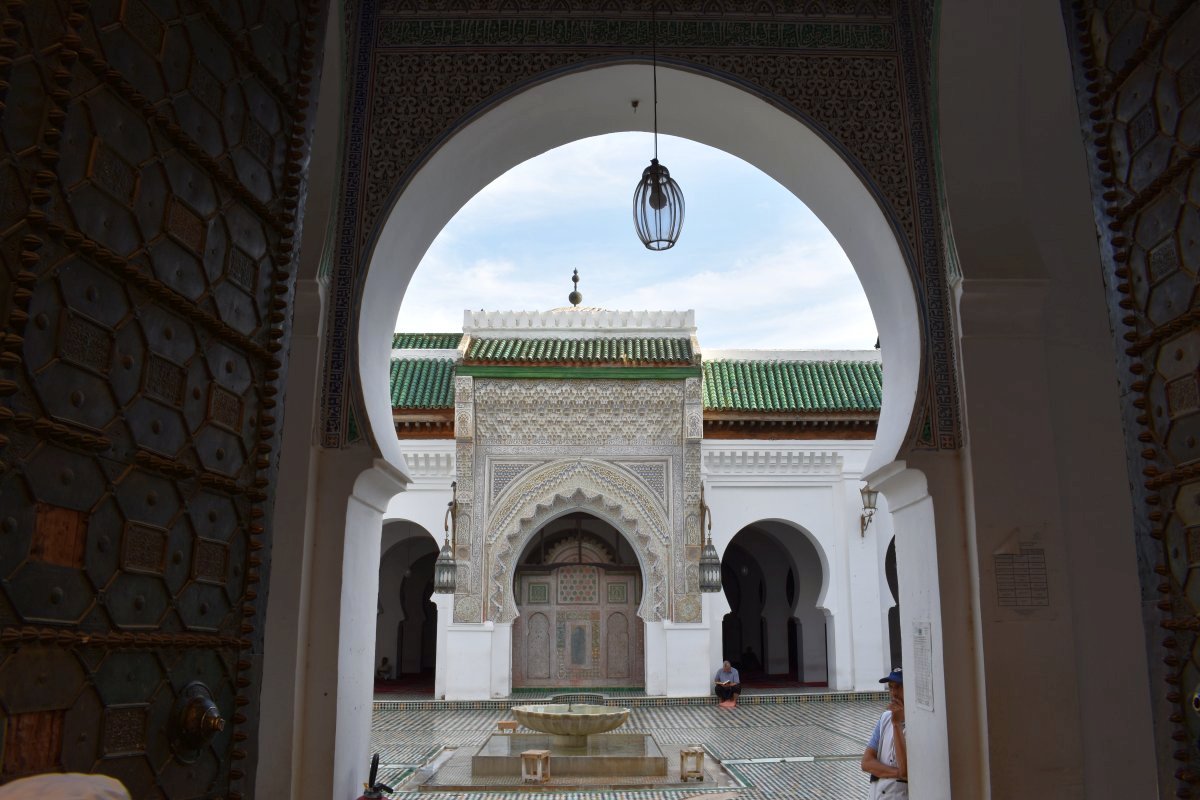 Read about the amazing secrets of Al Quaraouiyine Library in "Top 10 things to see in Fes"
Built at the same time as the library initially a small mosque, Al Quaraouiyine has been expanded, restored and decorated many times, resulting in one of the major landmarks in Fes. A true icon of Moroccan architecture, the mosque with its white minaret is easy to distinguish from anywhere. Through the ages it has become a major learning center for the whole Islamic world and numerous distinguished scholars, including historians, philosophers and geographers had studied there.
Water fountains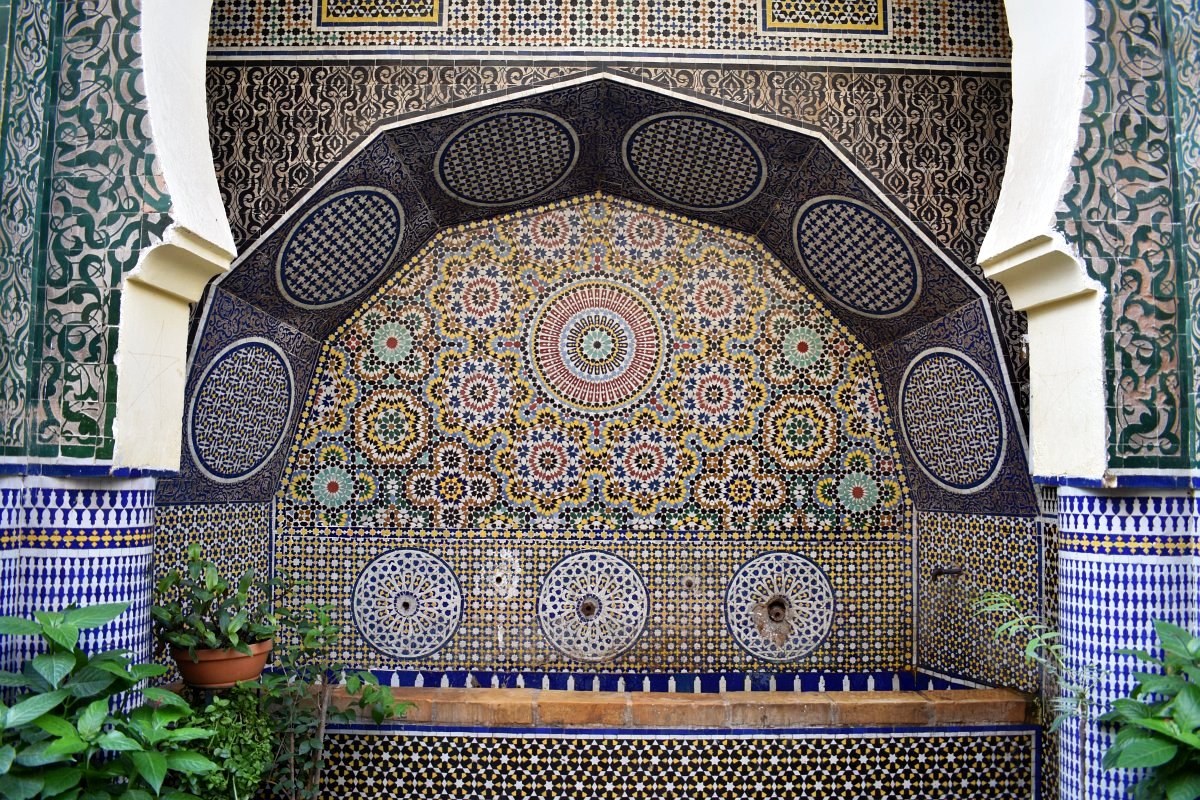 Old water fountains can be found all around the old city and years ago they were the only water source for the residents and as such focal points of the local community. Today, most are no longer working and even the ones that are still operational are neglected, but even in that state they are still worth a look. The water fountains are heavily decorated with beautiful tiles in colorful patterns and can usually be found hidden in blind alleys or in corners near mosques.
Architecture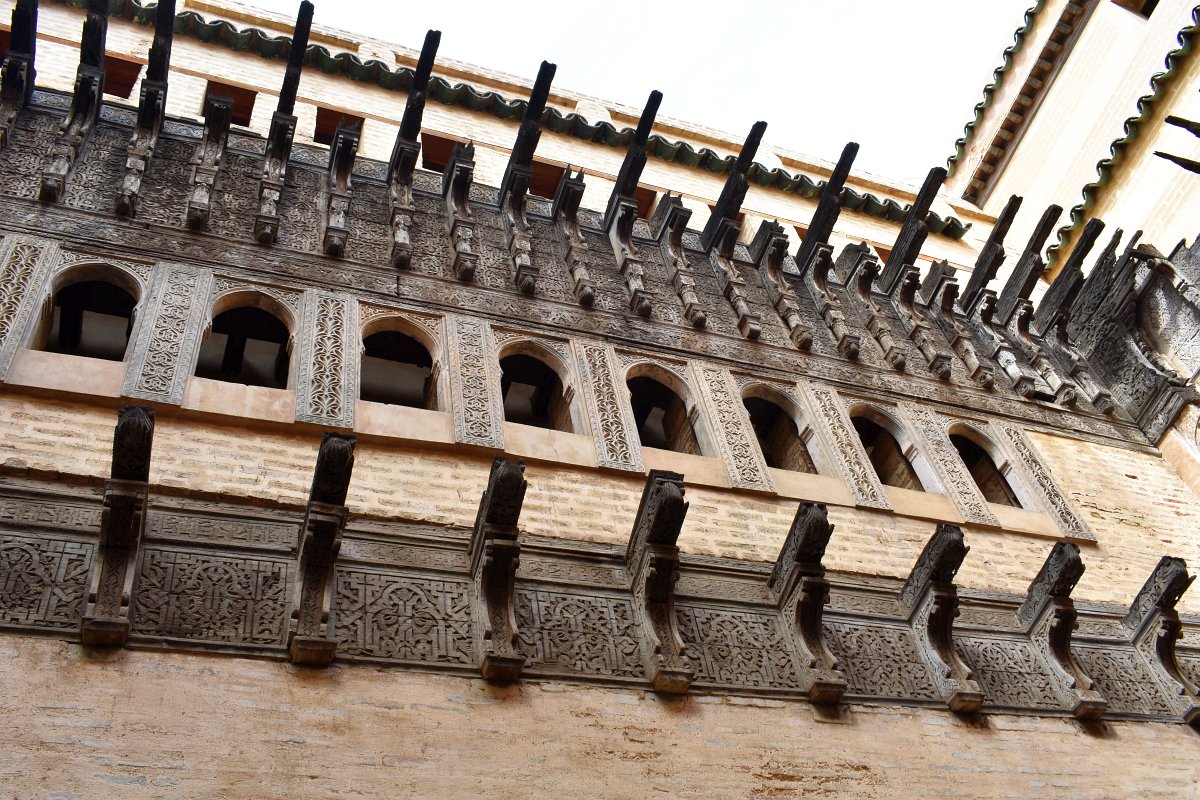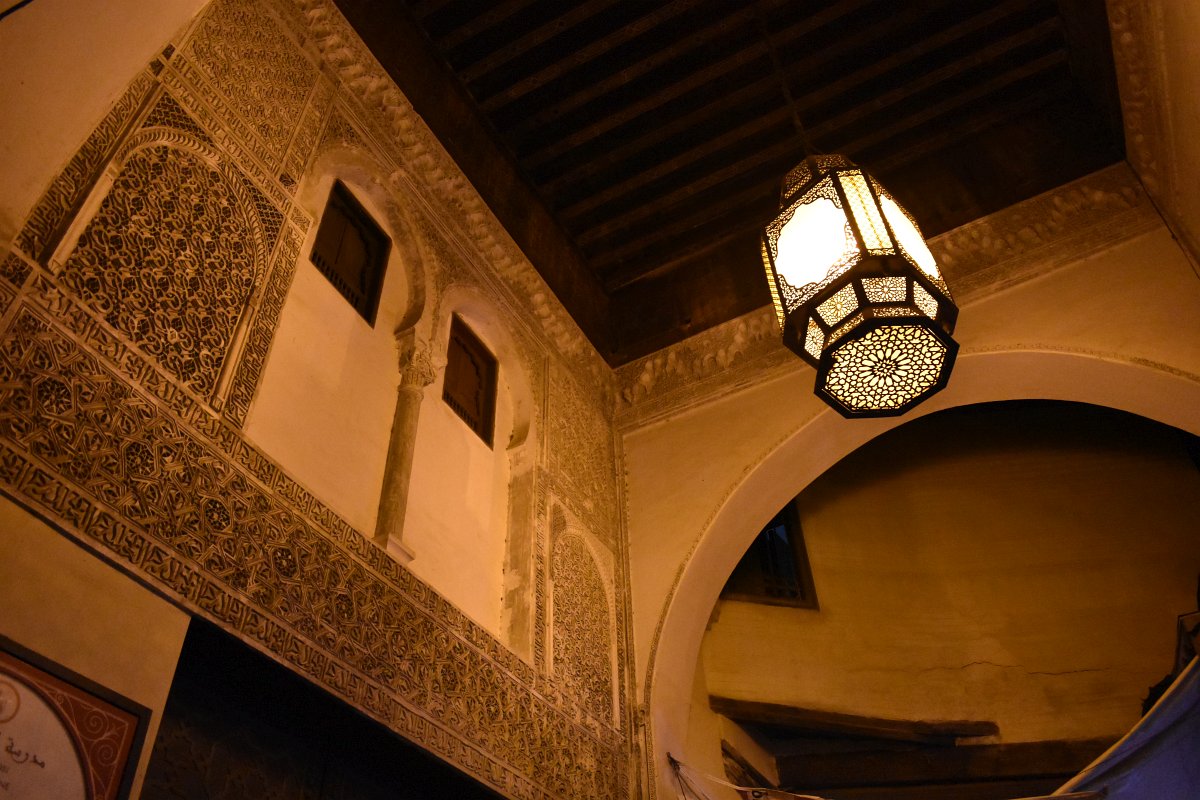 The old city is full of beautiful examples of Moroccan architecture all around. The gates in the city are impressive - be it the city gates, with their huge tiled arches, the mosque and mederse gates with their intricate lace designs or even just the gates of the regular homes. Many small alleys lead to old fondouks and riads and if you look up from time to time the tall minarets and decorative wood carvings on many of the buildings stand out.
Ras el hanout shop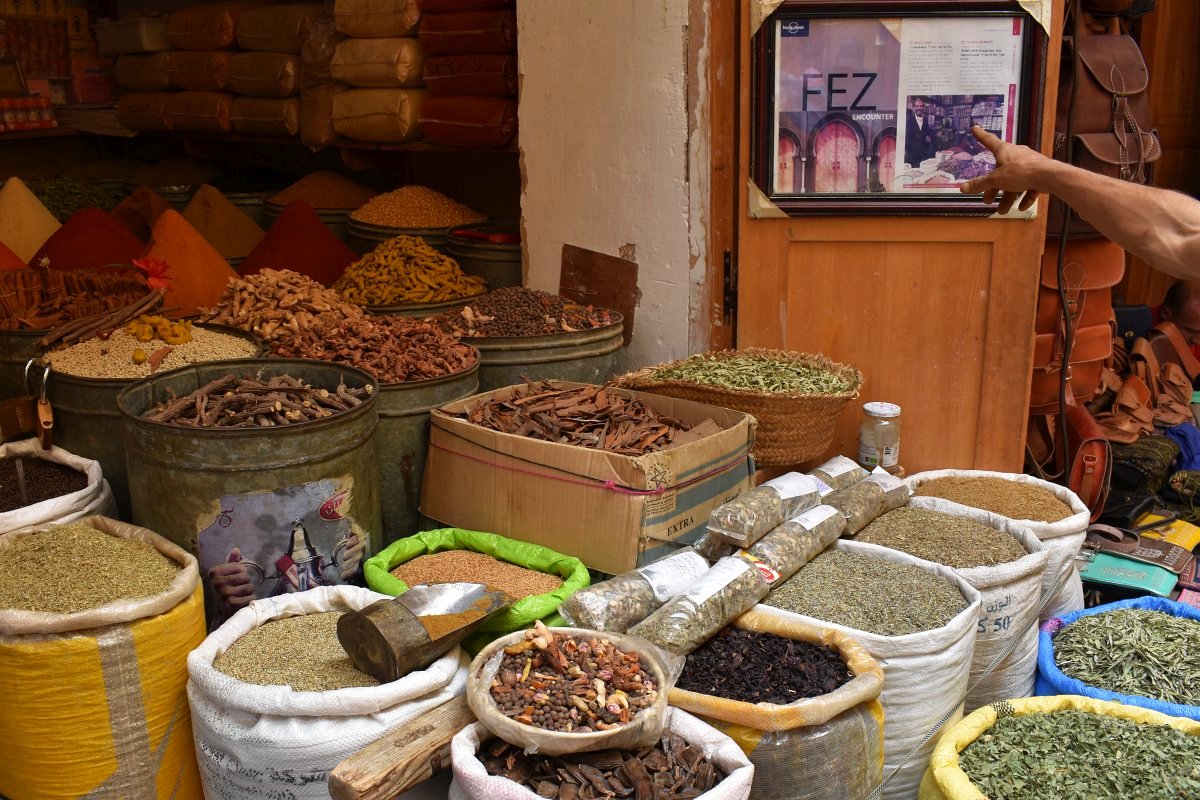 While walking through the Spice Market, which interestingly, has only a small number of stalls selling spices left today, a divine smell hit me. This was way above the tasty Moroccan aromas everywhere, something special. We followed our noses to a stall and the shop keeper immediately greeted us and showed us what brought us there. "Ras el hanout" directly translated means "head of the shop" or in other words - mix of best of the best spices this shop has to offer. There is no specific recipe, every shop and many households make their own mix, according to their tastes. The man proudly explained how his father inherited the shop and the recipe from his father and that we were speaking with a third generation spice master. On the wall is a copy of article from Lonely Planet showing the same shop with his father from decades ago, it always brings joy to see people taking so much pride in their work.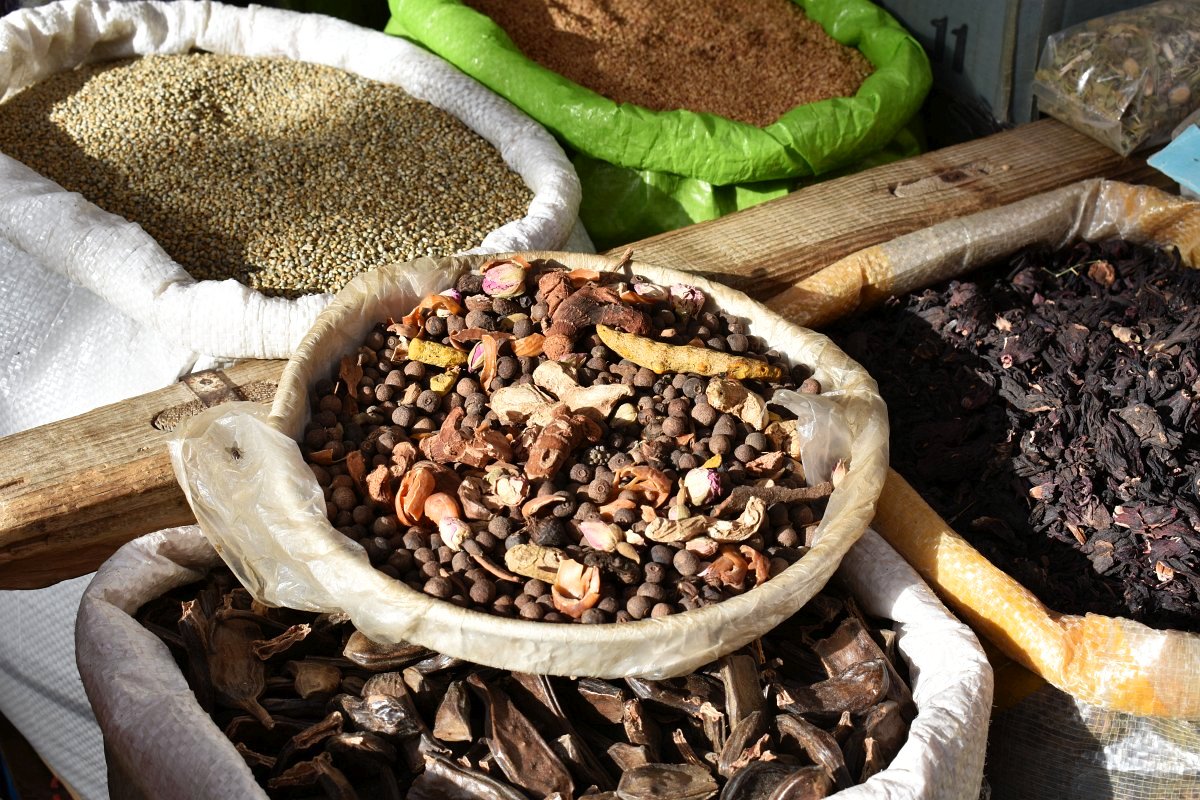 Then he showed us some of the ingredients that go into this heavenly powder - cardamom, black pepper, cinnamon, all spice, star anise, cumin, ginger, nutmeg, three types of dries rose buds and many more, some of which secret, totaling at more than 40 different components and of course - mixed in a secret proportion. We bought some, I've tasted many spices, including different interpretations of Ras el hanout, but this is a whole new level of awesome.
Bab Guissa Cemetery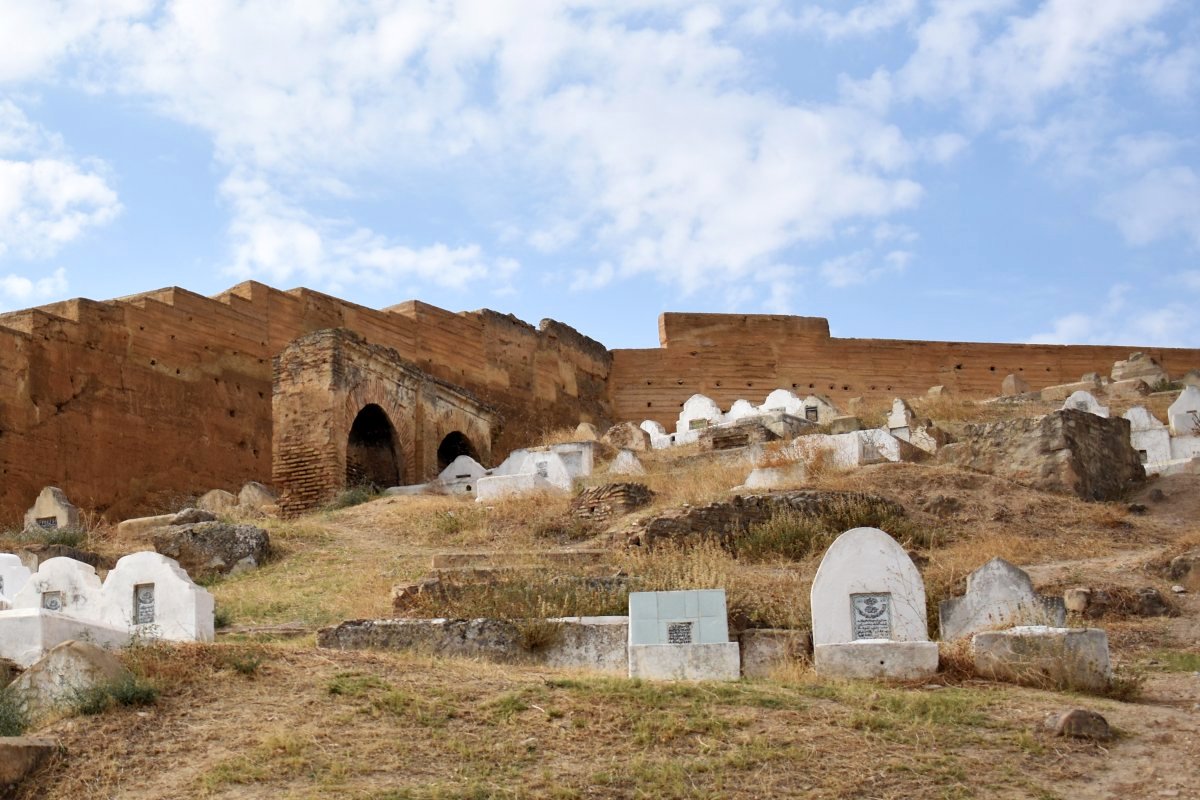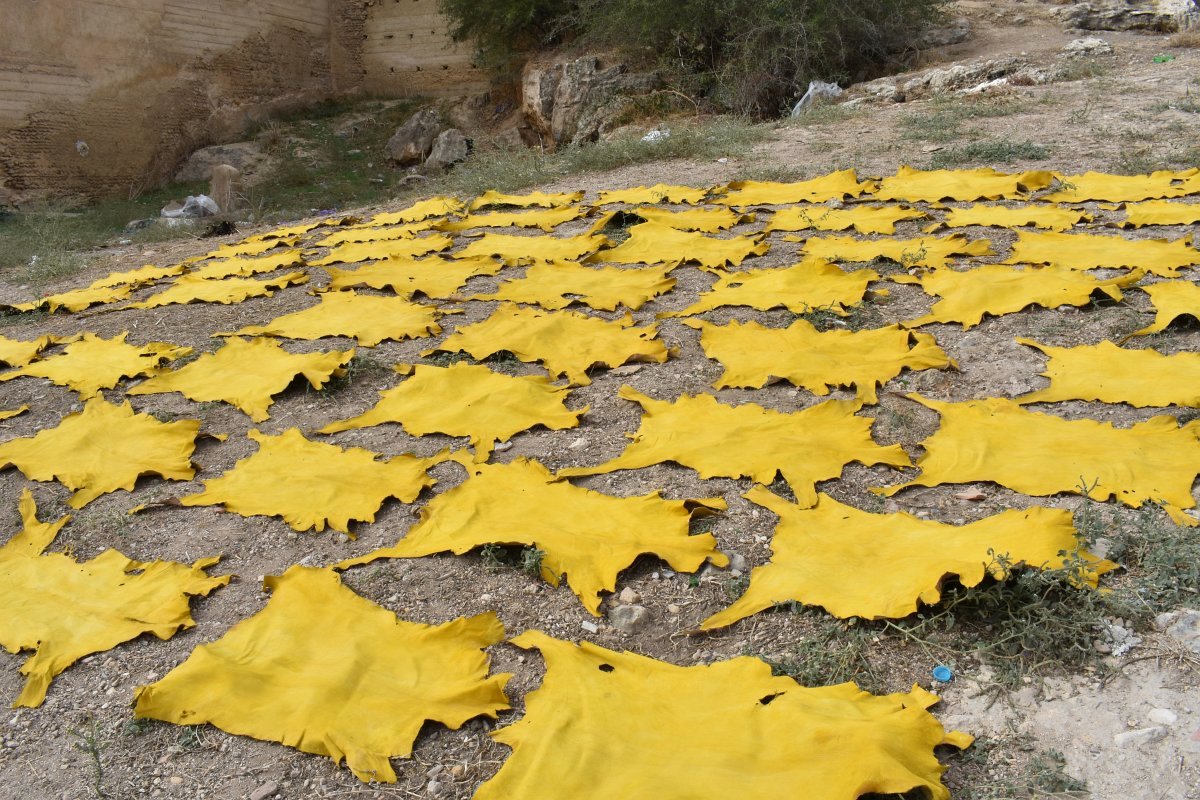 From the medina we decided to walk to the hill with the Marinid Tombs on top, it is not the most pleasant walk, but is doable and there are some interesting sights along the way. Exiting the medina through Bab Guissa we found ourselves in a cemetery. At first we assumed it is an old one, but it is actually still in use and occupies large sections of the nearby hills. The contrast was amazing - minutes from the lively, noisy and crowded old town is a tranquil place without people, the only exception a herdsman looking after some goats and donkeys. There were even some goat skins colored with precious saffron drying in the sun. In addition to being a shortcut to the tombs, our path revealed nice views of Fes and sections of the city wall.
Cave dwellings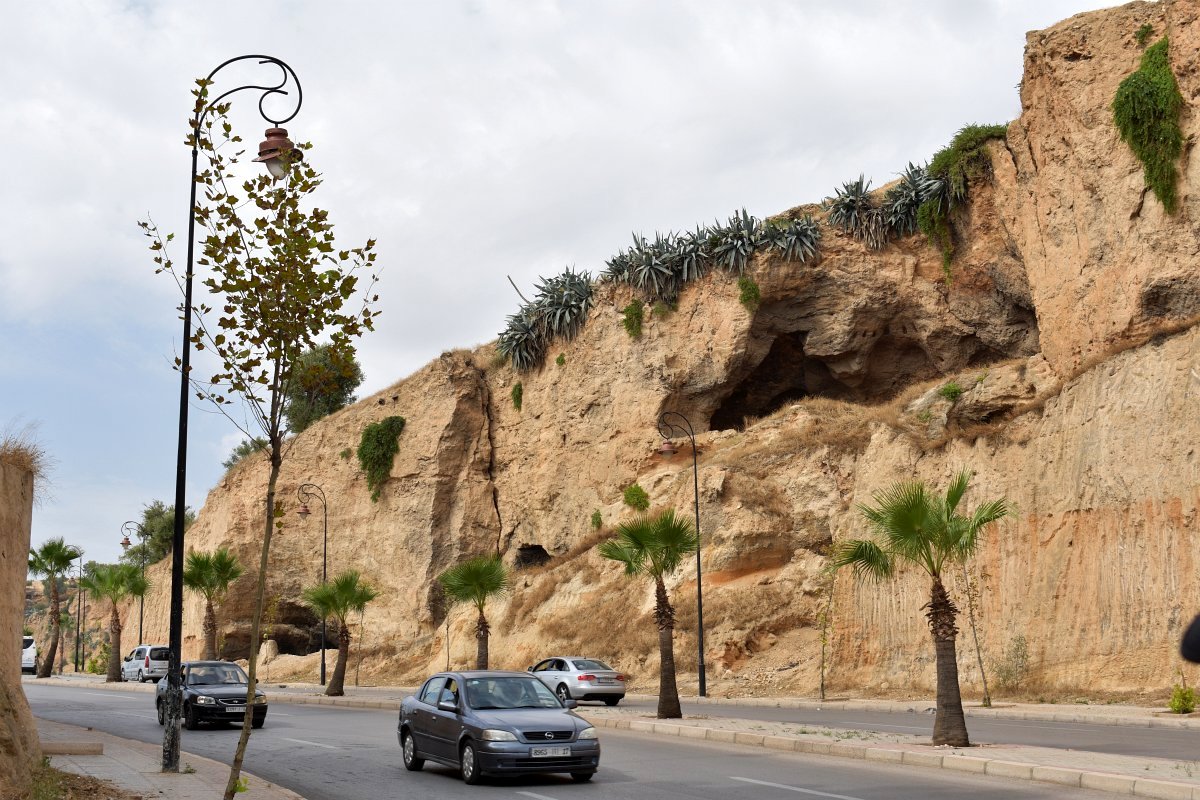 Going up we noticed some unusual cave-like holes in the hills. Some were well preserved, some caved-in and almost indistinguishable. When we got to the Marinid Tombs an old man came to us and tried to sell us handwoven wool hats. Despite the low price and claims that his wife made them he couldn't convince us to buy any in the +30°C heat. We sat together in a shadow and talked, he explained that several decades ago his family lived in the caves we had just seen, but now they moved to a small white house on the nearby hill. Basically the government helped/forced them out of the caves and I got the feeling he was a little bit nostalgic about it.